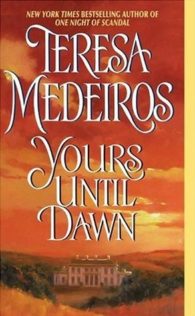 Yours Until Dawn
by
Teresa Medeiros

Published by
HarperCollins e-books
on October 13th 2009
Genres:
Historical
Pages:
384
Format:
eBook



This post contains affiliate links you can use to purchase the book. If you buy the book using that link, I will receive a small commission from the sale.
Gabriel Fairchild's valor during battle earns him the reputation of hero, but costs him both his sight and his hope for the future. Abandoned by the fiancée he adored, the man who once walked like a prince among London's elite secludes himself in his family's mansion, cursing his way through dark days and darker nights.

Prim nurse Samantha Wickersham arrives at Fairchild Park to find her new charge behaving more like a beast than a man. Determined to do her duty, she engages the arrogant earl in a battle of both wit and wills. Although he claims she doesn't possess an ounce of womanly softness, she can feel his heart racing at her slightest touch. As Samantha begins to let the light back into Gabriel's life and his heart, they both discover that some secrets -- and some pleasures -- are best explored in the dark ...
---
I finally read this story which I had hoarded away some time ago unfortunately it didn't live up to the original hype.
Spoilers ahead!
Gabriel Fairchild had the world at his feet. As the only son and oldest child, Gabriel would inherit the family title and estates. As an attractive man, he had women willing to fall into his bed. So why would a man who had everything, decide to enlist in the Royal Navy like a commoner?
Gabriel has been secretly corresponding with Ms. Cecily March, the daughter of a poor lord. Cecily is no fool and doesn't trust the flowery words of a frivilous, rich young man, who is way above her station. Sillier girls than her have fallen and been left behind once favors were granted. It is Cecily that urges Gabriel to prove that is a man of worth rather than just a fancy dandy. But when a battle leaves many of his men dead and Gabriel blinded, his lady love is suddenly nowhere to be found.
Gabriel retreats to his family's country estate, raging against his fate and his fickle love and
refusing to allow even his family to see him. Gabriel stumbles around the house, knocking down furniture and valuables and his anger has already sent several nurses fleeing into the night.
Samantha Wickersham comes along and refuses to be intimidated by the raging beast before her. She starts by opening the curtains and allowing the sun back into the house and eventually helps Gabriel learn to traverse his own house without stumbling.
Spending time with Samantha brings light back into Gabriel's world until the moment when the doctor believe's his sight will return and Samantha runs out into the night.
Sam had to leave. Sam has been living a lie. Her hair, the glasses, it's all a lie, including her name and she knows that if Gabriel even learned who she really was, he would never forgive her.
I saw this book on sale and was going to pick it up until I realized I already had a copy of my Nook. I had picked it up years ago after reading an article that raved about the story and especially since it hits that check box I have of flawed characters.
Now we will get to those spoilers.
Some people were floored by the fact that pretty nurse Samantha turns out to be lost love Cecily March. But since we knew something wasn't quite right about Samantha, and as every chapter opened with a portion of the love letters written by Gabriel to Cecily, I was certain we were going to eventually learn that Samantha was Cecily. Why else include letters where more and more is trying to earn her love? But I don't understand why she needed to change her hair color and wear horrible glasses as Samantha since the only one who even knows about Cecily and their romance was Gabriel so no one at the house would recogize her and even if she is described as a blonde to Gabriel, really?   Is the a shortages of blondes in England?  Every other regency features a heroine with blonde hair and peaches and cream complexion.
We find out that Cecily runs out of the room when she first sees Gabriel at the hospital but it is not because she is disgusted.  It is because she knows that it was her fault and her folly that led to Gabriel becoming blind. She man'd up a few days later to go apologize to him but he already left for the family estate. She could have gone to the estate or even written him a letter confessing her guilt for being a silly young girl for demanding that he prove his love but she doesn't. It is only months later, when she finds out how badly he is reacting, that she goes to him as Samantha to help him recover.
Samantha forces Gabriel to deal with his new reality and learn how to get around.  Everything is going well until he has a bunch of specialists come in who declare there is no hope to recover his sight and then she needs to drag him out of his depression yet again. He even manages to save Samantha from a fire. Blind!  But of course, we can't keep our hero flawed and a miraculous bump on the head leads to a blood clot shifting and Gabe's eyesight begins to return. So Cecily/Samantha makes a run for it instead of allowing Gabriel to see that it was her that was taking care of him all this time. Come on.  Wouldn't that have been the best way to end this?  Gabe tries to find Samantha but since she never existed, all his searches end in vain.
Once Gabriel regains his sight, he once again becomes a bitter jerkoff. So it really wasn't just the loss of his sight that caused that, it was more a spoiled rich boy issue. He was broken, so he sulked. He got his sight back, but loses his new toy (Samantha), so he sulks. When he sees Cecily, he is a dick to her, and yes, he isn't aware that she is also his Samantha but he uses her and tosses her away.  It isn't until one of his letters to Cecily turns up at his house that he realizes that Samantha and Cecily are one and the same and then it's all rainbows and puppies and he is happy again.
Why couldn't Gabriel learn to overcome his blindness rather than regain his sight? Why couldn't he simply have found love with Samantha, a woman who accepted his flaw? Why couldn't Cecily remain and allow Gabriel to learn that she was the one taking care of him and ask for his forgiveness? Why did she have to run away leaving him, once again, heartbroken?
This is the second Teresa Medeiros book that I have read. I also liked The Bride and the Beast until I got to the end and she ruined the building romance once the falsehood is disclosed and made it stupid and awkward.
Related Posts