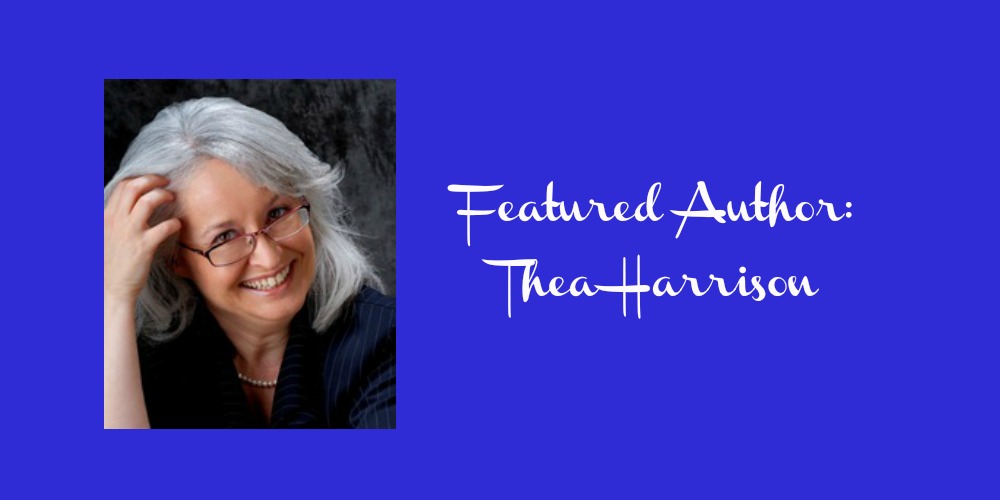 Thank you for talking with us today, Thea. I am so excited you have come to visit. I know you have been busy this year both with your move to your new home and with your new novel.
I appreciate you hosting me on your blog today! And yes, it has been quite a busy year
You dropped a couple of bombs on us with your last few books, Shadow's End and Liam Takes Manhattan, and there will be many, many changes coming. I have sooo many questions about what is going to happen next. Don't worry about giving away too much, we will keep this just between us. Pinky swear. We all promise. 😉
Your next release, due out December 13th, is Moonshadow, and it takes your fans to a new continent, and introduce us to completely new characters, and what looks like a long-time battle between the light and dark courts of the fae. Can you tell us a little something about our new group of characters?
I had a lot of fun world-building for the Moonshadow trilogy! I took some elements from Shakespeare and some from Arthurian and Celtic mythologies, added a sprinkle of my own ideas, and then I set it in the Elder Races world.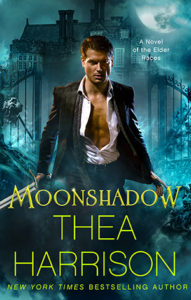 Isabeau, the Queen of the Light Court, is obsessed with destroying King Oberon and his Dark Court, and her Captain of the Hounds, Morgan, is her most powerful, dangerous weapon. Oberon's knights of the Dark Court have had a long, dark battle for survival while they've been cut off from their home. Not everyone is evil on the one side, while not everyone is good on the other. But one thing is for sure—the heroes and the heroines always get their HEAs. 🙂
You have recently changed Moonshadow from Book 10 of the Elder Races series to Book 1 of the Moonshadow series. Can we presume that you haven't finished with our favorite dragon family?
I am not at all finished with the Cuelebres. They have so much more story to tell that, in fact, it's hard to take a break from them to tell something else. But I'm also getting a lot of refreshment from switching gears, so it's all good!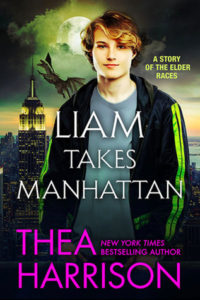 Inquiring minds want to know. You are sending Liam off to "college" at the end of Liam Takes Manhattan. Will we get to follow him?
In a word, yes. I'm not prepared to tell you more at this point, but I plan on revealing more details in the spring!
Pia is currently pregnant with her second bundle of joy which she has nicknamed "Little Stinkpot." You have given us a peek that Stinkpot is going to be very different from big brother, Liam. Will that be reflective of everything once he is born, as far as growth rate and personality, or like the pregnancy, is Little Stinkpot still developing for you?
Stinkpot is still developing for me, but you are right—he's a completely different growth rate, personality, and Wyr form, so he will definitely walk his own path separate from his big brother Liam.
Your newsletters contain little bonus stories from the characters we have already met. Are they constantly whispering in the back of your mind so you don't forget them?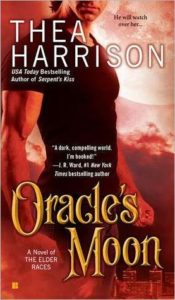 All of my characters are alive and well, living their lives in the corners of my mind. It's wonderful to take the opportunity to peek in on them and see what's going on. I often try to accomplish this through the dialogue I incorporate into each story. As this useful overview explains, dialogue can reveal a lot about your characters that descriptive language alone cannot. Each story may come to an end, but that doesn't mean the characters fade away. I could pick up any of them and tell more stories about them—and the snippets give me the opportunity to do that. I hope readers are enjoying them as much as I enjoy writing them.
Thank you so much for taking the time to talk to us about all the changes you have going on in the world of the Elder Races. We are all looking forward to seeing what you have in store for us next.
Thanks again so much for hosting me today! I had a lot of fun visiting with you. Readers, if you want to get the latest news, you can follow me on Facebook and Twitter, and sign up for my newsletter for updates!
---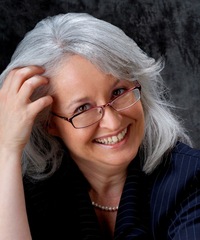 New York Times and USA TODAY bestselling author Thea Harrison resides in Colorado. She wrote her first book, a romance, when she was nineteen, and had sixteen romances published under the name Amanda Carpenter. She took a break from writing to collect a couple of graduate degrees and a grown child.
Thea writes in a variety of genres, including the award-winning paranormal Elder Races series and the Game of Shadows novels, and is currently at work on various new projects in sci-fi fantasy, paranormal and contemporary romance.
She adores animals and currently resides with two small dogs that have very large personalities.