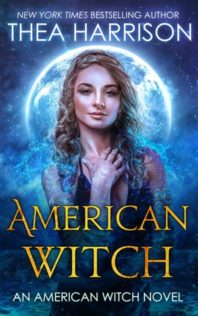 American Witch
by
Thea Harrison
Published by
Self-Published
on April 29, 2019
Genres:
Paranormal/Urban Fantasy
Pages:
420
Format:
eBook



I received this book for free from in exchange for an honest review. This does not affect my opinion of the book or the content of my review.
This post contains affiliate links you can use to purchase the book. If you buy the book using that link, I will receive a small commission from the sale.
Power can change a person…

For months Molly Sullivan endures the inexplicable: electrical surges, car breakdowns, visions. She even wonders if she might be the cause… and wonders if she might be crazy. Then she discovers her husband has cheated on her. Again. Now Molly realizes she is a newly awakening witch and a woman pushed over the edge.

Revenge can shape a person…

Josiah Mason is a Powerful witch and the leader of a secret coven with a shared goal: to destroy an ancient enemy who has ruined many lives. Josiah lost years to this man, and his sole focus is revenge. He's prepared for every contingency—except encountering a beautiful new witch who understands nothing of the immense Power building within her or the attraction she wields over him.

Danger can bring them together…

When divorcing her husband, Molly uncovers a dangerous secret he's willing to kill to protect. She turns to Josiah for help, and they discover a connection between Molly's husband and Josiah's enemy.

As they work together, a spark ignites between them that threatens to become an inferno. But Molly is done compromising herself for any man, and Josiah's mission is his top priority. And the enemy is cunning, cruel, and drawing ever closer.

As the danger escalates, so does the tension between them. Is a lasting relationship possible? Will either of them live long enough to try?
---
There is so much in this new series to explore. I can't wait to see what comes next.
Thea Harrison's new series features an emerging witch named Molly Sullivan.  Molly is a woman almost forty years old who has spent most of her life being the perfect corporate wife for her husband. A man who has cheated on her more than once. But the final straw comes when she finds  underwear in her bed on the day where she is supposed to be hosting an important event for his firm.  She has spent the week preparing the perfect menu for the perfect event and instead of being the perfect hostess, she shows up at the party and let's the cheating bastard have it in public, and then cleans out her closet and his office safe.
Once she starts looking over the paperwork which she took, she realizes there is something wrong with the accounts, especially the one showing millions of dollars in an off shore account. This is the kind of secret which can get a woman killed, rather than divorced. She hires an attorney who presents a wonderful settlement for Molly and then she will return for this information but even so, Molly expected more of a fight from her soon to be ex-husband.
Even so, Molly goes to Joshua Mason, the new DA, with her suspicions and her proof and simply asks him to wait until her settlement is signed before he arrests her husband. Molly might have just been a housewife but she doesn't need to be the high powered attorney to know that there is something illegal about that account.
Everything is going too smoothly for Molly, at least until her husband shows up brandishing a weapon demanding that Molly turn over all copies to him. Molly barely escapes using her burgeoning magic.  Molly has no one else to turn to so she contacts Joshua, who is not only the DA but a witch himself.
Joshua will protect Molly, but he is not happy about it. Molly and her problems are too much of a distraction. Joshua and his coven have been trying to track down a dangerous witch, one who locked Joshua up almost a century ago so that he could suck down all Joshua's magic like a vampire. They are so close to finding him and Josh isn't certain is Molly is just a distraction or the key to finding him at last. Worse, after all these decades of searching, he doesn't think he can risk losing Molly by using her as bait.
As much as I love Thea Harrison, I did have a hard time getting into this one. I like her strong female leads, but Molly had a lot of anger to deal with so it pushed her over several times in her confrontations with Joshua from strong to simply bitchy. Joshua has a lot of anger issues himself. He has spent decades of his life tracking…well, actual tracking Rasputin. So when Josh and Molly swipe at each other, it can get pretty nasty. While this isn't an enemy to lover story, it drives pretty close to the line. They are attracted to each other but they simply don't want to be. After living for her husband's career for most of her life, she now doesn't want to come in second to Joshua's wrath, and you get it, you do but her my way or the highway attitude is a bit harsh for the man who wasn't the one she wasted her life on.
I have also said before that sometimes the only difference between the villain and the hero is that the author tells us which is which. When Joshua first approaches Molly after seeing a demonstration of her burgeoning powers, he says that he will train her and that together they will be a power among the Elder Races. Which absolutely reminded me of Darth Vadar's "Together we will rule the galaxy…"
Molly is in a precarious position of having this new magical ability coming out and the only person she knows who is a witch is Joshua who says he will help her. Now a century ago, young Joshua also had a burgeoning power and went to the only man he knew–who promptly locked him in a dungeon and sucked his power for years. Molly is simply luckier but Joshua's desire to use her powers for his own advantage is a big of a gray area.   Molly also dreams about another witch who keeps calling for her to find her when she is ready to learn. How do we know that isn't someone with strong dark power who also wants to suck Molly's power? If this witch that Joshua is tracking was all-powerful a century ago, how could he not feel Molly's magical surges and want to grab her first and use any ploy to get her.   It is really hard for Molly to know who to trust.
I did enjoy the story more once Josh and Molly stopped sniping at each other, and my only disappointment was that I expected more cross-over between this new story line and the one we already knew.
---
Favorite Scene:
He flipped on the light as they entered the room. When she sat on the edge of the bed, he sat beside her. "I'm going to concentrate on your broken ribs this time."
Terrific. This was going to suck, but it would be worth it to be able to breathe without the constant, nagging stab of pain. "Let's do it."
Twisting, he rested one hand on the mattress behind her and laid his other hand over the broken ribs until she felt surrounded, immersed in his presence. The he began to speak in that foreign language, and sparks of his magic flew through the air.
She had enough time to notice the beauty and Power in it before pain slammed into her rib cage, squeezing her in a vise. She turned her face away.
After what felt like a hundred years, he paused, then said roughly, "Breathe."
"Sure thing," she wheezed.
He pulled her against his side, supporting her body until the wise around her lungs eased. Feeling light-headed, she didn't bother to try to straighten. If he wanted to keep her sitting upright, let him.
He gently prodded her ribs. "Can you take any more?"
"Of course. Wouldn't stop this much fun for the world."
He snorted. "Now who's full of bullshit? Let me know when you're ready."
Turning toward him, she knotted one fist in his shirt and tucked her face into his neck. "Ready."
"You're killing me," he muttered.
The edge of his jaw came down on the top of her head, and he wrapped his arms around her. Then the torture began again. She endured until he finally fell silent.
"That's it, I'm done." He sounded horse. "Jesus Christ."
Neither of them moved for a long time. She leaned against him. His arms remained locked around her. Finally she pushed at his chest, his arms loosened, and she straightened. When she met his gaze, she felt taken aback. He looked almost as if he hated her.
****
He needed a serious break from that woman. In fact, it would do him good to go a month without thinking about her. Then he might be able to yank himself back on track and stay there.
If only he could tear out the traitorous part of his brain that would not stop focusing on how beautiful she looked no matter how wrecked she was or how badly she was dressed.
On the nuances that shifted in her intelligent gaze like ripples over a deep, sky-blue lake. On how she took the agony from the healing spells without making so much as a goddamn peep–and he had known strong men who had cried under that kind of pain–or how the need to kiss her properly had begun to pulse in his blood like a fever.
Related Posts