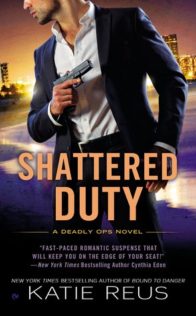 Shattered Duty (Deadly Ops, #3)
by
Katie Reus

Series:
Deadly Ops #3
Published by
Signet
on June 2nd 2015
Genres:
Action
,
Military
Pages:
311
Format:
eBook



I received this book for free from in exchange for an honest review. This does not affect my opinion of the book or the content of my review.
This post contains affiliate links you can use to purchase the book. If you buy the book using that link, I will receive a small commission from the sale.
---



[box style="rounded" border="full"]This story has been teased for the last two books. Levi Lazaro was a top agent for the NSA until he wife was murdered. After that he dropped off the radar with only one thought — to find the men who killed his wife and make them pay. This was a thrilling tale of a man who allows need for revenge gets derailed for a woman who makes him feel for the first time since his wife died. [/box]
Levi Lazaro is finally closing in on the man who ordered his wife's murder.  It has taken him two years and he needs his contact to make an introduction to Tasev, an arms dealer and skin trader who was supposedly dead for the last two years.  Levi still has no idea what could have possibly put Meghan on this man's radar making him torture, rape and murder Levi's very pregnant wife.
Levi isn't the only one looking for an introduction to Tasev, he might not recognize the beauty before him, but he knows the name she is introduced to him as that of an undercover NSA agent. Levi isn't going to let his old boss get in the way now that he's finally close to getting his revenge. Selene knows what Levi has been going through, but she can't let her sympathy interfere with hundred of thousands of lives at stake. Tasev is planning on releasing a toxin into the water supply and Selene and her team need to find Tasev and his scientist before that happens.
But Selene isn't entirely heartless, and she owes it to Levi and to Meghan to help if she can. Having an experienced agent like Levi to protect her back, someone who already has a solid cover, could just work to her benefit and if she can complete her mission and help Levi get his revenge, it's a win-win all around. She just has to figure out if she can trust the rogue agent not to ditch her at the first opportunity.  But can she trust her own judgment in this case? Is Levi really ready to give up his revenge for the greater good or is her lust for the heartbroken Levi doing all the talking?
THOUGHTS:
We have been watching out for the tortured, rogue agent for several books. We know that he isn't so focused on his revenge that he reached out to his former boss in the last book to warn them about a potential bombing target, even though letting them know he was in Miami could have started a manhunt for him.  His need to protect is too ingrained to let innocent people die. So it is not entirely shocking that he agrees to help and push aside his revenge to protect Selene and save lives.  He knows his wife would have wanted him to put others first.
Levi has an instant attraction to Selene. I liked the fact that Levi acknowledges that something is different about her and that he has felt something for the first time in two years. There was no drama and self-flagellation that he was betraying his dead wife's memory by being attracted to Selene. There was no jumping her and then blaming her for making him forget Meghan. Selene knew Meghan and she allows Levi to talk about his wife which he hadn't been able to do since she died and he acknowledged that there was something special about his feelings toward her.
This was a great addition to the series and I'm looking forward to the next story.
Received an ARC from the publisher in exchange for an honest review.
---
Favorite Scene:
"The name Silva. I recognize it."
"Bullshit." Wesley and a small handful of people knew The Wolf was an NSA creation.
His jaw clenched, those eyes darkening, even if that seemed impossible. "I'm not lying."
It struck her that there was a small chance he did know Selene Silva's cover ID details. Meghan Lazaro had helped build the alias. It was against every regulation to tell her spouse or anyone else, but that didn't mean the woman hadn't. Married agents talked. Period. Selene eyed him cautiously. "Meghan told you."
He jerked back as if Selene had slapped him. She regretted the effect her words had but gauged his reaction.
Jaw tight, his mouth pinched, he didn't respond one way or another. And even though she knew it might be a mistake, she continued, "I'm…sorry about what happened to her. I know words are meaningless from a stranger, but I truly am. She was a good woman," Selene whispered. "I didn't really know her, but she guided me on a couple of really tough missions early in my career." God, it had been only a little over three years ago though it seemed longer. "She had an easy way with people." She'd saved Selene's life once because of a last-minute find and Selene would never ever, forget that. She'd been stuck in the field, young and alone, with no backup and Meghan had been the voice on the other end of her com, keeping Selene sane.
He seemed frozen, staring at her as if he didn't know how to respond. He didn't drop his hand from the back of her neck but he let out a ragged breath, keeping his gaze pinned to hers. "I haven't talked about her with anyone in years."
In that moment the streak loneliness in his dark eyes clawed at Selene like razor wire. He looked completely adrift for just a fraction of a moment before that hard expression returned and so did the pressure on the back of her neck.
Related Posts