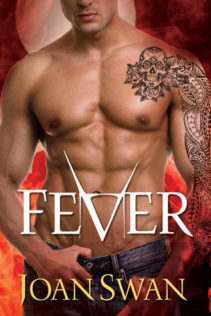 Fever (Phoenix Rising, #1)
by
Joan Swan

Series:
Phoenix Rising #1
Published by
Brava
on March 1st 2012
Genres:
Action
,
Firefighters
Pages:
342
Format:
Paperback



I received this book for free from in exchange for an honest review. This does not affect my opinion of the book or the content of my review.
This post contains affiliate links you can use to purchase the book. If you buy the book using that link, I will receive a small commission from the sale.
---
When Dr. Alyssa Foster is taken hostage by a prison inmate, she knows she's in deep trouble. Not just because Teague Creek is desperate for freedom, but because the moment his fingers brush against her skin, Alyssa feels a razor-sharp pang of need…

A man with a life sentence has nothing to lose. At least Teague doesn't, until his escape plan develops a fatal flaw: Alyssa. On the run from both the law and deadly undercover operatives, he can only give her lies, but every heated kiss tells him the fire between them could be just as devastating as the flames that changed him forever.
---
Teague Creek has spent 3 years in prison for a murder he didn't commit. Someone wants to keep Creek buried away along with the secret of his special abilities and how he came by them. Teague is now out of appeals and desperate for a way out of prison. Desperate times call for desperate measures, and if Teague doesn't try to escape now, they'll throw him back into that cell and throw away the key.
Dr. Alyssa Foster thought she was just in the wrong place at the wrong time when she was kidnapped by Creek in his desperate attempt to escape prison. Until the moment that she realizes he grabbed the wrong woman. If she tells him who she is, will he let her go home or will he simply eliminate the liability?
Teague's plans aren't going as smoothly has he hoped and it starts to get more complicated when he realizes he wants to keep his strong willed and brave captive. Things start to heat up between Teague and Alyssa once she realizes he is not the dangerous criminal she first thought, and she'll do whatever she can to help him clear his name.
Can they figure out who is framing Creek before it is too late because once they are found, someone will make sure that Creek is finally silenced permanently.
I have been hearing a lot of buzz about this book for the last few months and now that I have read it, I understand what all the hoopla was about. Not only is Teague the perfect hero, strong, thoughtful, protective and sexy, but Alyssa is a heroine that isn't going to take shit from anyone, not even desperate criminals escaping from prison.
On top of the awesome characters, this story hits the ground running (literally—prison break remember) and it just doesn't stop 'til you hit the last page, and it has everything: desperate criminals, kidnapping, gang members, cops, FBI, knife fights, gun fights, fires…even wolves (but not the werewolf kind).
Definitely pick this up and make sure you have plenty of time to read since the worst thing was trying to pick a place to stop and go to sleep. (Really??…I don't care what time it is…we're on the run!!! Damn job!)
Received ARC courtesy of Kensington Books. Thank you!
---
Favorite Scene:
"Goddammit." Creek dropped two armfuls of supplies on the floor and kicked the door closed. "Can't you hold still or shut up for one minute?"
Alyssa recoiled as Creek picked up the receiver and slammed it back onto the base, then raked his fingers across his head and paced. She watched every step her emotions toggling between fear, anger, guilt, frustration and empathy.
Without warning, Creek swung around and approached her. In automatic defense, Alyssa's hand came up. But he didn't strike. He released the cuff around the lamp and pulled her into the bathroom. Her heart rate spiked again as his angry gaze scoured the small space. With a hand on her shoulder, he pushed her to sit on the closed toilet lid and dragged the free cuff below the sink. The ratchet of metal signaled its closure around an exposed drainpipe.
"What are you doing?" She twisted her wrist against the metal, trying to position her body to alleviate the strain on her side.
Creek stripped off his shirt, balled it up and chucked it into the corner, then pushed the curtain aside on the shower/tub combination and bent to flip on the faucet. The muscles beneath his skin flexed and rolled. That's when a fresh form of anxiety wedged in. She couldn't sit here and watch him get naked and shower. She really couldn't.
"I can't sit like this," she complained, hoping to play on the sympathies she'd seen. "It hurts my side."
Without acknowledging her, he moved his hands to his waist, unbuttoned and unzipped his jeans and shucked them so fast Alyssa didn't have time to look away. And, okay, yeah, maybe she could sit here and watch after all.
He wore burgundy boxer briefs that clung to his muscular ass. He was tan everywhere but for a pale line mid thigh where he'd obviously worn shorts. She could swear every muscle was outlined in perfect relief. Her gaze traveled over the lines and dips and swells and curves. God, he was beautiful.
A beautiful, racist, murdering, escaped convict.
Alyssa grimaced. Before he took off his underwear and Alyssa lost her last shred of human decency and ogled the beautiful, racist, murdering, escaped convict, she laid her elbow on the edge of the sink and pressed her eyes to her forearm. "Why couldn't you just leave me in the other room?"
Her only answer came in the swoosh of the plastic slides on the shower curtain rod as he closed the drape.
Alyssa stayed there, resting her head on her arm, for what seemed like endless minutes. Without any immediate threat, her adrenaline flagged. When her butt went numb and her arms tingled from lack of blood supply, she finally raised her head. Steam filled the room, creating ethereal clouds she could barely see through.
Searching for Creek behind the frosted shower curtain, she discovered him sitting on the tub floor, knees drawn up to his chest, arms wrapped around his legs, head bent.
She'd seen many a broken man in her line of work—the distraught father, the grieving husband, the heartsick son—and the man behind that curtain had all the signs of a broken man.
Related Posts