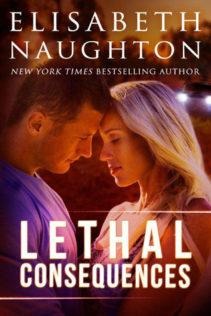 Lethal Consequences (Aegis, #2)
by
Elisabeth Naughton

Series:
Aegis #2
Published by
Montlake Romance
on January 20th 2015
Genres:
Action
,
Military
Pages:
309
Format:
eBook



This post contains affiliate links you can use to purchase the book. If you buy the book using that link, I will receive a small commission from the sale.
---
[box style="rounded" border="full"]Wounded heroes are my favorite. Landon works for the government taking care of terrorist or other threats to the world. All he wants for himself is the one thing he knows he can't have, the sweet little schoolteacher from Idaho. [/box]
Landon Miller has been on medical leave from the DIA (Defense Intelligence Agency) since his last mission went bad. He was supposed to take down a chemist who was working on a biotoxin and the whole mission went south. He has been secretly working for Aegis while he was suppose to be on leave. He was part of the team who rescued Eve's little sister, Olivia, from her kidnappers.  Landon knows that he shouldn't take her phone calls and he shouldn't answer her e-mails. He tries really hard to ignore them, but he can't resist the siren call of this sweet little schoolteacher from Boise, Idaho.
The government agency tends to recruit orphans and men and women from abused backgrounds. They don't want to send people with ties or with consciences into the field to do the dirty work that someone needs to do. Landon knows that DIA will not allow him to get too close to Olivia, and he wouldn't want to subject her to his life and what he has done for the government. It would also put another bulls-eye on her back. Olivia was already kidnapped to make her sister, a former FBI operative, give up information. Being with Landon would only put her further in danger. But after a long, hard past with no one in his life, it can't hurt to dream of what it would be like to have a woman like Olivia as his own who could give him a chance for family and a home with a little picket fence. As long as he keeps those dreams to himself.
His final mission for Aegis is over and he will be returning to the DIA in a week's time. Needing to get his mind off of the one woman he can't have, Landon picks up a woman in the hotel bar and takes her to his room. He needs to get his head in the game because even having a willing woman in his room isn't enough to get his body interested. His brain and his body only want Olivia.
Landon isn't the only one dreaming of a HEA. Olivia takes a leave from her job and empties her savings to hop a plane to Spain to surprise Landon, only to find him in his hotel room with a buxom redhead.
Landon wasn't wrong when he thought there was something off with the redhead and if he wasn't so focused on trying to forget Olivia, he would have caught it. She's with a terrorist organization who wants information about that missing biotoxin, and they don't have any qualms in using Olivia to get Landon to talk.
Landon and Olivia manage to escape their captors, but they are on the run and have to get in touch in Aegis before the terrorists can find them again. On the run, their emotions go through turmoil while Olivia learns more of the dark secrets of the man who rescued her not once, but twice, and Landon realizes that unless he cuts Olivia lose from his life once and for all, she will never be safe.
THOUGHTS:
I will add this series to my must follow list along with Maya Banks KGI series and the Elle Kennedy's Killer Instincts. For the first time, though, I am conflicted about reading the first book. Olivia's original kidnapping and Landon's part in her rescue would all be there in the book, but I did not like Olivia's sister Eve at all and have no interest in reading a whole story staring her. I do want to read more about the boss, Jake Ryder, and his lack of interest in his assistant, Marley Addison, at least until she wants to stay on an island wearing a bikini and suddenly Jake needed her back to work ASAP.  Hopefully, they will be the next book.
Oh, my wounded hero. You had to feel for Landon. After a life of hard knocks and a dirty job where you try to kill people or they try to kill you, all he can focus on is his dreams of Olivia and what they could have had. When Olivia is dragged into the mess with the terrorists, she starts to realize that Landon isn't the simple hero who she made him into, and you can almost hear his little heart breaking. Awww. Kudos to Olivia for (mostly) keeping it together and for thinking things through without simply reacting out of hurt or fear, except for that finding the half-naked redhead part which didn't go so well.
I definitely enjoyed this story and these characters. There are two additional novellas which were part of the Wicked First and Sinful Seconds box sets and I will check those out if I can find the time.
Received an ARC from the publisher in exchange for an honest review.
---
Favorite Scene:
"I wanted to surprise you." A worried look passed over her eyes as she turned to face him, dimming the excitement he'd seen earlier. "Are you mad?"
"Mad?" Was she nuts? Warmth blossomed all through his belly and into his limbs, distracting him from anything but her. "Not at all. Olivia, I–"
"Oh good." She released a long breath. "Because that's not the only surprise I have."
Her purse hit the floor with a thud, and she stepped close. Her hands landed on his chest, sending tingles all across his skin beneath the thin dress shirt he wore. He sucked in a breath, wanting only to savor the sensation, but before he could, she rose up on her toes and pressed her lips to his. And as the warmth of her mouth slid across his, and the sweet scent of lilacs surrounded him, what was left of his functioning brain cells shut down and flew straight out of his head.
Soft. Sweet. Supple. Her lips were everything he'd dreamed about and more. They were also gone way too fast.
She lowered to her heels and backed a half step away, uncertainty swirling in her gemlike eyes. "You're not saying anything." Her top teeth sank into her bottom lip in the cutest, sexiest way. "Are you mad now?"
He didn't think. He reacted. Reaching for her, he dragged her close once more and closed his mouth over hers. She gasped in surprise, but it didn't stop him. It couldn't not now. Not after she'd finally kissed him. Licking into her mouth for the first sinful taste, he turned her in the small entry hall and pushed her back against the wall.
Her gasp turned to a moan. Her fingers slid up his arms and then fisted in his hair. Against his tongue, she licked and kissed him back with the same need, the same intensity he was showering on her, her mouth turning greedy beneath his. And her excitement, her own unguarded reaction, only made him groan with the need for more. Pressing into her soft curves, he kissed her deeper, wrapped an arm around her waist to pull her closer, and devoured her mouth the way he'd wanted to devour her for months.
When he finally broke the kiss, they were both panting and the room was spinning around him. He lowered his forehead against hers and just focused on breathing, not wanted to let her go, not wanting to do anything but go on feeling this…bliss.
Her soft fingers brushed the nape of his neck. "Okay," she said, her sweet, warm breath fanning his cheek. "okay, your being speechless is a good thing."
Slowly, he lifted his head and looked down at her. Her green eyes once again twinkled with pleasure and anticipation, but now they held a playful glint, one he'd never seen before.
Who was he kidding? He'd never seen it because he'd only spent a matter of hours with her before walking away, then months flirting and daydreaming about a woman he couldn't have. His chest tightened, even though his blood continued to pump hot and strong, gathering in his groin being so close to her. "Olivia, I–"
She leaned forward, cutting off his words with her lips, kissing him again until he saw stars. "I like you speechless if this is the reaction I get."
God, he liked it too. wanted only to go on feeling her lips against his, teasing and taunting him like she was doing now.
She eased back before he could kiss her deeper, before he could taste her more fully. Her hand slid from his nape to his shoulder. "Did you hear that?"
Landon froze and listened, and then he realized what she'd heard the sound of a toilet flushing.
In a flash, reality came screaming back slamming into him with the force of a jackhammer.
Fuck. he closed his eyes. And wished like hell this weren't happening.
Lifting his head, he focused on her pretty eyes, ignoring the soft little crease of skin between her brows that signaled her obvious confusion. "Olivia, I need you to know something."
Her gaze shifted from the far side of the room where she'd been searching for the source of that noise, to his face. And his chest twisted harder at what he was about to say. "Whatever happens in the next thirty seconds, I need you to know that when I opened that door and saw you standing there, it was the happiest I've been in…probably my whole life."
A slow, approving smile spread across her kiss-me lips. But it quickly faded, and then crease between her eyes deepened. "Why would that change in the next thirty seconds? If you–"
Every muscle in Olivia's body went tight and rigid, and without even looking, Landon knew what was behind him.
Fuck. Fuck, fuck, fuck. He squeezed his eyes shut tight.
"I didn't realize this was going to be a threesome," Chantal said at his back. "Not that I'm opposed, but a little warning would have been nice."
Related Posts