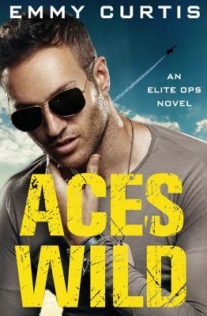 Aces Wild (Elite Ops #1)
by
Emmy Curtis

Series:
Elite Ops #1
Published by
Forever Yours
on May 2nd 2017
Genres:
Military
Pages:
304
Format:
eBook



I received this book for free from in exchange for an honest review. This does not affect my opinion of the book or the content of my review.
This post contains affiliate links you can use to purchase the book. If you buy the book using that link, I will receive a small commission from the sale.
In the heat of the Nevada desert, the most elite military pilots in the world are about to engage in some friendly competition. Only this year, someone is changing all the rules...

RAF pilot Dexter Stone has been through his fair share of sticky situations. After living through a crash in enemy territory where no one expected him to walk away, the Red Flag training exercises should be a piece of cake-assuming he can keep his mind on the mission and not on the smart mouth of his gorgeous American competition.

As one of the few women in a sky full of hotshot flyboys, Maj. Eleanor Daniels has worked day and night to earn a coveted spot at Red Flag. And she's not about to let some cocky British bad boy distract her from winning. But when the games take a deadly turn, he may be her only hope for survival.
---
This is one of those books where I just wanted more.  There was a lot going on in this story but the best part is the chemistry between Dexter and Eleanor.  As with most first books, there was so much set up and other things going on, by the time things really started getting exciting, the story was over.
I really enjoyed Dex and Eleanor. This is the first book of the series and I wish it was a continuing series of Dex and Eleanor but I fear they were just the first couple in the bunch. If that is so, there really wasn't enough put in to excite our interest in secondary characters for the next books, but again, there was so much going on that to really focus on other characters would have given us even less time with Dex and Eleanor.
Neither of the main characters have time for romance since they have both arrived at the Red Flag training (which is actually a real thing) to boost their careers. They both need to outshine all of the other pilots and don't realize right away that they are fighting on opposite teams.   Dex recently crashed his aircraft  and has to prove it wasn't pilot error and Eleanor is trying to get out of the shadow of her 3-Star General father.
This year's Red Flag almost didn't happen due to budget problems, until a private contractor known as TechGen-One steps in generously offering to foot the bill.    But this seem out of sort when this sponsor seems to be taking over the military base and locking pilots out of their hangers.
While waiting to speak to her father about the problem at the hanger, Eleanor overhears a conversation which she shouldn't and now certain parties are concerned if she can be trusted or is she now a problem which  needs to be eliminated. They send the goon squad after Eleanor which simply leads her further into the arms of Dexter.
I enjoyed this story a lot and simply wanted more of it.  I wanted more Eleanor and Dex.  They had great chemistry and we didn't get enough of them.  I wanted more combat missions.  I wanted more information about what Eleanor stumbled into.  If anything, I have unanswered questions which will probably be part of further books.  I could happily stick with Eleanor and Dex as the main focus of this series while all the secrets are dragged to the surface.
---
Favorite Scene:
So much great banter between Eleanor and Dex, it was hard to decide which to use.
Water didn't magically appear from the dessert, usually, and that concerned him. Nearly all the lakes on the military range were dry or salt flats. "Okay, why don't we rest here for the night, and we can get an early start. And we can figure out where this water came from and if it's safe to drink."
He dropped the backpack, pulled out the map. He opened it once again and put a mark where he thought they were.
Before he'd finished folding it up again, he heard a splash. He jumped up. wondering if she had fallen in. But all there was to see was her flight suit and T-shirt and boots and socks on the edge of the crater.
"It's warm," she said.
"That's probably the sulfuric acid. Acid tends to make you warm," he said breezily.
"What? What?" She started to scramble out.
"I'm just kidding. I know nothing about the geology here, but I do remember reading that your government set off about two nuclear bombs every day in the 1960s here. So, you could be swimming in radioactivity. For that reason, I'm giving you a good two minutes before I join you. Just in case your skin starts peeling off your bones…or anything like that." He sat on the rock and took off his boots and socks. Even that felt good. "How's your skin? Has it started to loosen?"
She took a mouthful of water, bobbed up, and spat it at him. "I think I'm fine. It smells a little funky though. I doubt we can drink it."
"You just spat funky water at me?" he said, reaching for the zipper of his flight suit.
"To be fair, I didn't realize how funky it was until I had a mouthful of it," she said.
"I bet you say that to all the boys." He lowered himself into the water. It was warm but not warm enough just to sit in as the temperatures dropped in the desert with the arrival of nightfall.
She splashed him in response "Says the man who wants to get married on a beach."
"I absolutely, positively, do not wish to know about all the times you've had a mouthful of funky stuff. Some things are better left unsaid, especially before the marriage vows. After, however, I expect blow-by-blow details…demonstrations, maybe diagrams if you will."
"I'll bear that in mind."
Related Posts