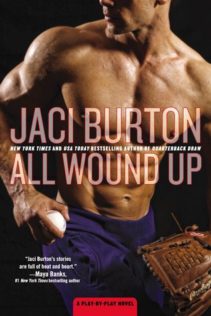 All Wound Up (Play by Play, #10)
by
Jaci Burton

Series:
Play by Play #10
Published by
Berkley
on August 4th 2015
Genres:
Sports
Pages:
318
Format:
eBook


I received this book for free from in exchange for an honest review. This does not affect my opinion of the book or the content of my review.
This post contains affiliate links you can use to purchase the book. If you buy the book using that link, I will receive a small commission from the sale.
---
[box style="rounded" border="full"]This was my first Jaci Burton story and I really liked it. I have given away several paperbacks featuring Ms. Burton and I need you all to return them to me. (Kidding. Just kidding. 🙂 ) I liked the characters of Tucker and Aubrey. We also meet a few of Tucker's brothers and the players from the team who were the subject of the other books. I will be taking a first read at the next Jaci Burton book that comes my way before I give it away. If I ever get the time (ha, ha), I may just pick up the prior books in this series. [/box]
Pitching star, Tucker Cassidy, meets Aubrey Ross, daughter of the River's owner in the most unusual way. Tucker was just been dumped at a party by his girlfriend who left with a parting shot — at Tucker's goodies. Aubrey comes upon him while he is trying to pick himself up from the floor and being an E.R. resident, she talks him into allowing her to check out his equipment to make sure he doesn't have any permanent damage.
Tucker and Aubrey meet again after he gets a cut up pretty good by a cleat in his leg but Tucker doesn't want anyone on the team knowing why he is already knows the doctor on duty. A third meeting with Dr. Ross, over a concussion, and Tucker is determined to leave the E.R., not only with his dignity, but with the pretty doctor's phone number.
Both Tucker and Aubrey have crazy hours and schedules. Tucker has day games, night games, and road trips, while Aubrey has a shifting schedule for her residence, studying, and prepping for her medical exams. Neither have time for love or romance, but their mutual attraction leads to some interesting dates and a lot of hot sex.
Neither have time for relationships or falling in love, but when you meet that one person who you can't get enough of, timing isn't everything, it's make time or lose something very rare and special.
THOUGHTS:
I just loved Tucker and Aubrey. Their meet/cute was certainly unusual, but their romance and falling in love came naturally in the story. They kept their relationship casual. I think that is what made it flow so nice.  Both thinking they might just enjoy some sex with an attractive person since they didn't have time for a relationship. They managed to find time to get together after her shifts and after his games or if they could match up days off to get together. They had fun and interesting dates which showed how well they meshed as a couple and they certainly heated up the sheets.  They were already deep in a relationship before this too-busy-for-a-relationship couple realized it and could freak out.
I will admit that there was the misunderstanding at the end of the story for the conflict which was something I have read several times in New Adult novels. I thought that maybe the older adults would handle it better, but no, they didn't handle it any better than the college students do. So there was some eye-rolling on my part near the end, but not enough to ruin the overall enjoyment of the story. The issue resolved itself well and the story had a satisfying ending.
Overall, I like the flow of the story. I liked the characters in this story and I liked the characters who kept showing up from the prior stories. The next story will feature Tucker's fraternal twin and I will be looking out for that story when it comes out.
Received an ARC from the publisher in exchange for an honest review.
---
Favorite Scene:
After retrieving the preliminary results from Tucker's X-rays and CT scan, she reviewed them and made her way back to his exam room. It was quiet in the ER tonight and nothing epic was going on.  For that she was grateful.
She opened the door to find all of them watching a baseball game on TV. They all stared at her. She saw genuine concern in the eyes of Tucker's brothers. It warmed her.
"You have a concussion, Tucker. Your X-rays and CT scan are clear, though."
"Good to know. Can I have some aspirin now?"
She nodded. "Of course, I'll make sure they give you some before you leave. They'll also print out some post-release instructions for you. I'd really like to not see you back here again, Tucker."
He gave her a look. "I didn't do this on purpose. This was totally Grant's fault."
"Hey. How was it my fault? You're the one who didn't pay attention and fell over the big-ass rocks that, by the way, anyone with two eyes could see. You should have been able to spot that pile even without your glasses on."
She looked at Barrett, who nodded and said, "This is true. Big-ass rocks."
She shook her head. "Either way, this is three times now that I've had to treat you."
Grant frowned. "Three times? You were here another time besides the stitches?"
Tucker scratched the side of his nose. "No. Just that one time."
Aubry realized as soon as she'd said it, then saw the pleading look in Tucker's eyes and knew he really didn't want his brothers to know about the event that occurred in the wine cellar of her father's house. She couldn't blame him for that.
"My mistake. Twice. I'll get your discharge on file and the nurse will provide you with instructions."
"Hey…Aubry…"
She stopped. "Yes?"
He gave a look to his brothers.
"Uh, I'd really like some coffee," Grant said.
"Not me. I"m good right here."
Shaking his head, Grant grabbed Barrett by his shirt. "Coffee, Barrett. Now."
"I miss all the juicy stuff."
"Thanks for everything, Doc," Grant said as they left the room.
"You're welcome."
They closed the door, leaving Aubry alone with Tucker.
"Is there something you want to discuss?"
"Yeah. First, thanks for not mentioning the first time we met."
She laid the chart on the table next to his bed. "I can understand you not wanting your brothers to know about that. Besides, I promised you I wouldn't ever tell anyone about that. I'm sorry for the slip."
"Not a problem. It's just that…you don't have any brothers or sisters, do you?"
"No. But I still understand. It wasn't your finest moment. If they knew, they'd never let you live it down."
"Understatement."
She paused, waiting, wishing she could make him feel better. She knew his head was fuzzy and likely hurting–bad. "Is there anything else? You really should get some rest."
He looked up at her. "Yeah. There is something else. Can I get your phone number? I'd like to not come here again as a way to see you."
She laughed. "I think we went through this before. There are so many reasons why the two of us shouldn't see each other–either professionally or personally. Once, because you have to stop getting hurt. Two, because I lead a very busy life."
"So do I. Which doesn't mean you never have any downtime. You should get out and have some fun. You are allowed to do that, aren't you?"
"On occasion. But not often."
"So on the 'occasion' that we both have, I'd like to take you out. At least to thank you for being so concerned about the well-being of my testicles."
"I don't think I've ever been asked out quite that way before."
He grinned. "I'm nothing if not unique, Doc. So is that a yes?"
He pulled out his phone.
She sighed. "I have a terrible feeling if I say no that you're going to end up in my ER again."
"I'll take a pity yes for now. And then I'll convince you I'm worth it."
Related Posts