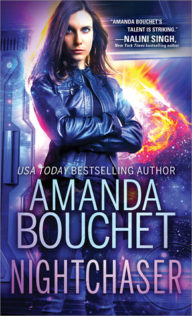 Nightchaser (Endeavor, #1)
by
Amanda Bouchet

Series:
Endeavor #1
Published by
Sourcebooks Casablanca
on January 1, 2019
Genres:
SciFi
Pages:
416
Format:
eBook



I received this book for free from in exchange for an honest review. This does not affect my opinion of the book or the content of my review.
This post contains affiliate links you can use to purchase the book. If you buy the book using that link, I will receive a small commission from the sale.
A delicious new heart-pounding romantic adventure from USA Today bestseller Amanda Bouchet!

Captain Tess Bailey and her crew of Robin Hood-like thieves are desperate and on the run. Pursued by a vicious military general who wants them dead or alive, Tess has to decide if she can trust Shade Ganavan, a tall, dark and arrogant stranger with ambiguous motivations.

Shade Ganavan had oodles of arrogance, oodles of charm, and oodles of something that made me want to kick him in the nuts.

What Tess and Shade don't know about each other might get them killed…unless they can set aside their differences and learn to trust each other—while ignoring their off-the-charts chemistry.
---
Nightchaser wasn't really the space adventure I was looking for, but it was a good romance and set us up for further stories. It doesn't end on a cliffhanger, but it does end at the start of what I presume will be the big adventure.
I chose Nightchaser because I thought a space adventure would be fun. I expected the Endeavor to be on the scale of Star Trek or at least Voyager and was looking forward to a Captain Janeway level captain taking us out into a Star Wars/Star Trek mergered fight against the dark forces story. Ummm…not so much.
That it not to say the story was bad, it was just less…intergalactic or adventurous than I anticipated. Tess Bailey, who was more the captain by default as she was best at making decisions, runs the crew of five individuals. All of whom are human. They all were lucky to escape from a hell-hole prison and abscond with the Endeavor. Since then they have aided the rebellion where they could stealing from the space dictator and providing food or medicine where it is needed most.
The Endeavor tripped across a tiny space lab which was in the middle of nowhere and vacuum-sealed it to their little ship before they were confronted by one of the high commanders of the space dictator's fleet. They jumped into a black hole, choosing to die rather than return to the prison and take the space lab with them. The black hole turned out to be more of worm hole than certain death and Tess and crew survived but the ship was damaged and they need to land for repairs.  That is where the crew meets Shade Ganavan.
Most of the story takes place on the planet with Shade and Tess doing the mating dance. See not only is Shade an awesome mechanic, but he is a sometimes bounty hunter and he knows that Tess is worth a king's ransom to the space dictator, twice if he can return whatever she stole. So kudos to Shade for hesitating on the strong attraction between himself and Tess because he isn't so much of a jerk that he would sleep with her and turn her in for the fortune. So there is a lot of attraction and flirting, and a good deal of confusion on Tess's part when Shade runs hot and cold on her.
We do learn a lot of background about Tess and her crew while we wait for things to happen but mostly it is the romance between Shade and Tess (and whether or not there will be any) which takes center stage.
I liked some of the simple things that are noted in the story, which no one usually bothers with in the big adventure, such as how pale the crew was since they spend so much time in the darkness of space. There is the novelty of seeing animals and how Tess isn't certain at first if the cats she sees are dangerous or not, also how the crew is fascinated by the cat she brings back to the ship and how animals react to space travel.   Her crew consists of an elderly lady who is blind and a woman who lost a hand when she cut it off to escape her chains as a sex slave. There was no magic replacements (or no money for magical replacements) and they had to do their space-jobs despite their handicaps. I also liked that they needed to get chunks of their ship repaired as the space tyrant literally blew holes in it. Tess had to go shopping for new everything since her room lost its outside wall and all her clothes and sheets, and everything not barred or bolted down get sucked into space. They also have to schedule their showers since water use is limited and Shade gets quite the shock over the four minute ice cold shower he shares with Tess.  It was not the sexy, foreplay he anticipated.  Even magical wand healing is expensive and Tess has to make due at one point with old-fashioned stitches. It had a lot of little details added in which big space adventures glance over.
There is a lot of set up and introduction of the main characters and some of the secondary yet still important characters as well.   Now that we have dealt with the romance, and of course, end up bringing Shade into the crew (shocking, right? It's a romance.)   I am going to look for the next book and see if the space adventure gets beefed up as part of the next story.
---
Favorite Scene:
"Thanks for the bookstore recommendation. Flipping Pages was perfect."
Shade nodded and then took a long drink of water, drinking half a bottle in one go. More stubble had grown on his jaw since this morning, giving his already attractive features a rougher look I liked even more.
The rest of him looked grubbier, too. There was a black streak of oil down one corded forearm, and he was covered in the sticky evidence of a hard day's work. His short, dark hair looked damp and crushed, probably from being under his welding helmet. Sweat sliced his neck. I watched a bead roll down the thick tendon that began just behind his ear and angled toward the base of his throat. The drip caught on his collarbone and stopped.
My mouth went suddenly dry. I wanted to lick the drop off.
"What's the matter, starshine? Never seen hot and dirty before?" he asked.
My eyes jumped to his. He hadn't put even a hint of innuendo into his voice. I couldn't tell if he was flirting or not, but desire still surged inside of me like an electrical pulse. Warmth simmered between my legs, and hot and dirty played on repeat through my every thought.
"Seen all kids of things," I eventually said.
His expression seemed to harden somehow. "I'll bet you have," he muttered under his breath.
I felt the little crease form between my eyebrows, the one that was quickly etching itself into my first permanent wrinkle. The heat swirling through my abdomen dissipated, leaving only confusion instead. The weirdest things seemed to tick Shade off.
Bonk broke the tension by poking his delicate, dark head out of my bag and letting out a creaky, little meow. The still-sleepy, wake-up sound was immeasurably cute.
Shade frowned at my bag. "What the hell is that?"
"A cat," I said. "They're all over the place."
"Yeah, but you don't just pick up any old one. It could have vermin. Or be totally wild."
"He's not any damn one," I said, leaping to Bonk's defense. "He's Bonk, and Susan gave him to me."
"She gave you a fucking cat?" He looked so stunned it was almost comical.
"Jealous?" I asked. "She's never given you a cat?"
His hands landed on his hips. Machine oil and scarred knuckles flashed at me.
Damn. I liked those hands.
"I don't want a cat," he said.
"Sure you don't." My tone conveyed just how much I believed that.
Unzipping my bag all the way, I took Bonk out and lifted him up onto the Endeavor. he started sniffing around immediately. I hoped he wasn't about to pee. I still needed to set up that box.
I turned back to Shade. "You can pat mine if you'd like."
His eyes took on a sudden glint, and a blush exploded across my face, burning up my pale cheeks.
I waited for Shade to follow up with something, anything, hoping he would, even if it was a lewd joke. He just turned back to my cat instead. He'd apparently lost all interest in flirting with me.
Internally dealing with my disappointment, I produced the metal tray and sand from my bag. "Any idea what to do with these?" I asked.
Shade took both, setting the tray in the ship's open door near Bonk–who immediately looked interested. He tore open the top corner of the bag and dumped a thick layer of sand into the bottom of the tray before nudging the whole thing toward Bonk.
Bonk climbed in, squatted, and peed.
"Well, that was easy," I said, impressed.
Shade folded the top of the bag over to close it and then put it down next to Bonk's tray. "Susan gave you the good stuff. You don't even have to clean it. It cleans itself."
A nearly maintenance-free pet sounded good to me. I had my hands full enough as it was.
"How do you know Susan?" I asked.
"She want your books?" he asked in lieu of answering.
I nodded. "I'm bringing her the rest in two days." I immediately wondered why I'd said that. Anything beyond the fact that there was going to be a transaction wasn't information Shade Ganavan needed to know.
He stared. I stared back.
Great Sky Mother, we had to stop doing that.
Shade finally reached a hand out to Bonk. After a few careful sniffs, Bonk leaned in, looking ready for a scratch. Shade obliged, muscles he'd probably overused today standing out firmly under the thin layer of his cotton shirt. The dark material stuck to his upper body in places, revealing contours and revving up my apparently uncontrollable imagination. I couldn't recall ever heaving had such a strong urge to reach out and touch.
Related Posts