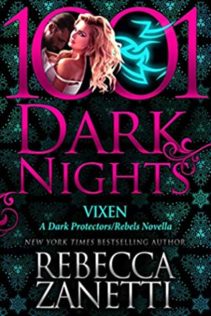 Vixen (Dark Protectors #11.5)
by
Rebecca Zanetti

Series:
Dark Protectors #11.5
Published by
1001 Dark Nights Press
on August 11, 2020
Pages:
114
Format:
eBook


I received this book for free from in exchange for an honest review. This does not affect my opinion of the book or the content of my review.
This post contains affiliate links you can use to purchase the book. If you buy the book using that link, I will receive a small commission from the sale.
From New York Times and USA Today bestselling author Rebecca Zanetti comes a new story in her Dark Protectors/Rebels series…
Tabi Rusko has a simple to-do list: Rob a bank, steal a recording, set up a lucrative factory, and survive the assassins on her tail. Sure, she's a demoness with the cunning and instincts that come with her species, but she's always spent more time exploring than training, and her fighting skills are okay at best. One sexy man, a human cop no less, is responsible for her being stuck in a small hick town and forced into a human anger-management group that's crazier than her. To make matters worse, his dangerous blue eyes and hard body leave her breathless and ready to rumble, and his overbearing attitude is a challenge a demoness can't refuse.
Evan O'Connell just wants to enjoy his time out of the military by policing a small town and hopefully pulling cats from trees and helping old ladies cross the street before he succumbs to the disease plaguing him. The last thing he needs is a stunning, too sexy, pain in the butt blonde casing his bank and causing a ruckus everywhere she goes. There's something different about her that he can't figure out, and when she offers him immortality in exchange for her freedom, he discovers that isn't enough. One touch of her, a whirlwind beyond his imagination, and he wants the Vixen to be his forever, as soon as he takes care of the centuries old killers on her tail.
**Every 1001 Dark Nights novella is a standalone story. For new readers, it's an introduction to an author's world. And for fans, it's a bonus book in the author's series. We hope you'll enjoy each one as much as we do.**
---
I liked the switch from enhanced human female to enhanced human male. It added something new and fresh to the series.
Tabitha Rusko is a demon and the last of the Rusko line but like most female demons she craves excitement and there is nothing like planning and executing a bank heist to get the blood pumping and Tabi needs the quick boost in cash to get her designs finished. You would think it would be easy-peasy to rob a bank in a podunk town but the local police officer, Det. Evan O'Connell, seems to know that she is up to no good and keeps trying to save her from herself, including making her attend anger management classes. Really, what's the point of being a demon if you have to keep all those emotions bottled inside.
But Tabi can't help getting all gooey inside thinking how sweet it is that instead of simply arresting her, Evan keeps trying to save her from herself and it doesn't hurt that Det. O'Connell is gorgeous to look at.
And the harder he works to save her, the more she wants to save him. Evan hasn't said anything but as a demon she can tell that he is sick. Humans are so frail but a mating bond with a certain single demoness would cure whatever is slowly killing him. Tabi doesn't have any family of her own and she isn't interested in mating with the male who thinks she can be blackmailed into a mating for his "protection." More like so he can get his hands on her invention and the billions it will make her once it is perfected. So why not save Evan and use his gorgeous body…for protection. Yes, just for protection.
But there is a reason why no one has heard of an enhanced human male. At least not in a very, very long time and Tabi's desire to save Evan might have just opened Pandora's box.
I am a fan of Rebecca's Dark Protector series but must admit that I have gotten behind in these 1001 Dark Nights short stories. I have them. I just haven't read them yet. What caught my attention in Vixen was turning the tables and having a demoness mate a human male. Since the majority of the stories featured vampires and vampires are only male, it was all stories of the men mating human females. So I needed to know how switching up the mating would effect the bond and the characters.
While this does qualify as a stand alone story, it appears that all of these 1001 Dark Night stories features a group of demons living in this small town and getting stuck in anger management together. While I was happy we jumped into this story without having to do the meet-and-get-to-know-you, I can only wonder if I missed that part in a prior story line. We also have a story line of corrupt officials running thing in this small town and I want to know what happens with that and if it will be part of the next story.
Related Posts