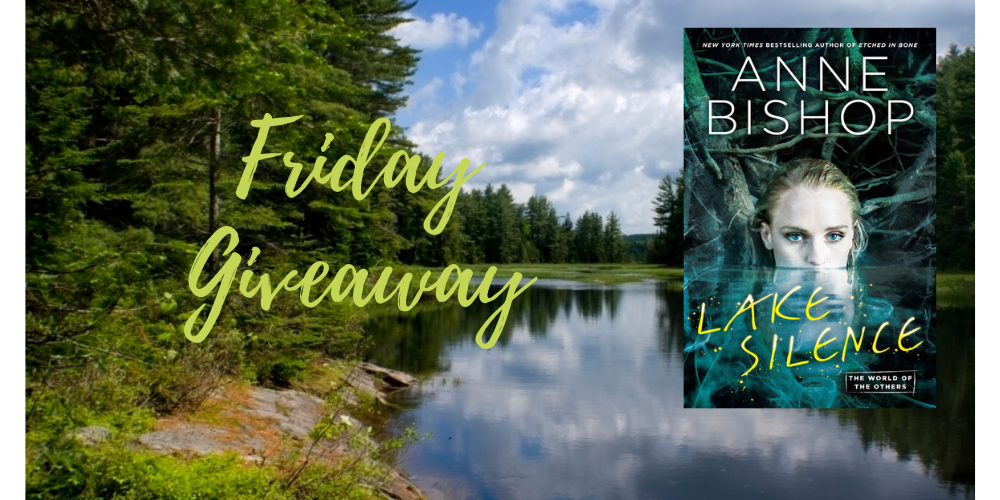 our winner is…Timitra. Congratulations.
TGIF!
Hey everyone, as I mentioned in yesterday's review of Crowbones, The Others/The World of The Others series by Anne Bishop is one of my top non-romance series.  I was introduced to it when someone sent me a copy of Lake Silence with a note indicating that they hoped I didn't already read this series since they wanted to be the one to share it with me.    I had taken this with me on vacation and was so happy that I could throw myself into the world building.  I immediately searched out the other books in the series and danced around when I found the original five books.  I was also a little sad because the first five books feature the Lakeside Courtyard on the east coast and I had really liked Vicki and The Jumble and all the other characters in the Village of Sproing on the Finger Lakes.   I was so excited when I saw Crowbones listed as an upcoming book, first, obviously because we were getting another story but second, we were going back to The Jumble.   Yes!
While this week's giveaway is technically book 6 of a series, it is the start of another story arc so you can read this as a standalone and I say with confidence that you will be grabbing Written in Red once you finish.  I do admit it took me awhile to grab ebook copies of  this entire series because these books rarely go on sale but they finally went on sale about a year ago and I scooped up copies of the entire series.  Before that I did my rereading through my library app so they should be easy to borrow.  I originally listened to the first five books by audiobook and the narrator does a nice job in her presentation so audiobook lovers can certainly check those out.
For those who don't know, this is a world where humans are just clever meat and the continent of Thesia belongs to the terre indigene or earth natives.  Over the centuries, they have absorbed animal forms, such as the wolfgard, the beargard and the crowgard, and they have also learned to create a human form so they can walk amongst the clever meat and enjoy the interesting things the humans create.  As long as humans create interesting things, like books, and don't cause too much trouble such as believing they are more important in the world than just an easy snack, the humans can remain.  But the terre indigene that we see, aren't even the most dangerous ones out there.   Out in the wild country where humans never wander are the Elders, creatures so large and deadly even the terre indigene fear them.   And it is only the humans who can find a balance between the human world and the world of the others that are most interesting of all.
I am off to make more cookies.  I do have to take a break from my Crumbl recipes because I have had a request for Millionaire Shortbread, which are pretty much giant Twix bars.  And yes, going to the gym all week and eating cookies all weekend is counterproductive but so very yummy.
This giveaway is for a U.S. Kindle copy of Lake Silence.
Leave a comment to be entered.  Giveaway ends Thursday, February 10th.
In this thrilling and suspenseful fantasy, set in the world of the New York Times bestselling Others series, Vicki DeVine and her lodger, the shapeshifter Aggie Crowe, stumble onto a dead body . . . and find themselves enmeshed in danger and dark secrets.

Human laws do not apply in the territory controlled by the Others–vampires, shapeshifters, and paranormal beings even more deadly. And this is a fact that humans should never, ever forget . . .

After her divorce, Vicki DeVine took over a rustic resort near Lake Silence, in a human town that is not human controlled. Towns like Vicki's have no distance from the Others, the dominant predators that rule most of the land and all of the water throughout the world. And when a place has no boundaries, you never really know what's out there watching you.

Vicki was hoping to find a new career and a new life. But when her lodger, Aggie Crowe–one of the shapeshifting Others–discovers a dead body, Vicki finds trouble instead. The detectives want to pin the man's death on her, despite the evidence that nothing human could have killed the victim. As Vicki and her friends search for answers, things get dangerous–and it'll take everything they have to stay alive.