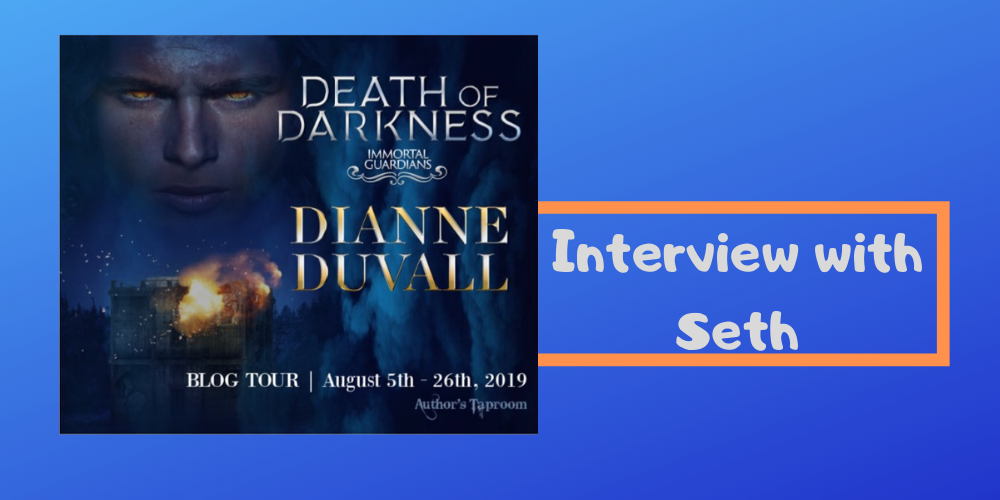 ---
Thank you for joining me! And thank you, Lucy, for helping me celebrate the release of DEATH OF DARKNESS, the latest book in my Immortal Guardians series. I always enjoy visiting EBookObsessed. 🙂
For those who are new to my books: If you like powerful preternatural heroes, strong heroines, action scenes that will keep you flipping pages well past your bedtime, and romance that is alternately steamy and sweet and laced with humor, then I hope you'll pick up a copy, because you'll find all of this in Seth and Leah's story. And don't worry if you're new to the series. Each book can be read as a stand-alone novel. You'll just know more about the secondary characters if you read the books in order.
Today Sheldon, one of the humans in my series (and a favorite of many readers, thanks to the comic relief he provides) will be interviewing Seth, who happens to be the eldest, most powerful immortal in the series as well as the self-proclaimed leader of the Immortal Guardians.
Sheldon: Thanks for agreeing to an interview, sir.
Seth: No problem. A lot has happened lately.
Sheldon: A LOT.
Seth: And there has been more activity down at Network headquarters, so I worried some of the human employees might be feeling a little . . .
Sheldon: Unsettled?
Seth: Yes.
Sheldon: Concerned?
Seth: Perhaps.
Sheldon: Riddled with anxiety, the likes of which they've never—
Seth: *laughs* I get it. They're unnerved by recent events. I don't blame them.
Sheldon: I don't either. I mean, first mercenaries blew the hell out of the original Network headquarters. Then Gershom wreaked havoc at the new one. Now this.
Seth: Immortal Guardians could not accomplish all we do without the extensive network of humans who aid us. I never want them to doubt our appreciation of their contributions and the sacrifices they make, so I will do whatever is necessary to put them at ease. *looks around, then sighs* Even if it means indulging you.
Sheldon: You're not indulging me. You're indulging the humans at the Network. This interview is for them.
Seth: *arches a brow* And you chose to interview me in David's backyard again because…?
Sheldon: *shifts in his chair* Because… you know… David is your second-in-command. His home is the hub of the Immortal Guardians' world here in North Carolina. It's where everyone hangs out after their nightly hunts. And everyone has been sticking closer lately to keep Ami and Adira safe. So I figured you might…
Seth:  *stares at him, unspeaking*
Sheldon: … like to stay close, too, and…
Seth: You've been spending too much time around Ami.
Sheldon: What do you mean?
Seth: Ami can't lie worth a damn.
Sheldon: *laughs* I know. She actually thinks that's a bad thing.
Seth: You suck at lying, too.
Sheldon: *scowls* No, I don't! *brow clears* Wait. You know I'm lying?
Seth: Of course, I do.
Sheldon: *narrows his eyes* Are you reading my mind?
Seth: *grimaces* No. There's too much—
Sheldon: Porn and weird crap up there. I know. The other telepaths keep saying the same thing. I don't get what the big deal is.
Seth: Which is what makes it so scary.
Sheldon: Come on, man. You guys are starting to make me feel a little self-conscious.
Seth: A LITTLE self-conscious?
Sheldon: Oh ha, ha, ha.
Seth: Actually, I see a lot less porn in your head now because you spend so much time picturing Tracy naked.
Sheldon: *bristles* Dude. You see Tracy naked in my head? Uncool.
Seth: That's why I try to avoid peering into your thoughts whenever possible.
Sheldon: Oh. Thank you.
Seth: So ask me what you want to ask.
Sheldon: Okay. First question.
Seth: Not the interview questions. The one that drove you to conduct the interview here instead of at Network headquarters.
Sheldon: You aren't going to kick my butt if I do, are you?
Seth: No.
Sheldon: *looks surprised* Really?
Seth: *shrugs* I owe you.
Sheldon: *mouth falls open* You DO?
Seth: Yes. You kept a confidence. And you, Adira, and a certain unicorn toy with a flower on its butt are largely responsible for bringing Leah into my life. So… ask away.
Sheldon: *grins* Will you shift into a dragon for me?
Seth: *releases a long-suffering sigh* Yes.
Seth rises, steps back, and shifts into the form of a huge dragon that dwarfs the sprawling house behind them. Inhaling deeply, the dragon roars and breathes fire that buffets Sheldon without burning him.
Sheldon: *stares up at it with wide eyes* That. Is. AWESOME!! Can I ride on your back?
Seth: *snarls*
Sheldon: Please?
Seth: *roars and breathes more fire*
Sheldon: *grins* Okay-okay. This is still SO cool!
The back door opens. A pretty toddler with red hair races out, giggling as she clumsily tromps down the steps. A boy the same age with darker hair follows. Both shriek with excitement as they run in circles around the massive dragon that begins to spew bubbles instead of flames. While the children crawl under his claws and try to climb his scaly limbs, two tall, dark-haired immortal warriors emerge from the house. Both cross their arms over their chests and watch with eyes that glow slightly with irritation.
Marcus: Do you know how hard it's going to be to get them down for a nap now?
Roland: *scowls*
Seth: *shifts back to his normal form and points at Sheldon* It was his fault.
Sheldon: *eyes widening* Dude!
Seth: *grins unrepentantly and kneels to give each child a hug* Off you go now, children. Time for a nap.
Sheldon: *shakes his head as Seth retakes his seat* I don't care if they're miffed. It was totally worth it.
Seth: *smiles*
Sheldon: So. Back to the interview. *face turns somber* The first thing everyone wants to know is… How are you holding up?
Seth: *loses his smile* I'm good.
Sheldon: *looks uncertain* You have a hell of a lot on your plate right now. The enemy you're facing is…
Seth: A formidable one.
Sheldon: And an infuriating one?
Seth: Yes.
Sheldon: *glances up as clouds begin to gather and darken overhead* What can you tell the Network employees about him?
Seth: Nothing that will put them at ease. Gershom is extremely powerful and wants to watch the world burn. He has already tried to kick-start Armageddon twice.
Sheldon: And both times you and your Immortal Guardians stopped him.
Seth: Not without cost. He also seems to enjoy striking at me through those I love most.
Sheldon: You're worried about Leah.
Seth: *remains silent*
Sheldon: Well, I have it on good authority that Leah can kick ass.
Seth: *countenance lightens* Yes, she can.
Sheldon: Strong women are so hot.
Seth: Very much so.
Sheldon: Immortal Guardians seem to gravitate toward strong women.
Seth: We do. Can you blame us?
Seth: Hell, no. That's what drew me to Tracy. I hear Leah is also good with "different."
Seth: *smiles* Yes, she is.
Sheldon: How weird is it to try to date someone when you have so much going on?
Seth: Pretty weird. But Leah makes it easy.
Sheldon: And makes everything better?
Seth: She really does.
Sheldon: Speaking of dating. The other day Jared asked me if I'd set him up on some blind dates and I—
Seth: *points an authoritative finger at him* Don't you dare! I have enough on my plate without that particular immortal mucking everything up by diving into the dating pool. Do you know what chaos that would spawn?
Sheldon: Yes, sir. That's why I asked you first. Do you want me to spread the word among the guards at Network headquarters? He's been spending a lot of time there lately and may ask them if I say no.
Seth: Yes. Please, do. *retrieves cell phone when Skillet's "Monster" begins to play* Speaking of Network headquarters, I have to take this.
Sheldon: Okay.
Seth: Yes? *listens, then scowls as his eyes begin to glow with a golden light* I'll be right there. *rises and nods to Sheldon*
Sheldon: *holds up an index finger* Before you go, could we…
Seth: *vanishes*
Sheldon: …schedule a time to interview you and Leah together? Oh well. I'll have to catch them on the fly. *rises*
The back door opens. Roland and Marcus step out. The children's shrieks and giggles pour forth from inside. Both scowl at Sheldon.
Marcus: The dragon was YOUR idea?
Sheldon: *swallows* Ummmm…
---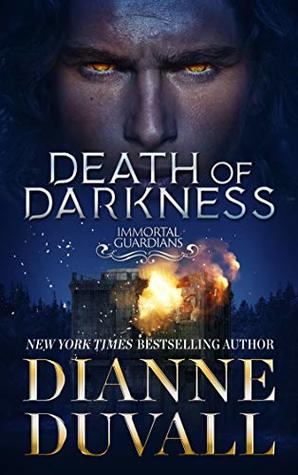 Death of Darkness by Dianne Duvall
Immortal Guardians Book #9
Releasing August 20, 2019
Delve into the most eagerly anticipated book in New York Times bestselling author Dianne Duvall's "utterly addictive" (RT Book Reviews), "fast-paced and humorous" (Publishers Weekly) Immortal Guardians series.
Seth has led the Immortal Guardians for thousands of years. With them fighting by his side, he has protected humans from psychotic vampires, defeated corrupt mercenary armies, defended military bases under attack, and more. But the latest enemy to rise against the Immortal Guardians has proven to be a formidable one, wielding almost as much power as Seth. His goal is simple. He wants to watch the world burn. And he will use every means at his disposal to accomplish it. Seth and his Immortal Guardians have succeeded thus far in staving off Armageddon despite heartbreaking losses. But they have never before faced such danger. Seth has only one wish: to protect his Immortal Guardians family and ensure the continuation of humanity by defeating his foe. But then Leah walks into his life and sparks a new desire.
Leah Somerson has suffered losses of her own. It has taken her a long time to rebuild her life and find some semblance of peace. Then one night a tall, dark, powerful immortal with what appears to be the weight of the world on his shoulders stumbles into her shop, and everything changes. Peace and contentment are no longer enough. Now she wants more. She wants to find happiness. She wants to erase the darkness in Seth's eyes and replace it with love and laughter. She knows he's different in ways that make most fear him. Even some of his immortal brethren keep a careful distance. But Leah will not. Nor will she shy away when danger strikes.
Goodreads — https://www.goodreads.com/book/show/42613757-death-of-darkness
Available for pre-order:
SPECIAL PRE-ORDER EBOOK PRICE—$5.99 (Save $1)
Kindle — http://bit.ly/DeathOfDarkness_Kindle
Nook — http://bit.ly/DeathOfDarkness_Nook
Kobo — http://bit.ly/DeathOfDarkness_Kobo
iTunes — http://bit.ly/DeathOfDarkness_iBooks
AmazonUK — http://bit.ly/DeathOfDarkness_AmazonUK
AmazonAU — http://bit.ly/DeathOfDarkness_AmazonAU
AmazonCA — http://bit.ly/DeathOfDarkness_CA
AmazonDE — http://bit.ly/DeathOfDarkness_DE
AmazonFR — http://bit.ly/DeathOfDarkness_FR

 The Immortal Guardians Series:
Darkness Dawns (Immortal Guardians, #1) — http://amzn.to/2uevzhd
Night Reigns (Immortal Guardians, #2) — http://amzn.to/2t0Co5K
Phantom Shadows (Immortal Guardians, #3) —  http://amzn.to/2v8LABy
In Still Darkness (Immortal Guardians, #3.5) — http://amzn.to/2t9V26z
Darkness Rises (Immortal Guardians, #4) — http://amzn.to/2u4AW1V
Night Unbound (Immortal Guardians, #5) — http://amzn.to/2ueeJiB
Phantom Embrace (Immortal Guardians, #5.5) http://amzn.to/2u4BlkX
Shadows Strike (Immortal Guardians, #6) — http://amzn.to/2sLOSd9
Blade of Darkness (Immortal Guardians Book #7) —  http://amzn.to/2t9OTXZ
Awaken the Darkness (Immortal Guardians Book #8) — https://amzn.to/2IIb02y

Tour-Wide Giveaway:
1 — $50 Amazon Gift Card
1 — $25 Amazon Gift Card
1 — Immortal Guardian & The Gifted Ones Prize Packs that includes; a Death of Darkness tote bag, signed paperback copies of Blade of Darkness and Awaken the Darkness, 13 bookmarks, 13 collector cards, and 5 postcards.
Open to residents of the US and Canada.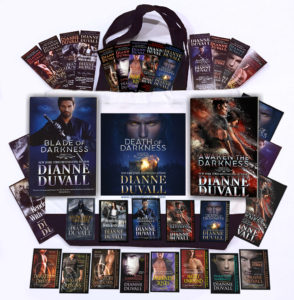 http://www.rafflecopter.com/rafl/display/cceafca156/?
About the Author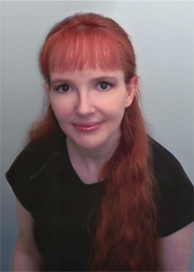 Dianne Duvall is the New York Times and USA Today Bestselling Author of the Immortal Guardians series and The Gifted Ones series. Reviewers have called Dianne's books "fast-paced and humorous" (Publishers Weekly), "utterly addictive" (RT Book Reviews), "extraordinary" (Long and Short Reviews), and"wonderfully imaginative" (The Romance Reviews). Her books have twice been nominated for RT Reviewers' Choice Awards and are routinely deemed Top Picks by RT Book Reviews, The Romance Reviews,and/or Night Owl Reviews.
Dianne loves all things creative. When she isn't writing, Dianne is active in the independent film industry and has even appeared on-screen, crawling out of a moonlit grave and wielding a machete like some of the vampires she creates in her books.
For the latest news on upcoming releases, contests, and more, please visit DianneDuvall.com. You can also find Dianne online . . .
Blog — dianneduvall.blogspot.com
Facebook — facebook.com/DianneDuvallAuthor
Twitter — twitter.com/DianneDuvall
YouTube — youtube.com/channel/UCVcJ9xnm_i2ZKV7jM8dqAgA?feature=mhee
Pinterest — pinterest.com/dianneduvall
Goodreads — goodreads.com/Dianne_Duvall
Google Plus — plus.google.com/106122556514705041683
Instagram — https://www.instagram.com/dianne.duvall/