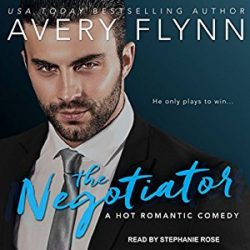 The Negotiator
by
Avery Flynn

Published by
Tantor Audio
on August 15th 2017
Genres:
Contemporary
Format:
Audiobook
Narrator:
Stephanie Rose
Length:
7 hrs 56 min



I received this book for free from in exchange for an honest review. This does not affect my opinion of the book or the content of my review.
This post contains affiliate links you can use to purchase the book. If you buy the book using that link, I will receive a small commission from the sale.
Wanted: Personal Buffer

Often snarly, workaholic executive seeks "buffer" from annoying outside distractions AKA people. Free spirits with personal boundary issues, excessive quirks, or general squeamishness need not apply. Salary negotiable. Confidentiality required.

Workaholic billionaire Sawyer Carlyle may have joked he needed a "buffer" from their marriage-obsessed mom, but he didn't need a waiting room filled with "candidates" to further distract him. (Thanks, bro.) But when a sexy job applicant shooes his mom and the socialite in tow out of his office, Sawyer sees the genius of the plan. And the woman. In fact, Miss Clover Lee might just get the fastest promotion in history, from buffer to fake fiancé…

This "free-spirit" might look like hot sunshine and lickable rainbows, but she negotiates like a pitbull. Before Sawyer knows what hit him, he's agreed to give up Friday nights for reality tv, his Saturdays for flea markets (why buy junk still baffles him), his Tuesdays and Thursdays for "date nights" (aka panty-losing opportunities if he plays his cards right). And now she wants lavender bath salts and tulips delivered every Monday?

Yup, she's just screwing with him. Good thing she's got this non-negotiatable six-weeks-and-she's-gone rule or Sawyer may have just met this match…
---



This was a simple rich guy has fake fiance story but Sawyer, the rich, works-too-much, but not really fleshed out character was the only one who stayed true to his character. Oh, and his cock.  We'll get to that.
It wasn't unreadable, but I had some issues with the plot and characters that I couldn't get past.  The basic premise of the story is that rich CEO Sawyer Carlyle's mother is suddenly obsessed with finding Sawyer the perfect wife.  After griping to his brother, and as a joke, his brother puts an ad out that Sawyer is looking for a "personal buffer."  Just as Sawyer was about to send the candidates, all of whom are buff, secret service looking guys except Clover, on their way, Saywer's mother arrives with more candidates to take Sawyer to lunch.  Clover Lee decides it's now or never if she actually wants this job, and she stops Mrs. Carlyle in her tracks and sends her off with her potential wives.
So happy that his mother left with no fuss, he hires Clover on the spot and the King of negotiations is out manipulated by a girl who can't keep a job.   Jane "Clover" Lee is free-spirit and she takes odd jobs to earn money for her next adventure traveling the world.  Her next plan is Australia to save the wallabys.  Clover travels around so she doesn't end up like her mother, who never got to see the world, or do anything else after she got pregnant with Clover and her parents had to get married.  Clover sees settling down in one place with one person as a death sentence.
But from the beginning, Sawyer's mother isn't so easily detered and even with Clover at his side, she is still ready to set him up with her picks as Mrs. Carlyle.  So Sawyer publically announces his engagment to Clover and then has to negotiate terms with Clover, such as movie night and going to the flea market.
He makes Clover move into his apartment and the question is why since he sets her up in a separate bedroom.  So who showed up and snooped around would be more convinced it was a sham if she is living in separate bedroom, and if no one showed up (and no one did) who even knew they were living together.  It just made it easier in the end for free-spirit Clover to suggest they enjoy sex until she has to leave town.
Sawyer knows he should just give up the farce but he can't bring himself to split with Clover, knowing she will shortly be walking out of his life and going to Australia.  Will these two commitment phoebes give in and find love?
While it was readable, it wasn't particularly memorable except for the issues that I kept circling back to again and again.
Anyone who follows my blog knows that it makes me crazy when the author doesn't stay true to the character they presented.  Clover is a free-spirit, or at least she wants to be.   She doesn't want to be like her mother, settling down in some small town, eating foods she doesn't like to make her husband happy.   So Clover is always traveling the world alone looking for adventure, meeting people and living in the local culture.  She has no interest in settling down now or ever, in a place, with a man, at all.    So why after getting the job to be Sawyer's buffer and jumping up to put his mother in her place to get the job, does she suddenly spent the first few minutes frozen like a deer-in-the-headlights, going "umm…ummm…" when Sawyer's mother comes up to her at a cocktail party and is trying the old "I'll pay you 1/2 million to take off" and Sawyer has to come to her rescue?   Why, when she confesses to her BFF that her engagement is fake but she is having sex with Sawyer for the fun of it, is her friend concerned because Clover "doesn't do casual sex"?   Clover avoids connections with men or anything close to a serious relationship.  Shouldn't her MO be one-night stands and casual sex?  She is not a virgin and she doesn't do commitments so what catagory does that leave her?
One character that I didn't like in this story was Sawyer's cock.  I know we often say that men have two brains but in this story it was consulted in almost every decision.  He talked about it and to it.  Alright, maybe he didn't talk to it, but it was his a barometer for every interaction with Clover.   I was waiting to switch over to the cock's POV since it was brought up so often.  If I had this in a digital copy, I would have done a word search for cock, dick and all other euphemisms to give you an actual accounting.   Sawyer's cock spent way too much time weighing in on all decisions.
Mothers are apparently very annoying with all their bothersome concerns about their adult children working themselves to death or having no life plan.  While I might agree that Clover at 26 should be living life footloose and fancy free, having adventures to look back on once she is settled with a family of her own and maybe her mother should have relaxed a little bit.  But annoying though Sawyer's mother is about trying to marry him off, you could tell even from the beginning that it had more to do with his father's death and Sawyer's non-stop working. Sawyer's brother barely comes into the office while Sawyer barely leaves it.  His mother doesn't want him to follow his father into an early grave.  Where Clover was all about the adventure, Saywer was having none and not really living life.  He needed an intervention.  Boy, what a bitch his mother is!   Right?
One spoiler which again got me crazy,
Clover and Sawyer end up having a condom break on them.  Sawyer calmly asks Clover if there is a 24 hr pharmacy nearby so they can get a morning after pill and Clover's response is "I can't take a morning after pill, I am allergic."  Apparently she knows that she is allergic to one of the inactive ingredients.  Ummm…my immediate thought is "How do you know that?  Take them a lot?  Google 'things I am allergic to' when you're bored?"  Allergic as in I stop breathing or I get a rash.  A week a scratching is better then 18 years of child support when neither want a child.  And why wasn't Sawyer more concerned that the woman he is casually seeing knows automatically that she is allergic to a morning after pill?  He's like, "I guess we'll have to wait and see and worry about that later."  WHAT?  Ummm…how about we try calling the gynocologist in the morning or when you get home. Maybe there is something else for people who can't take a morning after over the counter pill.
It is one thing if the author had written Sawyer as a hard-ass but then we see he actually has a soft-side.  Having character growth is important. Creating a character that doesn't stay true to who they are supposed to be makes me crazy. The only one who stayed true to himself is Sawyer's cock.
Related Posts