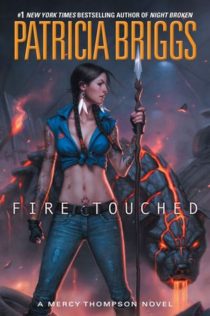 Fire Touched (Mercy Thompson, #9)
by
Patricia Briggs

Series:
Mercy Thompson #9
Published by
Ace
on March 8th 2016
Genres:
Paranormal/Urban Fantasy
Pages:
342
Format:
eBook
Narrator:
Lorelei King


I received this book for free from in exchange for an honest review. This does not affect my opinion of the book or the content of my review.
This post contains affiliate links you can use to purchase the book. If you buy the book using that link, I will receive a small commission from the sale.
---
[box style="rounded" border="full"]Mercy has been dragged into the middle of every supernatural problem and this time it is Mercy that drags the pack into the middle of the fae/human standoff. [/box]
Mercy has been dragged into the middle of vampire problems. She is been caught up in fae investgations. She has also been forefront in the pack's own civil unrest.  Not everyone in the pack is a supporter of their alpha's new mate.
When the pack is called by the local police department to help with a slight troll problem on the bridge, Mercy, Adam and the pack come to the aid of the humans. Once the battle is over and the dust clears, it becomes quite clear that the fae sent the troll to start up trouble with the humans, and Mercy isn't going to stand back and allow the fae the risk the lives of the people of the Tri-Cities in a power play with the humans.
Mercy takes a stand and publicly declares that the Tri-Cities is under the protection of the Columbia Basin Pack and anyone of attempt to do harm in their territory better be ready to face the wrath of the pack.
The werewolves in Adam's pack have not all been very supportive of Adam's coyote mate and those dissenters have been quite vocal about it, and Adams has had quite enough of listening to them. With the entire world watching the Tri-Cities to see if the pack can actually make good on their word, the pack has to be unified and Adam finally lays down the law, shut up or get out and any further disrespect will be met with a brutal punishment. Adam's pack needs to be cohesive, especially since Bran has been forced to declare Adam's pack as rogue. If he did not, Mercy's declaration could drag the entire werewolf nation in a full out war with the humans, the fae, the vampires or even the other werewolf packs.
Zee and Todd have escaped the fae reservation and have brought with them a small human boy, a boy who has been a prisoner in the fae's Underhill for centuries. This human boy has the power to control fire and the fae desperately want him back.  Aiden is the first person that the pack will offer protection to as long as he can behave himself. A small boy with the power of fire can be very dangerous on his own and with the Grey Lords trying very hard to get him back from the pack, they wolves will be forced to stand strong and back up their promise.
The fae want more than just this boy and his access to Underhill. The fae want out. After being treated unfairly in the human courts, the fae retreated to the reservations. It has been several months and the fae are realizing they don't really want to be trapped in close quarters together. The question now is do they make peace with the humans or will it be an all out war?
THOUGHTS:
I am a huge fan of the Mercy Thompson series, as well as the spinoff Alpha & Omega series. This story has plenty of action to keep you excited.  We also have a visit from prior short story characters.
After all the stories where Mercy gets dragged into the middle of someone else's problem, whether they show up at her garage or at her front door, it is a nice change that Mercy stood up and actually invited trouble to come find her. And in every way she is right in her declarations both to the world and to the pack. She declares that the Tri-Cities is under the protection of the Columbia Basin Pack and in doing so, she is challenging the fae, the vampires and everyone else hiding in the dark. When the pack objects, Mercy tells them that the fae would never have sent a troll into Bran's territory simply because they know better than to challenge Bran. The fae sent a troll to rampage the Tri-Cities because they didn't think anyone would help the humans. Mercy wants to make sure everyone knows better than to try and take on the Columbia Basin Pack, and then they won't have to fight trolls ever again. The fae would now better than to challenge Adam's pack ever again.  The question to be answered is can they do it?
So far the vampires are just having fun with this declaration and they are making the pack take over the policing of rogue vampires who appear in the territory. I am sure we shall see if the seethe is going to sit back and make the pack take on any problems or will they protect their own in the future.
I was happy to have Zee back after several books without him. I missed his relationship with Mercy. Although the pack is angry in what they feel is Mercy and her friends dragging the pack into business which is not their own, Adam is quick to point out that Mercy's friends have been quick to jump to the assistance of the pack whenever Mercy and Adam have needed them. The support of Mercy's friends will be just what they need to help back up the pack in protecting the Tri-Cities. If everyone knows that they will face the pack, who are being backed up by vampires and fae, there won't be any trouble to begin with, which of course won't really happen or there won't be any more stories.
I am already anticipating the next story. Who will be the first to challenge Adam, Mercy and the Columbia Basin pack?
Received an ARC from the publisher in exchange for an honest review.
---
Favorite Scene:
Jesse's friend's mother stops by the house to try and sell vitamins to Mercy and she feel quite trapped into listening to the woman's hard sell while the werewolves eavesdrop from Adam's office.
"Now this little gem"–Izzy's mother pulled out yet another bottle–"This is one of my favorites, guaranteed to improve your love life or your money back. Does you husband ever have trouble keeping up?" She held up a finger, then curled it limply downward as her eyebrows arched up.
The silence from upstairs was suddenly deafening.
"Uhm. No," I said. I tried to resist, I really did. If Darryl hadn't said, "Way to go, man–for a moment I was worried about you," I think I could have held out. But he did. And Adam laughed, which clinched it.
I sighed and picked an imaginary string off my pant leg. "Not that way. My husband is a werewolf, you know. So really not, if you know what I mean."
She blinked avidly. "No. What do you mean?"
"Well," I said, looking away from her as if I were embarrassed, and I half mumbled, "You know what they say about werewolves."
She leaned closer. "No," she whispered. "Tell me."
I had heard the meeting-room door open, so I knew that the werewolves could hear every word we whispered.
I let out a huff of air and turned back to her. "You know, every night is just fine. I'm good with every morning, too. Three, four times a night? Well…" I let fall a husky laugh. "You've seen my husband, right?" Adam was gorgeous. "But some nights…I'm not on the right side of thirty anymore you know? Sometimes I'm tired. I just get to sleep and he's nudging me again." I gave her what I hoped would come out as a shy, hopeful smile. "Do you have anything that might help with that?"
I don't know what I expected her to do. But it wasn't what happened.
She nodded decisively and pulled out an oversized vial with "Rest Well" written on the label. "My manager's father, God rest his soul, discovered the "little blue pill" last year. Her mother just about divorced him after forty years or marriage before she tried this."
"God rest his soul" mean dead, right? I took the vial warily. Like the others, it didn't feel magical. I opened it and sniffed. Lavender again, but it was more complex than that. Orange, I thought and something else. "What's in it?" I asked.
"St. John's wort, lavender, orange," she said briskly. "This isn't quite chemical castration, but it will bring your life into balance," she said, and she was off on her sales pitch as if the phrase "chemical castration" was a common concept–and something one might consider doing to one's husband.
And she looked like such a nice, normal person.
**********
I saw her out and put my back against the door once I closed it. Adam cleared his throat. I looked up to see him halfway down the stairs. He was leaning against the wall, arms folded as he did his best to appear disgruntled. But there was a crinkle of a smile at the edge of his eyes.
"So," he said, shaking his head. "I'm too much for you. You should have said something. We might be married, Mercy, but no still means no."
I widened my eyes at him. "I just haven't wanted to hurt your feelings."
"When I give you that little nudge, hmmm?" His voice took on a considering air. "Come to think of it, I'm feeling a little nudge coming on right now."
"Now?" I whispered in horrified tones. I looked up toward Jesse's room. "Think of the children."
He tilted his head as if to listen, then shook it. "They won't hear anything from there." He started slowly down the stairs. "Think of Darryl, Zack, Lucia and Joel," I said earnestly. "They'll be scarred for life."
"You know what they say about werewolves," he told me gravely, stepping down to the ground.
I broke and ran–and he was right on my tail. Figuratively speaking, of course. I don't have a tail unless I'm in my coyote shape.
Related Posts