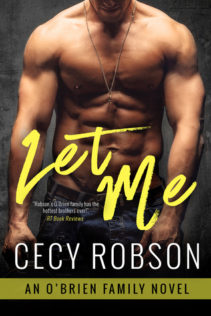 Let Me (O'Brien Family, #2)
by
Cecy Robson

Series:
O'Brien Family #2
on April 19th 2016
Genres:
Contemporary
,
MMA/Fights
,
Sports
Pages:
263
Format:
eBook


I received this book for free from in exchange for an honest review. This does not affect my opinion of the book or the content of my review.
This post contains affiliate links you can use to purchase the book. If you buy the book using that link, I will receive a small commission from the sale.
---
[box style="rounded" border="full"]Cecy Robson plays havoc with your emotions. She drags you in and truly has you suffer alongside her characters, whether it be a paranormal or contemporary story. By this time, I should know better and have a happy, lighthearted book set aside as my next read. [/box]
Finn O'Brien is working his way up the MMA ladder and is looking toward a championship bout. He should be on top of the world, not disconnecting more and more with the world around him. Fighting should be an outlet for him but the rage builds and builds with each fight. When he seriously injures another fighter, he is forced to get counseling for his anger issues.
Finn has no intention of telling the counselor with his sweater vest and his tasseled shoes about the darkness that lives deep in his soul. He'll just go through the motions until his time is up.
Finn is quite surprised to see Sofia's cousin again at the office. Sol is doing her internship for her psychology degree. Women usually aren't able to hold Finn's interest for more than a night, but every time Finn runs into Sol, the more he wants to spend time quality time with her. Her quiet demeanor is a balm on Finn's inner demons and simply spending time with her is doing more for his peace of mind than hours of counseling.
But getting Sol to even go out on a date is proving to be quite hard for a charming guy like Finn. Sol is focused on finishing her degree. Sol needs to help people heal their mental wounds, especially her own mother. All her life, Sol's mother lived in her own fantasy world but each year is grows worse and worse and now the medications don't seem to be working like they used to.
Spending time with Finn has been the only brightness in Sol's life for so long. She can't remember the last time she smiled before Finn. But Sol is also training to become a psychologist, she can see the demons that Finn is trying to hide and she knows that her own problems won't help Finn right now. No matter how much she wants to be with Finn, she has to stay away from him for his own best interest.
THOUGHTS:
This is a real tearjerker. Finn has suffered abuse in his past and pushes his trauma down deep which never, ever works. He is ready to explode from keeping his secret for so many years. Sol has been trying to keep her mother sane since she was old enough to realize that something wasn't right with her mother's behavior. These are two people who are suffering through the darkness caused by mental trauma.
Watching Sol and Finn together is wonderful. They bring a joy and light to each other's lives, but you see the darkness keep creeping in and you know that is just isn't enough. That they both need to deal with their problems and they would be best doing that separately. So just like the characters, you are torn between them concentrating on what they need to, and their needing that little joy that each brings to the other's life. And the question is will splitting up just cause more of a struggle since that little joy is taken away and there is only darkness to struggle through by yourself.
It was a really good story to read, especially if you like a book where the characters are going to drag you through the trauma with them, but make sure you have a lighthearted happy book to help shake off the sadness that Sol and Finn will drag you through.
---
Favorite Scene:
Her voice cuts off when I partially remove my T-shirt in the process of yanking off my sweatshirt. It's not intentional, but I'll admit, I like the results. I grin when I catch Sol jerking her focus from the muscles lining my chest and forcing it back onto my face.
I tug my tight T-shirt back in place slowly. "Like what you see?" I ask, adding a wink.
This time she laughs for real, despite how her face turns pink. "You're…"
"Hot?" I offer.
She laughs again. "I was going to say–"
"Alpha male sexy with Greek god-like charm?" I ask, cutting her off again.
She grins, but doesn't exactly deny it. "Did you spontaneously pick out all those adjectives? Or do you keep them handy to impress the ladies?"
I think my quickness surprised her, but I can't say she's completely off. "Some reporter wrote it about Gerard Butler," I admit. "But I thought it was fitting enough."
This time she covers her mouth to hold back her laughter. "You're something else," she says, dropping her hand away.
"I've been called worse," I admit. "Thank, Suv," I add when he drops off a giant glass of water and my omelet "You want something?" I ask Sol.
"Thank you, but I'm good with just coffee."
I nod and dig into my food. I'm not as hungry as I appear, but I don't want to overdo it with Sol. That doesn't mean I don't like how her smile seems to linger and how it keeps finding its way into her pretty eyes.
"What about you?" I ask.
She tilts her head. "What do you mean?"
"If you were to describe yourself, how would it be?"
She crinkles her nose. "Why do you want to know?"
I shrug, trying to keep my voice easy. "Maybe cause I want to know you." I'll admit, for all I'm messing with her that much is true. We've crossed paths a handful of times, at a couple of weddings and a few parties. But I still don't know Sol as more than as that sweet, sexy woman who hooks me with her smile.
She nibbles on her bottom lip, like she's trying to keep herself quiet. When her attention shifts to window where a group of kids are heading off to school, I don't think she's going to answer. But then she does, or at least tries to.
"I don't know," she says. "Studious maybe?"
I stop mid-chew, swallowing hard so I can speak. "Studious?" I repeat. At her nod I say. "Is that the best you can do?"
She smirks. "I know it's not the same as having Greek god-like charm, but we all can't be Thor."
"Thor?" I ask.
I'm trying to stir that cute blush again, and while her cheeks go slightly pink, this time she doesn't turn away. "You know Thor, the guy with the really big hammer?" She shrugs. "You have to respect the hammer."
"Damn, there's so much I can say to that." I hold out my hand. "But I won't because I'm a classy guy."
"Classy, alpha and charming?" she rests her cheek on her hand. "Tell me more."
The way the side of her face falls perfectly against her hand coupled with the way she waits patiently to hear what I have to say, momentarily holds me in place. A lot of women I've dated strike poses to look good and show off their assets. I'm not talking about when they're standing for pictures–I mean in general, for attention, so I'll buy them a drink, and yeah, to get me to take them home and fuck them. I've walked in on a few practicing their stances, adjusting their expression and curves just so in front of a mirror. It's fake, well-rehearsed, and effective. But the way Sol is sitting in front of me doesn't appear anything close to phony. She looks good–damn good–don't get me wrong. Yet it's like she genuinely wants to hear what I have to say and this is simply who she is.
Related Posts