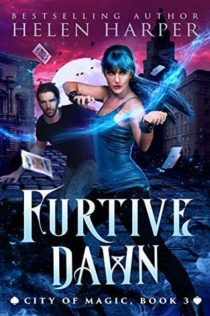 Furtive Dawn (City of Magic #3)
by
Helen Harper
Series:
City of Magic #3
Published by
Tantor Audio
on June 12, 2019
Genres:
Paranormal/Urban Fantasy
Format:
Audiobook
Narrator:
Ruth Urquhart
Length:
7 hrs 47 min



I received this book for free from in exchange for an honest review. This does not affect my opinion of the book or the content of my review.
This post contains affiliate links you can use to purchase the book. If you buy the book using that link, I will receive a small commission from the sale.
It's been almost a year since the magical apocalypse closed off the city of Manchester from the rest of the world. The vampires, werewolves and humans within the city all now live together in relative harmony ... but trouble is brewing on the horizon. Supplies are starting to run out and, despite their best efforts to grow crops and create a sustainable future, everyone knows that it will be an uphill battle. Still, the magic swirling in the city air is an incredible bonus. Charley, the most magical of them all, is determined to do whatever she can to help out her new community and with Monroe by her side, she's confident that things will turn out alright. But when someone from beyond Manchester's walls makes contact, what happens next will be anyone's guess.

This is the third and final book in the City of Magic series.
An enjoyable conclusion to a slow starting series.
The first book in the series had a slow start but it book 2 picked up and book 3 kept right on going.
All of the remaining citizens of Manchester, whether vampire, werewolf, magical or simply human, are living and working together in the camp in the North. They have ironed out all of their differences and have begun pulling together and even growing their own crops, but food and medical supplies are still growing scarce. Just when the survivors are really starting to worry, a savoir in the form of billionaire Fabian Barrett arrives offering to bring in supplies and negotiate with the British government for more.  It seems…too good to be true, doesn't it?
Fabian, or Fab as he likes to be called, arrived with his personal goon squad making promises of rescue but seems to have his own agenda which they can't quite figure out.
Charley and Monroe have finally given themselves over to their mutual attraction and have stood out as leaders of the group.   But since Fabian's arrival, Charley has suddenly become quite accident-prone, and has skirted death one too many times.   Just coincidence?  No one seems to think so.
Fabian tries to split the group using fear tactics, never realizing that after all the happen in book 2, they have already hashed out their vamps vs were vs human problems and then all he is actually doing is waking his supporters up to the fact that there is something underhanded going on.
Charley in still trying to save everyone and that includes a baby Smoke Monster who she adopted after killing its mum.  Everyone thinks she has lost it, but she promises to try to find out where the Smoke Monsters hide so she can turn Lucy over to them to raise.   Personally, I don't this that aspect of the story was explored enough.  But I did love the scene where Charley wakes up and finds Monroe bottle feeding the Smoke Monster so she could sleep in and she gets all gooey about it.
Furtive Dawn does take a while to get to the point but it is still a good ending to the series.
Related Posts