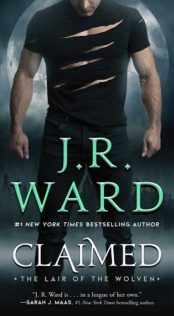 Claimed (Lair of the Wolven, #1)
by
J.R. Ward

Series:
Lair of the Wolven #1
Published by
Pocket Books
on July 27, 2021
Genres:
Paranormal/Urban Fantasy
Pages:
528
Format:
eBook
Source:
Netgalley



I received this book for free from Netgalley in exchange for an honest review. This does not affect my opinion of the book or the content of my review.
This post contains affiliate links you can use to purchase the book. If you buy the book using that link, I will receive a small commission from the sale.
A heart-pounding new series set in the Black Dagger Brotherhood world, with a scientist fighting to save the timber wolves—and getting caught in a deadly trap herself...
Lydia Susi is passionate about protecting wolves in their natural habitat. When a hotel chain develops a tract of land next to the preserve, Lydia is one of the most vocal opponents of the project—and becomes a target.
One night, a shadowy figure threatens Lydia's life in the forest, and a new hire at the Wolf Study Project comes from out of nowhere to save her. Daniel Joseph is both mysterious, and someone she intrinsically wants to trust. But is he hiding something?
As the stakes get higher, and one of Lydia's colleagues is murdered, she must decide how far she will go to protect the wolves. Then a shocking revelation about Daniel challenges Lydia's reality in ways she could never have predicted. Some fates demand courage, others require even more, with no guarantees. Is she destined to have true love... or will a soul-shattering loss ruin her forever?
---
I am captivated by this new world.
I enjoyed the new characters introduced in this series. Lydia Susi is an animal behaviorist who is monitoring the repopulation of wolves in upstate New York, near the Canadian border. She works for a tiny not-for-profit organization. A high-end Resort is building on the lands bordering the wolf preserve and suddenly Lydia's wolves are being poisoned. She brings this to the attention of the local sheriff but fears he might be in the pocket of the Resort. Trying to keep everything working in the meantime, Lydia hires Daniel Joseph, a drifter, to be their new handyman, at least until he feels it is time to leave town again, which is a shame because Lydia hasn't felt this much attraction to a man in a long, long while.
Suddenly the danger isn't just to Lydia's wolves. Several of her Lydia's workers end up missing or dead, and she wants to point blame at the resort but fears that there is something much more sinister going on. When it looks like Lydia is next on the list, Daniel decides he needs to stick very close to her. But the more answers Lydia finds, the less she trusts those around her: her boss, her co-workers, the sheriff, and even Daniel. Will finding the last piece of this puzzle be the one thing that gets her killed, and is saving her wolves worth the risk?
J.R. Ward bring us a new world in her Lair of the Wolven series. As I have said before, I have issues with the Black Dagger Brotherhood series, some of it is world building and some of it Ward's writing style. With the BDB, I found myself annoyed by the fact that many of the characters have the same style of speech and while I can understand that of the Brothers, when Butch and Manny were featured in stories, both of whom were human and obviously had a different upbringing than the Vampyres, and therefore they really shouldn't speak like them. I say this because in Claimed, the world building and writing style changed from what we were used to from Ward. Well, I can't say the entire book. I thought the Wolven would be a completely different and separate world but it apparently crosses-over with BDB because the underlying story has something to do with Xhex and the time she was captured and tortured. I have missed a few books in that series so I don't remember this backstory. So there are a few chapters which bounce back to Xhex, her brother Blade, John Matthew and the sympaths. While I missed the backstory with Xhex, you don't need the details to following along with that part of the story.
At one point in my reading, my husband asked if I was going to continue to ignore him (like he hasn't met me before). I turned to him and said, "I am 85 percent into this story is about 'the Wolven.' I haven't met a Wolven. I don't know if she is Wolven. I don't know if he is Wolven. I don't know if the wolves are Wolven. But I'm in this until I find some freakin' Wolven." Lydia was a great character and I was drawn into her story, but if you are in it for the paranormal aspect, that part doesn't make much of an appearance here and while we do get some answers in this story, the post-story notes indicate that there will at least one other story continuing where Claimed has left off but we won't be seeing that until 2022.
There is a good story and a lot of potential here and hopefully, we will get more answers to our question of "Who are the Wolven?" in the next book.
Related Posts