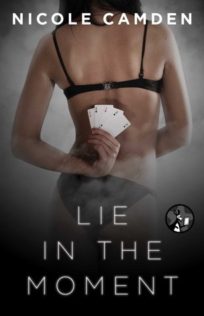 Lie in the Moment (The Billionaire Tricksters of Boston, #3)
by
Nicole Camden

Series:
The Billionaire Tricksters of Boston #3
Published by
Pocket Star
on August 10th 2015
Genres:
Action
,
Crime Drama
Pages:
247
Format:
eBook


I received this book for free from in exchange for an honest review. This does not affect my opinion of the book or the content of my review.
This post contains affiliate links you can use to purchase the book. If you buy the book using that link, I will receive a small commission from the sale.
---
[box style="rounded" border="full"]Exciting and delightful. I haven't been so happy with a new author in such a long time.   This was the third in the series but there was a perfect balance of enough information to keep me from being lost but not so much that I can't go back and read the prior stories and still have them be suspenseful.[/box]
Detective Maura O'Halloran is certain Keenan Shy, the man who killed her brother and sister-in-law, is back in Boston. She also believes that his cousin, Roland Chandler has a better idea of how to find Keenan than he is letting on. At this point, she is willing to try anything to get his cooperation, even some female wiles, but can a player like Roland be seduced?
Roland just found out about all the romantic/threatening letters that Keenan has been sending to Blake over the last few years. Roland knows that Keenan will have dropped hints of his whereabouts in those letters. He won't be able to help himself in his overwhelming need to prove himself a better man than Roland. But Blake gave the letters to the lovely and tenacious Detective O'Halloran.  One of the first things that Roland's father taught him was how to charm a mark.   He might not have to pick pockets any longer, but Roland is certain he can charm his way into Maura's file and maybe even into her bed.
Maura is nothing like the woman Roland usually dates and maybe that is part of the attraction.  Maura is strong, fierce, and is dedicated to her job, and just like Roland, Maura will do anything to protect the people she loves, even step into the direct path of a psychotic killer. Roland has gotten used to being able to pull all the strings, but the longer they work together, the question becomes which one of them is using the other or have they both forgotten the basic rule of not getting emotionally involved?
As they get closer to catching Keenan, can they get him to walk into their trap or have they already walked into his?
THOUGHTS:
Nicole Camden kept a perfect balance in this story. I was able to pick up this third story, which had a continuing theme of these friends being attacked by Keenan Shy, cousin to this hero Roland Chandler, and not feel lost. We received a nice introduction to the other characters and enough of an explanation from the prior stories to know that there was prior trouble with Keenan but we were not told too much so that I couldn't pick up the prior books and still be caught up in the suspense and surprises in those stories.
Both the hero and the heroine were introduced in prior stories, Roland being the partner of Milton and Nick from the prior stories and cousin to the dangerous Keenan, and Maura who was the detective assigned to investigate on the prior stories. Maura's brother and sister-in-law were also murdered by Keenan 10 years prior. This is not an insta-love romance. There has been a building attraction between the two of them going back through their prior history in the series which has been brewing for some time and now the attraction explodes, even though both the cop and the billionaire doubt the possibility of more than a moment of attraction.
It took me a while to realize that I was getting a strong Roarke/Eve (J.D. Robb's In death Series) feel in this story. Roland is a billionaire, making his money from software development some of which was created for the government. Roland has many contacts and connections and has no problem with pulling strings or tossing around money when it suits his purpose. He is used to dating beautiful, sophisticated women, but none who kept his attention for more than a date or two. Maura is a second-generation cop and dedicated to her job. Maura believes that while the sex is fantastic, there is too much difference between the world she lives in and the world that Roland lives in with Rolls Royces, mansions and servants.
You also have the fact that Maura's father remembers well Roland's father and the fact that Roland was taught to pickpockets and scam tourists.   Her father wants her to stay away from Roland and does not trust him for information.  Maura knows her father would go ballistic if he found out she was sleeping with Roland or worse, that Maura was starting to believe in him.
Roland goes from trying to use Maura to get the information he wants to doing whatever he can to protect his cop and her family from Keenan.  Maura and Roland might doubt their relationship but we, the reader, and you know the psychopath who stalks them, can see there is more than a strong attraction between these two.  When you are dealing with a villain with no scruples or compunction, it definitely ratchets up the tension.
I thoroughly enjoyed this story and I have already downloaded the first two in the series.
Received an ARC from the publisher in exchange for an honest review.  See our Spotlight and enter to win an eBook copy of Lie in the Moment.
---
Favorite Scene:
"I know you want something from me," she said. "Let's just put our cards on the table."
Roland felt a smile tug a one corner of his lips. A smart, direct woman with enough sneakiness in her to make her interesting. How refreshing.
"Oh, yes," he agreed, not looking up from his menu. "I definitely want something from you."
Now what does that mean? Maura froze, uncertain. He'd admitted that he wanted something from her, but now she wasn't entirely sure she wanted to dig any further. It would be one thing if he needed the resources of the Boston PD, but she was fairly certain that he could have whatever he wanted from the department with a single phone call. So what could he possibly want with her?
Sex?
She almost laughed out loud. He may be attracted to her, but she'd seen the women that Roland Chandler dated and she was nothing like them. No, he thought he'd deflect her with that oblique comment. He was hoping she'd think he wanted sex and be too flustered to call him on his bullshit.
"So you've decided you want to sleep with me? Is that it?" She had intended to seduce him, but she hadn't expected him to try the same tactic.
Chris chose that moment to return with their glasses of wine, nearly dropping them as he overheard her comment.
Roland looked up from his menu lazily, his eyes crinkled at the corner. "Thanks, Chris."
Chris looked from Roland to Maura and back again before clearing his throat. "Have you decided what you'd like to order?"
Roland nodded in her direction. "Go ahead. Tell the man what you want."
His eyes were hot, lingering on her mouth. He was trying to fluster her. Ignoring him and his hot devil eyes, Maura ordered a pizza with Italian Sausage and peppers before setting her menu aside and crossing her arms over her chest.
Roland ordered several pies to go before handing both their menus to Chris. The man took off as if his chef's hat had caught on fire.
"Well," Maura challenged, "what's your deal?"
"Maybe I have decided I want to sleep with you."
"Uh-huh." She snorted. "Try again."
"Maybe I secretly want a feisty redhead who calls me on my bullshit."
"Maybe you're a manipulative asshole."
"Maybe," he agreed and lifted his wine to his lips.
Related Posts