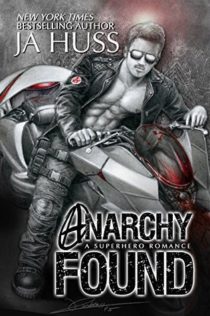 Anarchy Found (SuperAlpha, #1)
by
J.A. Huss

Series:
SuperAlpha #1
Published by
Science Future Press
on December 2nd 2015
Genres:
Action
,
Comics/Graphic Novels
,
Superheroes
Pages:
280
Format:
eBook


This post contains affiliate links you can use to purchase the book. If you buy the book using that link, I will receive a small commission from the sale.
---
[box style="rounded" border="full"]I found this book on an add on Facebook. I was intrigued by the description of the heroine falling in love with arch-villain. I was so intrigued I read it at the first opportunity to squeeze it in. It started out very promising and lost me halfway through. Best I can say is "meh." [/box]
This book is set in a comic book world. Rather than in Gotham, they are in Cathedral City (because there are a lot of Cathedrals in the city. Get it.)
It started off well. The hero of the story is Lincoln Wade. He comes off as a cross between brilliant inventor Tony Stark and vigilant Batman. He works out of a cave located underneath his modest home which is built on the ruins of the family mansion which had been burned down years ago.
Lincoln is presented as a villain since he has practiced both murder and mass murder and is plotting with two other people against the City. But we come to learn that all the people he is murdering were involved in a project which tortured children. That makes him more of a vigilante than a arch-villain.
Lincoln's motorcycle malfunctions on cold, rainy night right in front of Molly Masters while she happens to be towing a trailer with her brother's motorcycles inside. Very convenient. Lincoln commandeers her truck and trailer and makes her take him home down a long winding dirt road. I love that he insisted on driving since the road was slick and dangerous, but then he gets out of the car, takes his motorcycle, and leaves Molly to turn the truck and trailer around and find her own way out. Not surprisingly, the dirt road has become muddy in the continuing storm and Molly get stuck. She ends up walking straight into the bat cave since the door was left open and discovers that there is more to Lincoln than just a pushy asshole. Hint for the future: Try to sneak away before he sees you rather than confronting the possible psychopath in his death cave. He has no choice but to roofie her and take her home.
Molly wakes up with no memory of Lincoln and heads off to her new job as a Detective for the Cathedral City Police. Here she receives no training and no respect and there is no doubt that the police force is crooked. But Molly keeps getting flashes of memory which are making her feel crazy.  Brand new Detective Molly is sent to the offices of Blue Corp to investigate a rash of suicides by their top scientists.  Blue Corp is the most important company in Cathedral City so, of course, you send your rookie detective to investigate and she really doesn't do a great job.  In fact, after one death, she doesn't even get there until they have already cleaned up the room.  What?
We come find that the whole city is pretty much owned by one man, and surprise, he is the one responsible for torturing the children, including Lincoln, his friends, and (drum roll) Molly. Molly slowly recovers memory of meeting Lincoln but then quite suddenly jumps to remembering being with Lincoln as a child and how he protected her. But she doesn't recover all her memories at once and childhood memories start coming back in dribs and drabs but not fast enough to be useful.
The whole Molly/Lincoln thing seem too coincidental but it turn out that there is a reason for everything coming together and although it is plausible, we don't get that until the very end so we are frustrated by the "Oh, Really??'s" until then.
This rush of memories happens about halfway through the story but we never get a clear picture of what was occurring at the school, what was the experiment they were conducting exactly or what exactly they were trying to accomplish. We know that the real arch-villain forced people to give up their children or simply stole them to be used in his experiments.
It seems that there will be two more stories in the series which will feature the other two friends who escaped with Lincoln from the school before they blew it up. Maybe there will be more information on the experiments in those stories and a more satisfactory conclusion to the story, but overall it started off well and lost my interest halfway through.
Related Posts