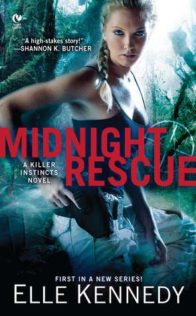 Midnight Rescue (Killer Instincts, #1)
by
Elle Kennedy

Series:
Killer Instincts #1
Published by
Signet Eclipse
on May 1st 2012
Genres:
Action
,
Military
Pages:
354
Format:
Audiobook
Narrator:
Allyson Ryan
Length:
10 hrs 32 min



I received this book for free from in exchange for an honest review. This does not affect my opinion of the book or the content of my review.
This post contains affiliate links you can use to purchase the book. If you buy the book using that link, I will receive a small commission from the sale.
---
[box style="rounded" border="full"]This is the first book of the KGI series, but thankfully, not the first book that I read from that series.  I found Abby to be unlikable and Kane to be unremarkable.   Even knowing the characters as I do now, none stood out as interesting in this first story.  For the first time I will say that if I had started here, I would not be following this series. [/box]
Normally if given enough time, I try to catch up with an established series before I read an ARC. In this case, when I read Midnight Pursuits last April, I was gifted with the first three books in the series and these have been sitting on my bookshelf waiting for an opportunity to be read. When I saw an audiobook copy available on sale, I snatched it up and finally had a chance to listen to this first book in the series.
The heroine Abby Sinclair was raped as a child when her drug addicted mother left her alone with one of her Johns. Shortly afterwards her mother died of a drug overdose leaving Abby in the hands of a system which didn't care and a string of abusive/rapist foster homes. Lucky for Abby, her last foster home was located next door to Jeremy, a former operative and friend of Jim Morgan, who didn't ignore the pleas and cries of a young girl and who removed her from the foster home and eventually adopted her. Abby's upbringing made it hard for Abby to establish relationships or simply interact with people. She even kept her distance from those she considered friends.
We know that deep down Abby is a good person since she blew her cover as an assassin to save a group of little girls. She was supposed to kill a drug lord, but found out that he was holding a group of about twenty young girls (11 to 15) to sell as sex slaves in a private auction. The only way to get to the little girls was through the drug lord's prison so she stole a key and blew her cover so he would lock her up. Her boss, Noelle, went to Morgan for his help recovery Abby when Abby stopped checking in.
Abby was unhappy to be rescued and taken from the situation. She was unconscious at the time of her rescue after the severe beatings she was subjected to and doesn't even trust the men who rescued her enough to explain why she blew her cover while they were still in Columbia. It takes her several days at Morgan's home base to explain what she was doing and why she got herself imprisoned. Abby is so unlikable a character that no one in Morgan's group wanted to help rescue these little girls about to be sold to perverts until Abby declared she was going to go back by herself, then Morgan's team reluctantly got on board and that had as much do to with her fellow chameleon, Isabel, who is charming and personable, than it did with Abby and her crusade.
THOUGHTS:
Thankfully, I have already enjoyed three of the later stories in this series and several other characters have caught my attention and interest for future stories. If I had started here with Abby and Kane, I would not have bothered grabbing the next in the series.
I found it very hard to relate to or sympathize with Abby since she didn't seem to have any emotions and as I reader, I was not connecting with her at all.  She doesn't trust anyone to help her so without any forethought or contact with her boss, Abby changes her plans from killing her target to being a captive.  She is nearly gang raped as a form of torture and was close to being beaten to death because she didn't step back to make a plan of how to get the girls freed.  She would have died in the prison and the girls would have been sold simply because Abby couldn't or wouldn't trust anyone else to let them know what was happening or to ask for help.
Kane is the hero of this story but his character wasn't really fleshed out except as a backup leader to Morgan's group. Even he has a hard time connecting to Abby and because of it there was no real chemistry between these two.  Kane falls for Abby because he  is supposed to.  It felt so forced.  There was not even a sexual draw between them.
The audiobook narrator did an okay job with it but she is not someone I will look out for.  She had a few different voices, but Noelle was left with almost a masculine sounding voice when the only major female characters were Abby, Isabel and Noelle.
I was absolutely disappointed in this story and only finished it to see how they accomplished getting the girls out, but I was close to just tossing this one out instead of finishing.
Related Posts