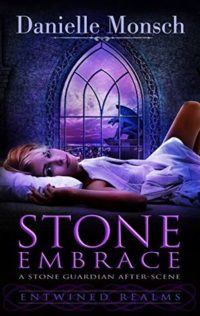 Stone Embrace
by
Danielle Monsch

Series:
Entwined Realms #1.1
Published by
Romantic Geek Publishing
,
Self Published
Genres:
Fantasy
Pages:
56
Format:
eBook



This post contains affiliate links you can use to purchase the book. If you buy the book using that link, I will receive a small commission from the sale.
In the New Realms, love can be the most dangerous battle of all…

Terak has fought all enemies to claim Larissa. It doesn't matter his own Clan looks upon the union with misgivings. It doesn't matter her family see a monster when they see him.

It doesn't matter, because Larissa is his.

And any who would try to take her away? They'll see what a Gargoyle will do to protect his mate.
---
When we finished Stone Guardian, Terak and Larissa were on their way to have dinner with Larissa's family. Although Larissa had already explained her mating with Terak to her father, Police Chief Jack Miller isn't ready to just accept a gargoyle son-in-law without settling a few things with is daughter first, including her safety from threats both outside and inside Terak's Clan.
While Larissa stands by Terak in front of her family, her father's words cause some concern, not for her own safety but for Terak's. Can she risk the life of her love — the leader of his Clan?  Should she walk away and would he even let her go?
THOUGHTS:
Danielle warns that this is more an epilogue to Stone Guardian than a stand alone story. If you enjoyed Stone Guardian as much as I did, this is a perfect way to feed your need for more Terak and Larissa. I could read a whole series dedicated to just those two.
It is also a chance to see Larissa's father's reaction to Terak and an excuse to have some sexy, naked gargoyle time once again.
Unfortunately, this just wet my appetite for more of the series.
In case you missed it, check out our review of Stone Guardian and our interview with author, Danielle Monsch.
As a bonus, I will share a link sent to me by Danielle Monsch for a couple of scenes between Fallon, the Dragon Slayer, and Reign, the Master Vampire.  These two sizzle and I fear it will be some time before we get all the good stuff on them. The Rooftop (Fallon and Reign)
---
Favorite Scene:
Since it is a short epilogue, I'll keep it brief:
She met his gaze, thick lashes surrounding her stunning eyes, that cornflower blue which would now and forever be the color he associated only with her. In those eyes was a violent swirl of pain, and fear, but what loomed largest when she looked at him was love. Always love. She spoke again, and her words rocked against him with their unexpected force. "I would have died with you."
Ripping pain punched through his chest at the return of those memories, those moments when she had looked at him with such calm intent as the mountain began to crash around them. He cradled her face in his hands. "Never again, little human." he said, his voice roughened. "You must live. That is my one truth in this world. You must live, even should all others die."
She shook her head, an instant negation of his words. "But I can't live without you. I don't want to. And I'm terrified to think I might end up being the cause of your death."
With cat-quick feet, rage began to overtake pain. She could not…she could not…"What are you suggesting? That you leave? Me?"
His hands prevented her from turning her head, so she settled for closing her eyes, the circles beneath them a blue-black smudge against her pale skin. "I'm not saying that — don't put words in my mouth. But it still hurts, that my selfishness endangers you. I love you so much, I can't bear–"
"No!" How could this evening have gone so horribly wrong? His woman, his mate, thinking of leaving him? Never.
Never.
She had taken him into her heart and her body, had pushed past all barriers and filled the empty places within him with laughter and warmth, and now she talked of taking that away? For what? Pathetic fear? Fear for him? No, she should fear for any enemy who would dare approach her, fear the pain and death he would bring to them.
He was gargoyle. Skin and marrow and bone he offered for protection, a path awash with the red tide of enemy's blood.
Instinct, ancient and demanding, hot and molten, flared within him.
He was gargoyle. Tonight, his mate would learn exactly what that meant.
Related Posts