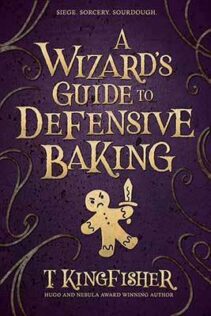 A Wizard's Guide to Defensive Baking
by
T. Kingfisher

Published by
Tantor Audio
on July 21, 2020
Genres:
Fantasy
Pages:
308
Format:
Audiobook
Narrator:
Patricia Santomasso
Length:
8 hrs 30 min
Source:
Tantor Audio



I received this book for free from Tantor Audio in exchange for an honest review. This does not affect my opinion of the book or the content of my review.
This post contains affiliate links you can use to purchase the book. If you buy the book using that link, I will receive a small commission from the sale.
Fourteen-year-old Mona isn't like the wizards charged with defending the city. She can't control lightning or speak to water. Her familiar is a sourdough starter and her magic only works on bread. She has a comfortable life in her aunt's bakery making gingerbread men dance.
But Mona's life is turned upside down when she finds a dead body on the bakery floor. An assassin is stalking the streets of Mona's city, preying on magic folk, and it appears that Mona is his next target. And in an embattled city suddenly bereft of wizards, the assassin may be the least of Mona's worries…
---
If you a looking for a holiday gift for your favorite YA reader, this was a fun and creative story.
Mona is a fourteen year old girl. She works at her aunt's bakery and is a magicker. Mona is convinced she just has a little magic and just with dough. She can make bread not burn in the oven and can make the gingerbread men dance. Once when the tried a little too hard, she created Bob. Bob is a sourdough starter that might be a bit sentient. At least he is more of a pet than just, you know, your average sourdough starter. He always seems very happy to see Mona when she comes to feed him more flour, and we don't talk about those rat bones which turned up. Nope.
Mona loves working at the bakery and doesn't mind getting up before 4:00 to start the ovens or prepping the breads and rolls for the morning's baking. That is until she comes in and finds a dead girl in the bakery. They usually don't lock the doors. What is there to steal but day old rolls.   But one doesn't expect to find a dead body lying next to the ovens. From that point on, things don't go well for Mona. First, Mona is accused of killing the girl. This makes no sense since she was the one who contacted the constables but it doesn't stop the inquisitor from bringing her before the Duchess. It is only a little luck that keeps her from being thrown in the dungeon.
Then Mona begins to hear that magickers are going missing. Enough so that a lot of magickers are packing up and leaving the city until it seems that there is only Mona left, and maybe crazy old Knackering Molly. When Molly warns her to beware of the Spring Green Man, Mona doesn't give it much thought until a man in green robes tries to kill her and suddenly Mona is running for her life and trying to hide from a man who can smell her magic.
With no where else to turn and the only person she can trust is the dead girl's brother,  Mona tries to get to the Dutchess and let her know about the plot against Magickers.   When Mona finally makes it to the palace, things are worse than she imagined.   Someone is planning an attack on the city and the magicker army is too far to help.  The only defense the city has might be one young magicker who is really good with dough.
The title of the book is what originally caught my attention.   I found this story to be cleverly written, especially when all your magic defenses come down to a young girl who can only work magic with dough, what can she do to save a city from invaders?   Mona is a sympathetic main character.  She is just a young girl under attack and frightened yet she finds strength beyond her years to save her people.   We easily sympathize with her plight.  Everyone else is a secondary character to Mona but they are all needed to support her and we root for all of them during the battle, even sourdough starter Bob has his place in the story and the battle to come.
If you are looking for a fun story for your favorite Young Adult reader, I highly recommend picking  up a copy of A Wizard's Guide to Defensive Baking.  I could also highly recommend the audiobook version as Patricia Santomasso  did a nice job bringing Mona and her crew to life.
---
Favorite Scene:
Mona is in hiding and begins to experiment with her magic…
The magic experiments went much better with dough than with bread.  The dough was…well…smarter, I guess.  More suggestible.  The bread that had already been baked had a very clear idea that it was a loaf, it had always been a loaf, it would always be a loaf.  The dough was willing to be little people or animals or anything else I wanted it to be.
They were gloppy people and animals, so I couldn't make them large, and they were awfully sticky–I needed more flour, but I didn't want to keep making demands of Spindle, who was already being so nice. But if you told them to walk around the room, they'd walk around the room. When they hit a wall, they would turn around and walk in another direction. If I took a nap, when I woke up, they'd be in different positions.
One ran into the gingerbread man's card house and got thrown out the window. My cookie had a temper.
—–
It got easier with practice. I found that if I only used crust from one loaf, it worked better. Two loaves that hadn't been baked together didn't want to cooperate at all. (There was no getting it to work with the remaining dough, either–the two rejected each other completely. Dough legs would walk off without the bread-crust body. One actually yanked its own bread-crust arm off and threw it at the wall. Baked and unbaked dough are not friends.
I didn't try to make another bird. I had a feeling that I'd run up against the limits of what even magic bread could do. But I made tiny animals and people, and if I set them a repetitive task, they did okay.
The gingerbread man wasn't impressed. I couldn't blame him. If I'd been able to bake my creations, I could have done a lot more with them.
Spindle, delivering the only edible meal of the day, stopped dead as soon as he climbed up the ladder. "Cor! What's that?"
"It's a circus," I said. The bread-crust elephant waved its trunk. "I'm bored."
"Never saw a circus for real," said Spindle, getting down on his knees. "Is this what they look like?"
"Well, they're usually bigger…" I said, grinning. He flapped a hand at me. "And a lot more colorful. And I couldn't do the trapeze. But this is sort of like it." He'd brought up another meat pie, this one cold rather than molten, and a lump of cheese. I devoured them while he watched the bread circus go through its paces–the elephant posing, the bread girl riding the bread horse (both rather lumpy, since I wasn't very good at horses) the lion shaking its crumby mane.
"Must've taken you hours," said Spindle, impressed.
I snorted. "I've got nothing but time. It's boring up here. And the gingerbread man gets very grumpy if I try to cheat at solitaire."
Related Posts