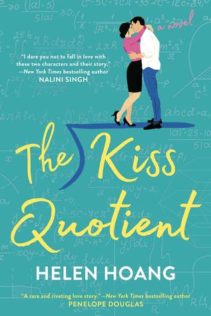 The Kiss Quotient
by
Helen Hoang

Series:
The Kiss Quotient #1
Published by
Berkley Books
on June 5th 2018
Genres:
Contemporary
Pages:
336
Format:
eBook



I received this book for free from in exchange for an honest review. This does not affect my opinion of the book or the content of my review.
This post contains affiliate links you can use to purchase the book. If you buy the book using that link, I will receive a small commission from the sale.
A heartwarming and refreshing debut novel that proves one thing: there's not enough data in the world to predict what will make your heart tick.

Stella Lane thinks math is the only thing that unites the universe. She comes up with algorithms to predict customer purchases--a job that has given her more money than she knows what to do with, and way less experience in the dating department than the average thirty-year-old.

It doesn't help that Stella has Asperger's and French kissing reminds her of a shark getting its teeth cleaned by pilot fish. Her conclusion: she needs lots of practice--with a professional. Which is why she hires escort Michael Phan. The Vietnamese and Swedish stunner can't afford to turn down Stella's offer, and agrees to help her check off all the boxes on her lesson plan--from foreplay to more-than-missionary position...

Before long, Stella not only learns to appreciate his kisses, but crave all of the other things he's making her feel. Their no-nonsense partnership starts making a strange kind of sense. And the pattern that emerges will convince Stella that love is the best kind of logic...
---
The Kiss Quotient is an exquisite treat. Stella and Michael melted my romance-loving heart. I was heartbroken that the story had to end. I didn't want to let them go.
Usually storylines of that "one true mate made just for you" are saved for paranormal romance, and while there was no mystical cataclysm which took place when they met, there is no question that Michael and Stella were made for one another.
I receive many emails from publishers telling me that this latest story rocked their world and it is impossible to try each and every one of them. Yet something drew me to this story and I am so glad I gave it a try. There is no question that The Kiss Quotient melted my heart. The most surprising part was that the book description led me to think that this would be in the category of erotica — geeky girl hires escort to teach her how to be good in bed — but I am so very happy that I was wrong. And while I wouldn't catagorize it as erotica, it was very sexy and oh so delicious.  I love an author who can make a kiss euphoric all by itself.
Occasionally, I have a hard time walking away from a book. Everything about this story is so wonderful that I just don't want to let it go. Not only have I had a hard time walking away from Michael and Stella, but I have to admit that I really haven't done it yet. I have read it three or four times…okay, maybe five, since I first downloaded it. It is still sitting in my carousel on my Kindle and then I received a paperback copy the other day and just wanted to see if there were any changes from my digital ARC copy and sat and read it over again (okay, make it six times).
This is also a book that I want to tell everyone about. I want to stop strangers on the street. If I had extra copies, I would be passing them out wherever I went. But yet, this is also a story I don't want to tell anyone about. There is a big part of me that wants to keep Michael and Stella all to myself. They are mine, mine, mine and I don't want to share them.
Stella Lane is a nerdy math geek, but there is so much more to her social awkwardness than just not understanding social etiquette. Stella has Asperger syndrome. She has issues with sights and sound and touch. Stella freezes on casual contact, let alone the intimate contact of lovers. Stella wants love just like every other woman but how to get it when every sexual encounter becomes a disaster. So she decides to hire an escort and selects Michael Larson.
Michael is amazed to see Stella sitting in the restaurant waiting for him. His usual customers are older women looking for a night of entertainment, not exquisite young women. He believes that Stella just lacks confidence but when she truly freezes up when he tries to initiate sex, he, at first, fears she has suffered sexual trauma. He knows that there are deeper issues and he wants to help her.
Michael has learned from experience not to see a client more than once. Some have become too clingy in the past. But from their first kiss, both are addicted and Michael agrees to meet Stella again for more lessons. When those lessons aren't getting them any further along, Stella asks Michael to give her 30 days of a practice relationship to teach her how to be a couple. She hopes that if she can get someone to love her they would be willing to work past her sexual stumbling blocks.
Michael knows this is a very bad idea because his attraction to Stella is already too great, and what he doesn't know is that Stella is hoping the man Michael can teach her how to seduce is him. The problem is that neither Michael nor Stella believe themselves worthy of the love they want so desperately.
The only sad part of this story was that we couldn't keep Michael and Stella out of their heads. They made magic together and both desperately wanted their relationship to be real but Stella believed Michael wouldn't want her if he knew she was autistic (he knew) and Michael couldn't believe that Stella could overlook that the fact that he was a whore who sold his body to strangers (she didn't care). These two were madly in love and only their own inferiority issues kept them from the HEA they both wanted.
I'm sitting here trying to write a review and all I want to do is go read it all over again. I know that this isn't the last time I will be spending my night with Michael and Stella and I am looking forward to seeing what the author will bring us in her next story.
---
Favorite Scene:
"Here it is." Michael released her hand and held open the door for her as she walked into the old-fashioned gelato shop. Black and white tiles checkered the floor. Pink chandeliers illuminated display freezers filled with gelato and toppings. "What's your flavor?"
She could barely think about ice cream with his hand resting at the base of her spine like that. Did he know he was doing it? She'd seen men do that with their girlfriends. Stella wasn't a girlfriend.
"Mint chocolate chip," she said.
"Really? That's my favorite, too. I'll get something else, then, so we can try something new." He idly rubbed her waist as he considered the gelato flavors, and her body heated with awareness.
"Wait, what do you mean by 'we'?"
A mischievous grin curved on his lips. "You don't want to share with me?"
The college-aged girl behind the counter stared at Stella like she'd kicked a puppy.
"No, that's not it." Not entirely. After all the kissing they'd done, she knew it was silly to worry about germ transference. The fact was she'd made a detailed analysis of ice cream flavors, and she'd decided this one was the best in existence. "I just know what I like."
"We'll see about that." He tapped on the display case. "Mint chocolate for her and green tea for me."
Stella wanted to pay, but he dug bills out of his wallet before she could pry the credit card out from the bodice of her sapphire-blue sheath dress. Once they were seated at a black wrought-iron table by the window, he dipped his spoon into his gelato, tasted it, and grinned a slow, wide grin as he slipped the clean spoon from his mouth and scooped out more.
"Oh, that's just ridiculous," she said. "You look like you're auditioning for a Häagen-Dazs commercial. No one smiles like that after eating ice cream."
He laughed. "It really is good." His grin was out in full force, and, God forbid, did he have a dimple?
"Now, I have to try it." She lowered her spoon toward his bowl.
"Ah, ah, ah." Instead of letting her scoop up some herself, he held his spoon to her lips. Her eyes jumped to his, and conficting thoughts skittered through her mind.
She shouldn't do it. This was too intimate. It was crossing a line of some kind. It felt too much like dating–which they weren't.
It was just gelato. Just his spoon. He might take it as a rejection if she didn't do it, and she could never, ever in a thousand years hurt him, not even in a trivial way.
She parted her lips and let him feed her the gelato. Her heart knocked around her chest like a pinball as sweet green tea melted on her tongue. He watched her with expectation, oblivious to his effect on her.
"Okay, it's good." She tried to sound casual. This didn't mean anything. This wasn't a date. She was just another of his clients. Keep a cool head. She stabbed her spoon into her glelato.
"I told you so."
"I still like mine best." She put a spoonful of mint chocolate chip in her mouth. The complex combination of vanilla and mint exploded on her palate. Bits of chocolate crunched between her teeth. Perfection.
"Let me try it."
She held her bowl out toward him, but he didn't put his spoon in it. He trailed his fingers over her jaw as he tipped her head back and sealed his lips over hers. His tongue speared into her mouth, and the salt of him mixed with the flavor of the ice cream. She didn't know if she was mortified, shocked, aroused, or all three.
With a lingering lick on her bottom lip, he pulled away and grinned, his dark eyes intense and hazy.
"I can't believe you did that." Flustered, she tried to scoop herself another spoonful. Her white plastic spoon skittered onto the tabletop.
She grabbed for it, but his hands wrapped around hers. In the next instant, he was kissing her again–sweet, closed-mouth kisses that still felt scandalous. And too delicious to resist. The people disappeared. In that moment, it was just her and Michael, and the taste of ice cream, and their slowly warming lips.
Related Posts