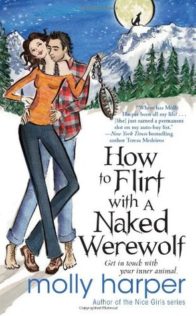 How to Flirt with a Naked Werewolf (Naked Werewolf, #1)
by
Molly Harper

Series:
Naked Werewolf #1
Published by
Pocket Books
on February 22nd 2011
Genres:
Paranormal/Urban Fantasy
Pages:
371
Format:
Audiobook
Length:
9 hrs 12 min



This post contains affiliate links you can use to purchase the book. If you buy the book using that link, I will receive a small commission from the sale.
---
Northern Exposure Even in Grundy, Alaska, it's unusual to find a naked guy with a bear trap clamped to his ankle on your porch. But when said guy turns into a wolf, recent southern transplant Mo Wenstein has no difficulty identifying the problem. Her surly neighbor Cooper Graham—who has been openly critical of Mo's ability to adapt to life in Alaska—has trouble of his own. Werewolf trouble.

For Cooper, an Alpha in self-imposed exile from his dysfunctional pack, it's love at first sniff when it comes to Mo. But Cooper has an even more pressing concern on his mind. Several people around Grundy have been the victims of wolf attacks, and since Cooper has no memory of what he gets up to while in werewolf form, he's worried that he might be the violent canine in question.

If a wolf cries wolf, it makes sense to listen, yet Mo is convinced that Cooper is not the culprit. Except if he's not responsible, then who is? And when a werewolf falls head over haunches in love with you, what are you supposed to do anyway? The rules of dating just got a whole lot more complicated.
---
When Mo's fiancé breaks off their engagement without even an attempt at an excuse, she knew she needed a change. Maybe going from Leeland, Mississippi to Grundy, Alaska seems like a long way to go just to get away from prying family members, but you haven't met Mo's hippie parents or sat through one of their lectures on the evils of processed sugar.
Grundy is like any other small town in the lower 48, just that it's only one street long and summer means that you can strip down to only one layer.
She doesn't even mind the black wolf with the striking blue/green eyes that is always hanging around her property, although she has no intentions to going out and petting him anytime soon.
Mo finds a job at The Blue Glacier Saloon, part restaurant/part bar/part general store and brings new life to the boring diner menu, earning her a place in many of the hearts of the Grundy residents. Especially the single men of Grundy, including very attractive U.S. Forestry Ranger, Alan Dahling.
In fact the only man Mo wants to avoid is that surly Cooper Graham. Even though her friend Evie says his good morning grunt is more conversation than Cooper has with most people, Mo is not interest in someone who sees her as only a temporary annoyance…if only she could get her hormones to agree. Stupid hormones!
Mo starts to wonder if she is suffering from a case of cabin fever when she starts to think that it's more than coincidental that Cooper and her black wolf have the same blue/green eyes. That is until Cooper shows up on her doorstep quite naked, except for that bear trap on his ankle.
Everything is going well for Mo and her wolf, until hikers start disappearing and locals are being attacked by a wolf and Cooper admits that he can never remember what he does in wolf form. When the locals start pulling down their hunting rifles to go kill the wolf, Mo will do anything to protect her wolf, even from himself.
THOUGHTS:
Although I don't think it tops her Jane Jameson series, it is still a great story and very funny. I do think that Cooper is so surly and such a loner that he should have been a werebear and not a werewolf.
Mo leaving Mississippi to get away from her hippie parents is hysterical and very clever when you think how true it is that all those 60's rebellious, free-love kids are now just your wacky parents with their weird ideals.
I am listening to this on audiobook. Molly Harper has such a great writing style and I get so into the story that I hate getting out of my car.
I would still say grab her Jane Jameson/Nice Girls series first but then start the Naked Werewolves series.
---
Favorite Scene:
"Don't mind Lynette," Evie said, rolling her eyes. "She convinced herself a long time ago that she is always the hottest thing in the room, and she lives to prove it. It actually makes her a pretty great waitress. She knows how to go after the tips. But having every guy in the bar talk to you just to hear your accent must be annoying the hell out of her."
"Is that why the kept asking me to say 'ice?'" I asked, a little irritated. I'd worked for years to downplay my accent, a mix of my mother's faint Texas twang and my classmates' slow Delta drawl. I thought I had it down to where I only "got Southern" when I was upset. I grumbled, "Y'all sound Canadian to me, by the way."
"Just enjoy it. It's a little harmless flirting. You don't have to worry about serious intentions until they start offering you meat."
I arched my eyebrow. "Is that some sort of gross double entendre?"
Evie's dark eyes twinkled. "No, actual meat. It's sort of a tradition in Grundy, a macho provider thing. They want to show you that they can feather your nest, so to speak. It's pretty Neanderthal of them but sweet at the same time. When a Grundy man offers you a rump roast, it's the equivalent of asking you to go steady."
"Wow," I said. "And on that note, please excuse me."
I hopped off the bar stool and was heading for the bathroom when my foot caught on an uneven floorboard and sent me pitching into the wall of a man standing behind me. It felt like my whole body burst into flame. My cheek tingled where it had brushed against his chest. I could feel the heat from his steadying hands searing through the sleeves of my shirt.
I exclaimed something like "Oof!" and looked up. It was the eyes that stunned me into silence—the same electric blue-green that had stared out at me from the woods the night before. I shook off the sleep-smeared memory and tried to smile politely.
"Mo, meet Cooper Graham. Cooper, this is my new friend, Mo," Evie said in a bemused voice.
With a gulp, I swallowed the drool puddling in my mouth. You noticed the eyes right off the bat, wide and bottomless blue over sharp cheekbones, and a slim, long nose that had obviously been broken when he was young. His hair seemed both dark brown and black, not long enough for a ponytail but too long to keep under that faded maroon baseball cap he was wearing.
Cooper was exactly the type of guy I would have sex with before the first date back home. Dark, rough, athletic. Here I was faced with my own personal sexual kryptonite, and I'd abandoned my contraception.
Cooper offered me a brief view of brilliantly white teeth as he set me on my feet. He had the biggest hands I'd ever seen. I wondered how they would feel on my skin, whether his fingertips would touch if he had both hands on my hips. Whether he was that big everywhere—
I was snapped out of my subconscious ogling when Cooper looked at Evie. "Vacation?" he asked in a husky, no-nonsense tone.
Apparently, he wasn't bothering to address me directly.
"New blood," Evie said wryly, shaking her head. "Mo's renting the Meyers place. With an option to buy."
"I've heard that song before," Cooper rumbled. His smile was sharp and not terribly friendly. He pressed his lips together and exhaled. With lips quirked, he told me, "Try Evie's apple-raisin pie. It's a life changer."
My eyebrows shot up as he turned and walked toward the end of the counter without another word.
————————
"Evie's a disaster in the kitchen," Pete explained to me, a conspiratorial note in his voice. "She stared a fire boiling eggs once."
"But Cooper said to try her pie," I whispered. Evie was too distracted with Buzz to pay either of us any attention. "He said it was a life changer."
"Well being trapped on the can for a week probably would change your life," Pete conceded. My jaw dropped, and I glared at Cooper. Well, that cinched it. He was an asshole. I was definitely going to end up sleeping with him.
Related Posts