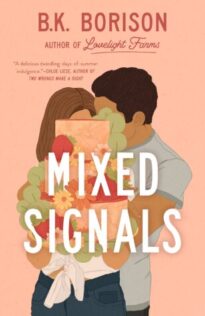 Mixed Signals (Lovelight, #3)
by
B.K. Borison

Published by
Berkley
on August 30, 2022
Genres:
Contemporary
Format:
eBook
Source:
Netgalley



I received this book for free from Netgalley in exchange for an honest review. This does not affect my opinion of the book or the content of my review.
This post contains affiliate links you can use to purchase the book. If you buy the book using that link, I will receive a small commission from the sale.
Layla Dupree has given up on love.
She's waded through all of the fish in the sea, each one more disappointing than the last. Apparently owning the bakery at Inglewild's most romantic destination does not help one's love life—despite her best efforts. All she wants is a partner who gives her butterflies, not someone who ghosts her at dinner and leaves her with the check.
Good thing Caleb Alvarez has the perfect solution.
After saving Layla from another date gone bad, he has a simple proposition: One month of no-strings dating. He'll do his best to renew her faith in men while she rates his dating game. It's a win-win situation. All the benefits of dating, without the added pressure of feelings and unmet expectations.
But there's one ingredient they haven't considered. The chemistry between them is red hot and the urge to take things to the next level is more tempting than Layla's double fudge mocha brownies.
Will the heat between them boil over? Or will it be another case of mixed signals?
Mixed Signals is a sweet and steamy small-town romance. Our story features a bashful man who can rock a Hawaiian shirt, a hopeful and dreamy bakery owner, enough sweets to give you a cavity, and your favorite Inglewild residents. Mixed Signals is a standalone romance and the third book in the Lovelight series, a collection of interconnected novels.
---
I love Lovelight Farms and am so excited to see there will be more stories.
Layla Dupree and Stella Bloom have been best friends since freshman year of college, and when Stella got this crazy idea to buy a tree farm, Layla went with her friend to help. Layla went to college for engineering but opening a bakeshop on Stella's farm, just felt right, and she hasn't regretted it even though she gets no support for this nonsense from her family.
Layla is so happy that her friends Stella and Beckett have found true love and are so happy but Layla might be just a little jealous since Layla has the worst luck with men and maybe finding true love just isn't in the cards for her. When she is abandoned at a restaurant by yet another bad date with the check but no car, Layla is certain this is the last bad date she is ever going to go on.
She is more than surprised to bump into Caleb Alvarez having dinner with his family, who offers to drive her back home to Inglewild. Caleb comes into her bakeshop three times a week for coffee and a croissant so how did Layla never realize how handsome he was. That might have more to do with her "no locals" rule of dating than not actually noticing the sexy man sitting next to her.
Caleb mentions on the drive home that he too has been having problems with his romantic relationships–which is pretty hard to believe since he is absolutely the sweetest man she has ever met–and then he makes the craziest suggestion–that they date so Layla can give him critiques of what he might be doing wrong.
Caleb might be addicted to Layla's croissants but he is more addicted to the baker herself. He hopes that he can take their month of "fake dates" and show Layla how perfect they are for one another.
THOUGHTS:
Caleb and Layla both suffer from being surrounded by people so in love and they are desperate to find that themselves.   Caleb has a large loving family and his parents and grandparents tells stories of their instant love affairs.  Caleb's problem with women has more to do with the fact that he projects his feelings onto the women he dates until he finds out the hard way that they aren't as invested in the relationship than he believed.
Layla is a disappointment to her family and has a bad habit of choosing men who are emotionally unavailable.  This leads her to feel like she doesn't deserve the type of love the Stella and Beckett have found.
Their dates and fun and romantic.  Caleb leads with his big, soft heart and Layla is falling hard for him but she can't convince herself that she is worthy of someone like Caleb.
The hardest part of this story is that Caleb's internal monologue says everything perfectly and beautifully explains his feelings toward Layla, but what comes out of his mouth is stuttering.  If he would just say the thoughts out loud to Layla, he could have convinced her sooner that they should be together for real.
I thought this was going to be a trilogy about the three friends, so I was very excited to see a preview of book 4 which features one of Beckett's sisters.  I am enjoying my time in Lovelight Farms.
---
Favorite Scene:
"Are you ready for your interview?"
I nod. The team from Baltimore Magazine visits the farm next week. I've been spending all of my free time organizing and reorganizing the bakeshop. Testing out new recipes. Practicing normal faces in the mirror so I don't look unhinged in the pictures. "Getting there. I'm trying to figure out what to make before they arrive." I pop a strawberry in my mouth. "I want to be impressive."
"Layla." Caleb laughs like I've made a joke. "You are impressive."
I shrug and busy myself with stacking out tiny paper cups into a pyramid. "I know. I just–I really want to blow them away, you know? I don't want them to think they've made a mistake when they arrive and see the place."
I've seen some of the bakeries they feature in their magazine. They're big and bold and beautiful. Custom light fixtures and hand-painted tiles and stoves that aren't rescued from the school cafeteria at Inglewild High.
I'm still not so sure this whole thing isn't one giant mix-up.
"Layla."
I open another container and pluck out a blueberry, not meeting his eyes. "I'm thinking I'll use edible flowers to make some custard tartlets. Maybe some macarons."
Caleb's fingers curl over my knee. His thumb presses at the soft skin beneath. "Layla. Why don't you think you deserve this?"
"I don't think that."
He arches a brow. A gust of wind blows in off the water, and a single lock of dark hair falls over his forehead. I hesitate and then smooth it back with my fingers.
"I don't think that," I say again, not sure if I am trying to convince myself or him. "I just worry–"
Hesitation steals the words from my lips. Caleb cups his entire hand around my thigh and tugs me closer. "What are you worried about?"
"I don't want it to be a mistake," I confess quietly. He leans forward to hear me better over the rushing sound of the surf. I try to be brave. "I don't want them to see me and think there is something better out there for the magazine. I want my bakeshop to be enough. I want to be enough."
His hand releases my leg and his knuckles brush my chin. He tips my face up until I'm looking at him. "This isn't just about the magazine, is it?"
It's not. It's every failed date I've been on in the past three years. It's the eight months I spent with Jacob, trying to get him to love me. It's my parents, who feigned interest when I called and told them about the interview but then asked me if I planned on going back to get my master's degree. It's my sisters who can't be bothered to return my calls. It's watching everyone around me fall in love and struggling at finding the same for myself. It's every disappointment I've ever had stacked one on top of the other like a trembling house of cards.
"No," I finally admit, "it's not."
Caleb's gaze is intent on mine. I've never seen him look so serious, not even when he thought someone was breaking into my bakery and he was thinking of using my oversized whisk as a weapon. "You deserve good things, sweetheart." He swallows hard, eyes searching mine. "Why can't you see yourself? Why can't you see how incredible you are?"
"Because," I say, my voice cracking at the edges. "Because no one else has bothered to."
He rubs his thumb against his bottom lip, brown eyes darkening. He looks back out over the waves, seeming to collect himself before turning back to me. "You know you wear orange on Tuesdays?"
I blink at him, confused by the sudden change of subject. "What?"
"You wear orange," he says again. "On Tuesdays. Sometimes it's just a scarf in your hair; other times it's your dress or your shoes or your apron. Once you wore a bright orange T-shirt and these little orange shorts that I swear took two to seven years off my life." He blows out a deep, gusting breath and scrubs his hand against the back of his head. "And you drink chamomile tea in the afternoons. You get a line, right here," he says, dragging the tip of his finger at the corner of my mouth, "when you're excited and trying to hide it."
His thumb smooths over the curve of my cheek, down my jaw to the soft secret space behind my ear that always makes me shiver. He strokes there once and then cups my face between both of his hands.
"You made something for yourself here–out of an old tractor shed. Something incredible for the rest of us too. No one comes to your bakehouse by accident, and no ones likes you by accident. I see you, Layla Dupree." He says it so firmly, so resolute, that I can't help but believe him.
"Clear as day. I always have."
Related Posts