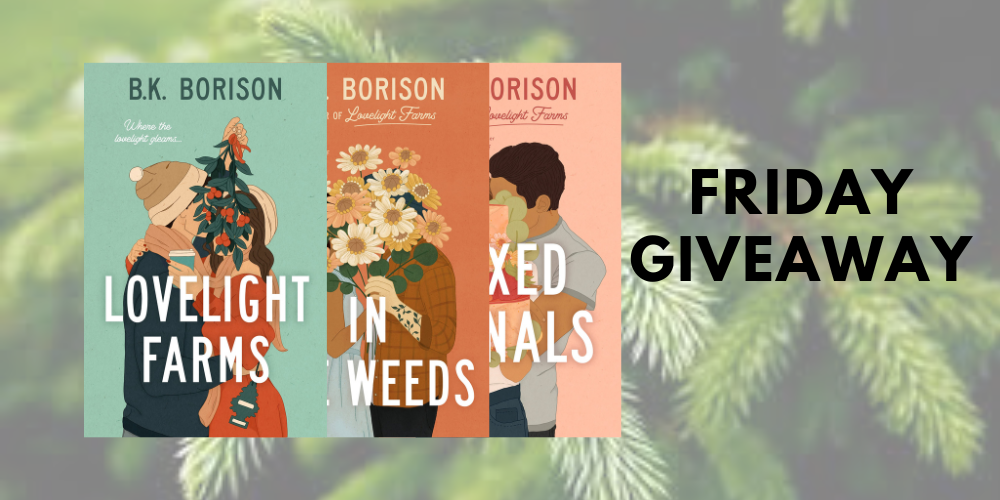 Our winner is…Texas Book Lover. Congratulations!
Someone is going with me to Lovelight Farms!
Hey everyone! Sorry I missed last Friday. Everyone is packing up for college and that means tons of last minute shopping, appointments and exhaustion (for mom). I can still hear my credit card weeping in my purse from overuse. Did I mention how expensive kids are?
For this week's vacation-themed getaway, I have decided to take someone on a long trip to Lovelight Farms in Maryland and put all three books up for grabs.  I had noticed a few Christmas themed books in my TBR pile and decided to have my own little Christmas in July.  While none of the books made me feel "Christmas-y," including Lovelight Farms since this is less Christmas-themed than Christmas Tree Farm-themed, this story absolutely stood out for me with a sweet romance and wonderful secondary characters that I needed to come back to and spend more time with them.  I would highly recommend this series.
Since this is a large giveaway, and I am still going to be crazed with back-to-school running around, this is going to be a two-week giveaway to give people time to enter, and to give me some down time.
This giveaway is for paperback copies and therefore is only open to U.S. residents. Giveaway ends Thursday, August 31st.
Just leave a comment to be entered.
Happy reading!
Lovelight Farms

Two best friends fake date to reach their holiday happily ever after in this first romantic comedy in the Lovelight series.

A pasture of dead trees. A hostile takeover of the Santa barn by a family of raccoons. And shipments that have mysteriously gone missing. Lovelight Farms is not the magical winter wonderland of Stella Bloom's dreams.

In an effort to save the Christmas tree farm she's loved since she was a kid, Stella enters a contest with Instagram-famous influencer Evelyn St. James. With the added publicity and the $100,000 cash prize, Stella might just be able to save the farm from its financial woes. There's just one problem. To make the farm seem like a romantic destination for the holidays, she lied on her application and said she owns Lovelight Farms with her boyfriend. Only…there is no boyfriend.

Enter best friend Luka Peters. He just stopped by for some hot chocolate and somehow got a farm and a serious girlfriend in the process. But fake dating his best friend might be the best Christmas present he's ever received.

In the Weeds

Evelyn St. James isn't the kind of woman you forget.

Beckett Porter certainly hasn't. One incredible weekend in Maine, and he's officially a man distracted. He's not unfamiliar with hot and heavy flings. He knows how it goes. But Evie wove some sort of magic over him during their tumble in the sheets. He can't stop thinking about her laugh. Her hand pressed flat against his chest. Her smiling mouth at his neck.

Also, her eyes. And her legs.

So when she suddenly appears on his farm as part of a social media contest, he is … confused. He had no idea that the sweet and sexy woman he met at a bar is actually a global phenomenon: social media influencer Evelyn St. James. When she disappears again, Beckett resolves to finally forget her and move on.

But Evelyn St. James has a problem.

Feeling disconnected from her work and increasingly unhappy, she's trying to find her way back to something real. She returns to the last place she was happy, Lovelight Farms and the tiny town of Inglewild.

It has absolutely nothing to do with the hot farmer she spent two incredible nights with.

Nothing at all.

In The Weeds is a sweet and steamy second-chance romance about finding your happiness. It features a grumpy farmer, a no-nonsense social media influencer, a small town of busybodies, and four very cute kittens. In The Weeds is a standalone romance and is part of the Lovelight series.

Mixed Signals

Layla Dupree has given up on love.

She's waded through all of the fish in the sea, each one more disappointing than the last. Apparently owning the bakery at Inglewild's most romantic destination does not help one's love life—despite her best efforts. All she wants is a partner who gives her butterflies, not someone who ghosts her at dinner and leaves her with the check.

Good thing Caleb Alvarez has the perfect solution.

After saving Layla from another date gone bad, he has a simple proposition: One month of no-strings dating. He'll do his best to renew her faith in men while she rates his dating game. It's a win-win situation. All the benefits of dating, without the added pressure of feelings and unmet expectations.

But there's one ingredient they haven't considered. The chemistry between them is red hot and the urge to take things to the next level is more tempting than Layla's double fudge mocha brownies.

Will the heat between them boil over? Or will it be another case of mixed signals?

Mixed Signals is a sweet and steamy small-town romance. Our story features a bashful man who can rock a Hawaiian shirt, a hopeful and dreamy bakery owner, enough sweets to give you a cavity, and your favorite Inglewild residents. Mixed Signals is a standalone romance and the third book in the Lovelight series, a collection of interconnected novels.