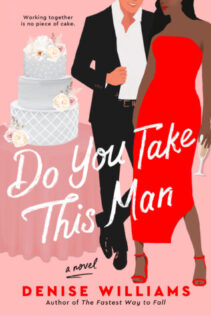 Do You Take This Man
by
Denise Williams

Published by
Berkley Books
on September 6, 2022
Genres:
Contemporary
Pages:
352
Format:
eBook
Source:
Netgalley



I received this book for free from Netgalley in exchange for an honest review. This does not affect my opinion of the book or the content of my review.
This post contains affiliate links you can use to purchase the book. If you buy the book using that link, I will receive a small commission from the sale.
After butting heads, an event planner and a wedding officiant begin an enemies with benefits arrangement as wedding bells chime around them in the newest rom-com from acclaimed author Denise Williams.
Divorce attorney RJ would never describe herself as romantic. But when she ends up officiating an unplanned wedding for a newly engaged couple in a park, her life is turned upside down. The video of the ceremony goes viral, and she finds herself in the unlikely position of being a sought-after local wedding officiant. Spending her free time overseeing "I dos" isn't her most strategic career move, but she enjoys it, except for the type A dude-bro wedding planner she's forced to work with.
Former pro-football event manager Lear is a people person, but after his longtime girlfriend betrayed him, he isn't looking for love. He knows how to execute events and likes being in control, so working with an opinionated and inflexible officiant who can't stand him is not high on his list. He's never had trouble winning people over, but RJ seems immune to his charms.
Surrounded by love at every turn, their physical attraction pulls them together despite their best efforts to stay an arm's length apart. Lear refuses to get hurt again. RJ refuses to let herself be vulnerable to anyone. But when it comes to happily ever after, their clients might not be the only ones saying "I do."
---
RJ and Lear do everything in their power to keep us from enjoying their HEA.
While RJ is an attorney by profession, she has been officiating weddings since she went viral on youtube for officiating an impromptu wedding in the park. Now she is often called in to officiate and is working with a local wedding planner. Lear just quit his job as an event planner for a football team and has joined his cousin's wedding event company until he decides what he wants to do next.
When they meet, Lear and RJ literally run into each other. Lear still recovering from always being a "good guy" decides to leave RJ sprawled on the ground, which is just awful. Obviously, this leads to a portion of the story being about how much RJ and Lear dislike each other and working with each other. Lear does apologize and eventually they being to respect each other, to the point where they decide to give in to their mutual attraction and become co-workers with benefits. Is that a thing?
But can two wounded people risk their hearts again or will the only marriage in their future be the ones they plan for other people?
THOUGHTS:
The beginning of the story was just unpleasant to read since we knew that both RJ and Lear were acting out of character and treating each other badly. I was actually uncomfortable with their interactions because they were so rude to each other. I wasn't sure if I was going to be able to finish the book.
Once we got past that, the story picked up.
Both RJ and Lear just got out of long-term relationships that left them both mentally wounded. This is also why they sabotaged any attempts to enjoy their story. They could be an amazing couple. Once they stopped being aggressively hurtful to each other, they had great chemistry. This is especially true once they began sleeping together…okay, it was more quickies in a back closet, so we have that desperation to their hook ups. That need to someplace now! In fact, Lear would scout each venue for that place they could sneak off to.
The problem is that any moment of closeness which came after the climax was brought down by the fact that both were too afraid to take a leap of faith that someone else wouldn't hurt them again. Mostly this came from RJ but some came from Lear as well. So if one of them took that risk, that leap of faith, of making themselves vulnerable and asking for more from the relationship, they were shot down by the other party. To watch someone who has been so badly hurt, take that chance and be harshly turned down, ruined all the good moments that came before, and to watch it happen again and again made this a hard story to enjoy.
While I had a hard time enjoying RJ and Lear's story, they were well-written characters. There were some great moments in the story. I also really enjoyed Britta and Wes's story. I also appreciate that although we once again have a mixed race couple, skin color is only a character descriptor here. It doesn't define the characters or their actions or interactions. I will definitely grab the next Denise Williams story.
This isn't noted as sequel to The Fastest Way to Fall but the characters are connected as RJ was a friend of Britta's and goes to Britta and Wes's wedding. I don't know why it isn't noted as part of a series but this would be the third story with interacting characters.
---
Favorite Scene:
Lear follows RJ into the salon for a pedicure.
"I'm sorry I said that, about you being a jackass." I looked away, too, sinking into the awkwardness. "I didn't mean it."
"You call me a jackass all the time." I heard the smile in his voice before I saw it. "It's almost a term of endearment."
"Don't go that far." I stole a glance at the side of his face. "I don't really mean it, though. I mean, you're not really a jackass."
He chuckled, and we let our conversation fall away as Laura and Mai went to work on our feet, scrubbing and clipping, moisturizing and massaging.
My gaze never strayed far from Lear, taking in how long he looked in that chair, how comfortable. Guilt still niggled at the edges of my thoughts at what I'd said, but his slight yelp at the hot towel around his legs and the pink that crossed his cheeks made me stifle a laugh and call him a lightweight.
"Can you do my toenails in the same color as hers?" He motioned to the bottle in Mai's hand.
"That's my signature color," I protested.
"It's a publicly available shade."
I motioned to his sneakers tossed on the floor. "No one is even going to see your feet."
"Who sees yours besides me?"
Laura and Mai exchanged a look.
"Don't encourage him. He's not cute."
Laura waved her hand at me. Mai and her daughter had the same smile. "I think he's kind of cute."
"Thank you," Lear said with an elaborate bow. "She's so mean to mean to me."
"No, she likes you," Mai said, fanning my big toe after the first coat of polish. "I can tell."
Lear pointedly ignored me, joining in the conversation with Laura and Mai. "You think so? She's kind of difficult to read."
"RJ?" Mai waived him off and expertly moved the brush over my toenails, never a drop or line of polish touching my skin. "RJ is easy to read. She's a softy on the inside."
Lear leaned forward conspiratorially. "See, I think you're right, but she doesn't want anyone to know."
"I am sitting right here," I said, arms crossed. "Why are you butting in on my pedicure time?"
Lear grinned. "You invited me."
"You invited yourself."
Mai handed Laura the bottle, and she began painting Lear's toes, which I begrudgingly had to admit were nice. After his cold shower was the first time I'd ever seen him barefoot, and though I wasn't a foot person, it annoyed me that even his feet were handsome.
"Let this dry," Mai instructed. "Don't wiggle your toes while you flirt with this boy."
"I am not flirting with him."
"Lies, lies, lies," she said with a laugh over her shoulder as she walked away.
Lear watched Laura, following her quick, precise movements before swinging his gaze to me. The smirk on full display. "She thinks you're flirting with me."
"She's inhaled too many nail polish fumes," I said, glancing at my overturned phone on my lap and suppressing a grin.
"She comes almost every other week. You should come with her again," Laura said.
Traitor.
Lear dropped his smirk and just gave Laura a smile. "Her nails always look really nice, and this was very relaxing. Maybe I will."
I risked a glance at him again, though he was looking at Laura working. He looked good in casual clothes. I'd never see him that way before.
His eyes were closed, head resting against the chair. "You're staring at me."
"I am not."
Lear rolled his head to the side. "You can't help yourself."
"Believe me. I can."
He laughed, his flat stomach moving with the force of it, and when he caught me looking, he met my eyes, he lips in a playful smirk.
Laura fanned his toes, shaking her head at us. "I never thought I'd see RJ here with a date."
I rolled my eyes, inspecting my own toes. I didn't hate the idea of doing this again with Lear as much as I thought I might.
Related Posts