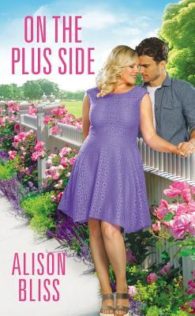 On the Plus Side (A Perfect Fit #2)
by
Alison Bliss

Series:
A Perfect Fit #2
Published by
Forever
on June 27th 2017
Genres:
Contemporary
Pages:
336
Format:
eBook



I received this book for free from in exchange for an honest review. This does not affect my opinion of the book or the content of my review.
This post contains affiliate links you can use to purchase the book. If you buy the book using that link, I will receive a small commission from the sale.
The second book in a laugh-out-loud new contemporary romance series from Alison Bliss!

Big girls don't cry. They go after what they want.

Thanks to her bangin' curves, Valerie Carmichael has always turned heads-with the exception of seriously sexy Logan Mathis. Just Valerie's luck that the object of her lust-filled affection is also best friends with her overprotective brother. But Valerie's determined to get Logan's attention . . . even if it means telling a teeny little lie to get a job at his new bar.

Logan can't remember a time when Valerie didn't secretly fuel all his hottest fantasies. Now the curvaceous she-devil is working behind his bar, tempting him every damn night. It's only when he finds Valerie's naughty things-to-do list that Logan decides to break every rule in the book-by making each red-hot deed a reality.

No one warned them that they were going to fall this hard. And no one warned them that sometimes the smallest secrets can have the biggest consequences.
---



This story had a lot of potential which simply went to waste. I tried to finish, but just couldn't force myself to do it.
This was your standard "can't date your BFF's little sister" trope, but where there should be more sexual tension.
This only had quick spikes. It tried to add the newest trope of "Oops, you found my sex list" to spice it up, except that just made it more confusing.
Logan has just returned to their small town after being away eight years and opened a bar. He rushes the opening since he also just found out his mother's house is up for foreclosure and he needs money now to pay off the past due. Bad things happen on opening night and he is shorthanded. Valerie steps up to help, even though none of the big strong men approve, and she's a bartending sensation. She knows all kinds of drinks and apparently can spin bottles and shakers and makes quite the show of it and turns all the grumpy patrons who couldn't get a drink, all happy and smiling. Woohoo! She convinces Logan to allow her to work their and help him, but really, she just wants to be close to him and convince him that they need to have sex. — Except, one little problem of not having an actual bartending license and she just kind of pushes that important fact aside since that isn't important to her get sex plan.
I started out liking Valerie. She was considered curvy, but there was never an indication that she was plus-sized. No matter her size, Valerie had many moments being a very confident woman. Except there were also moments, that she was not.
Logan can't stop drooling over Valerie and then he's rude to her because her brother is his best friend.  No touching is the rule until he sees a list that Valerie writes which he thinks is sexual fantasies of Valerie's and loses it when he sees the word "orgy" on the list. Next thing you know, Logan is cornering Val in the stockroom and…oops, he forgot about the no touching rule (and condoms). Yikes.
Now the flip-flopping of these two characters is not even the biggest problem.
#1. They don't really have any chemistry. Two people who have drooled over and fantasized about each other for almost a decade, should have more chemistry.
#2. Logan complains that one of the reasons he left town is that he was 21 and she was 17, and she was always trying to seduce him. I thought that was an exaggeration on his part and his own obsession with her made it seem like she kept being seductive. Oh, but no, Valerie's confidence made her all but throw herself at Logan over and over again. Even current day, she decides to work at his bar to throw herself at him daily until he gives in, so why when they are about to finally have sex, does she finally go "Oh, maybe this isn't a good idea."
#3. Valerie's Brother is the most over the top, crazy, psycho. Every man who looks at his sister, he wants to attack. They can't look at her. Men certainly can't touch her. How did she get all her sexual experience if she has the crazy brother around? She had a lot of "friends" so maybe the brother simply isn't bright. I would understand this character only if this was her husband, and she was cheating on him with Logan, or if Valerie was a 16-year-old virgin. A 27-year-old woman doesn't need her brother running her non-sex life.
#4. Talking about experience — going to bars doesn't explain how Valerie can perform a bartender show. Tossing bottles of booze behind your back isn't something you do without practice. She didn't seem to have gone off to college, so no college drinking experience and this is an unknown talent that the overprotective brother didn't know about. Soooo, how'd that happen. And how come the brother didn't say that she doesn't have a bartending license since he has the key to her chastity belt.
#5.  And finally, why would anyone suggest writing of list of sexual items that you would not do would make you feel better about the man you want not giving you the time of day?  Why?  Why?  Why? And her list starts with talking dirty and ends with glory hole.   Ah…what?  That is quite a range.
The only character interesting in this whole book is her friend Max. He seems to be a lot of fun,, but I originally hoped that he would be the love interest here but no such luck, it was the broody Logan.
I was supposed to write a First Look on this for H&H so I forced myself through 75% of this book, but I finally sent off an email pleading to be released from my promise so I could stop reading the painfully awful book.
I might have picked up a book featuring Max, but the characters from the first book were making comments that lead me to believe that they too had a story where they ran hot and cold with each other.
Related Posts