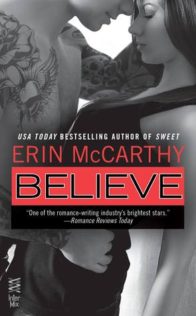 Believe (True Believers, #3)
by
Erin McCarthy

Series:
True Believers #3
Published by
Penguin Group (USA)
on January 21st 2014
Genres:
New Adult
Pages:
232
Format:
eBook



I received this book for free from in exchange for an honest review. This does not affect my opinion of the book or the content of my review.
This post contains affiliate links you can use to purchase the book. If you buy the book using that link, I will receive a small commission from the sale.
---
Robin used to be a party girl… until she got black out drunk and woke up in bed with her best friend's boyfriend. Now she's faced with being THAT girl, and couldn't be more disgusted with herself. She can't even tell her friends the reason for her sudden sobriety and she avoids everyone until she meets Phoenix—quiet, tattooed, and different in every way that's good and oh, so bad.

Phoenix is two days out of jail when he meets Robin at his cousin's house, and he knows that he has no business talking to her, but he's drawn to her quiet demeanor, sweet smile, and artistic talent. She doesn't care that he's done time, or that he only has five bucks to his name, and she supports his goal to be a tattoo artist.

But Phoenix knows Robin has a secret, and that it's a naïve dream to believe that his record won't catch up with them at some point. Though neither is prepared for the explosive result when the past collides with the present.
---
All it took was one night of drinking has changed Robin's life. One night to drink so much that she blacked out and did the unthinkable. She woke up the next morning in bed with her best friend's boyfriend. Sober Robin would never have done that. Sober Robin would never betray a friend like that.
Robin has spent all summer absolutely sober and drowning in guilt and remose. She has isolated herself from her friends because they will know something is wrong and she can't confess to them and make them chose between their loyalty to Robin or their loyalty to Kylie. Robin will do anything to keep Kylie from finding out. Nathan might be a cheating bastard who keeps calling her, but Kylie she loves him and Robin can't be the one to destroy that for her.
So Robin has spent the last few weeks alone. When she meets Tyler and Riley's cousin, Phoenix, who has just been released from prison, she finds in him another pained soul and together they find quiet and peace in each other's presence. Both of them use their art to speak what is in their hearts.
But Phoenix is the son of a drug addict and an alcoholic, and he refuses to be dragged back into someone else's world of addition. When dark secrets from their pasts come to light, will the bond formed between Robin and Phoenix be enough to save them both from self-destruction?
THOUGHTS:
I really like the way things started out with Robin and Phoenix. In the beginning there was just a need to be accepted by someone and not judged. In fact, in the beginning they spent a lot of time together not even speaking. They just watched movies together or went on a picnic and just gave each other a non-judgmental presence. He didn't ask what she was hiding, and she didn't ask why he was in prison.
You know my love for a wounded hero.  Phoenix's childhood with an almost non-existent parent, since his mother was always getting high, this left him desperate for the simple touches of concern shown by Robin. She took him for a picnic and he had never been. Robin gave him a party for his birthday which he had never had, even the idea of cutting a cake was overwhelming to him. Your heart broke for him that any measure of affection or attention meant so much.
When we got to the middle of the story though the relationship started getting a little too intense between the two and Phoenix's affection for Robin started bordering on crazy-stalker. Phoenix has an issue with rage and when it finally comes out it is pretty scary.
By the ending, both Robin's alcohol issue and Phoenix's rage issue are being addressed professionally, but for awhile there I was uncomfortable with where the story might be going.
Overall it was an enjoyable tale, but I liked the quiet connection between the two in the beginning a lot more than Phoenix's overly-intense obsessiveness in the middle which turned me off quite a bit.
Received an ARC from the publisher in exchange for an honest review.
---
Favorite Scene:
Getting ready to go to the park with Phoenix sent me into ambitious activity, displaying more energy than I had all summer. I grabbed a blanket for the ground, packed a cooler with water bottles and energy drinks, along with chips and string cheese, and collected my pencil kit and two sketchooks. Then I applied sunscreen to my nose and cheeks. I had even shaved my legs in the shower, though I didn't bother to blow-dry my hair. I just towel dried it, then let it do it's thing.
Phoenix showered after me while I was packing things up, and he came back downstairs just as I had everything by the door to go. His hair was wet and dangling in his face, but he had put his shirt back on, which was good. I had decided at some point during the last twelve hours that why yes, I was in fact attracted to him. Very much so. The realization had come to me sometime between midnight and five a.m. and was absolutely undeniable when he had come into my room and laid down beside me. I had been aware of every inch of my body, yet he had never made a single move toward me.
As far as I could tell, Phoenix just wanted a friend.
So it was better if he stayed covered because there was something totally droolworthy about his muscles and all that skin displayed his bleeding heart tattoo. It covered so much real estate, it must have hurt like a bitch to get that done. Given that his shorts were too big, they tended to strain down, exposing the ab muscles I now understood how he'd gotten. He had been tenacious doing those crunches. But I was determined that I could ignore any reactions my body made toward his and embrace a new friendship.
I liked his company.
I didn't want him to leave.
I wasn't really sure why but I figured it didn't matter.
For the first time all summer, I wasn't spending the majority of my time hating myself.
"Here, let me carry that," he said, taking the small, soft cooler from my hand. He also picked up the blanket and tucked it under his arm. He gave me a smile. "Are we going on a picnic?  Man, I never thought I'd be doing this."
"Too lame?" Maybe it was too tame of an entertainment for him. I admit I was a little disappointed.
"No. It's just no one has ever invited me on a picnic before. Once when I was about ten my mom and my aunt took me and my cousins to the fair, but they got high behind the grandstand, and Riley got busted for stealing a hot dog for Jayden. The cops cuffed him for twenty minutes to scare him before letting him go. I don't think Eaton was born yet. Or maybe my aunt was pregnant with him at the time. I don't know, I don't remember. I just remember thinking that it was like a whole fairground full of families doing normal shit and having fun and eating craploads of food and I couldn't have any of it." Phoenix made a face. "And I have no idea why I just bored you with a shitty story like that."
What did I say to that? I knew he didn't want my pity. And he seemed to be musing about the past more than anything. "I don't have any hot dogs," I said. "But I can pretty much guarantee insects and the oppressive sun, so you'll get the genuine picnic experience."
Phoenix gave a short laugh. "Thanks. That's nice of you."
Related Posts