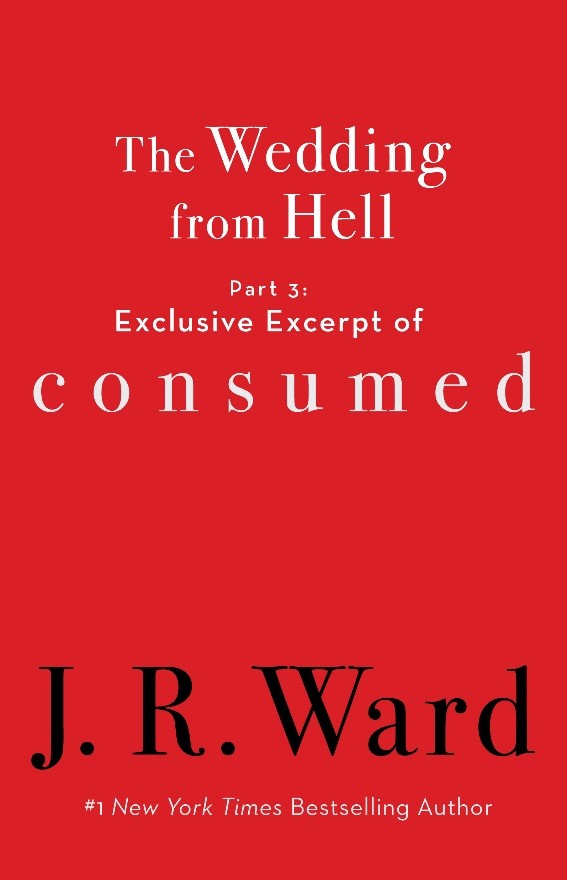 The Wedding from Hell
Part 3: Exclusive Excerpt of Consumed
by J. R. Ward
Available: August 28, 2018
Gallery Books | E-book Original
ISBN: 9781982105389 | Free
The Wedding from Hell, Part 3: Exclusive Excerpt of Consumed is the final part of J.R. Ward's The Wedding From Hell ebook serialization. Don't miss this exclusive teaser to her upcoming standalone romantic suspense, CONSUMED (available in October 2, 2018). See why "Consumed takes it to a whole new level" (Lisa Gardner, #1 New York Times bestselling author).
About the Book:
From the creator of the #1 New York Times bestselling Black Dagger Brotherhood series, get ready for a new band of brothers. And a firestorm.
Anne Ashburn is a woman consumed…
By her bitter family legacy, by her scorched career as a firefighter, by her obsession with department bad-boy Danny McGuire, and by a new case that pits her against a fiery killer.
Strong-willed Anne was fearless and loved the thrill of fighting fires, pushing herself to be the best. But when one risky decision at a warehouse blaze changes her life forever, Anne must reinvent not only her job, but her whole self.
Shattered and demoralized, Anne finds her new career as an arson investigator a pale substitute for the adrenaline-fueled life she left behind. She doesn't believe she will ever feel that same all-consuming passion for her job again—until she encounters a string of suspicious fires setting her beloved city ablaze.
Danny McGuire is a premiere fireman, best in the commonwealth, but in the midst of a personal meltdown. Danny is taking risks like never before and seems to have a death wish until he teams up with Anne to find the fire starter. But Danny may be more than a distraction, and as Anne narrows in on her target, the arsonist begins to target her.
Purchase Link: http://www.simonandschuster.com/books/The-Wedding-from-Hell-Part-3-Exclusive-Excerpt-of-Consumed/J-R-Ward/9781982105389
 Excerpt:
Harbor Street and Eighteenth Avenue
Old Downtown, New Brunswick, Massachusetts

Box alarm. One-niner-four-seven. Two engines and a ladder from the 499, responding.
Or, put another way, Anne Ashburn's Friday night date had showed up on time and was taking her to a show. Granted, "on time" was the precise moment she had sat down for a meal at the stationhouse with her crew, and the "show" was a warehouse fire they were going to have to chorus-line for. But if you judged the health of a relationship on its constancy and whether it brought purpose and meaning to your life?
Then this firefighting gig was the best damn partner a woman could ask for.
As Engine Co. 17 turned the corner onto Harbor with siren and lights going, Anne glanced around the shallow seating area of the apparatus. There were four jump seats behind the cab, two forward- facing, two rear-, the pairs separated by an aisle of gear. Emilio "Amy" Chavez and Patrick "Duff" Duffy were on one side. She and Daniel "Dannyboy" Maguire were on the other. Up in front, Deshaun "Doc" Lewis, the engineer, was behind the wheel, and Captain Christopher "Chip" Baker, the incident commander, was shotgun.
Her nickname was "Sister." Which was what happened when you were the sibling of the great Fire Chief Thomas Ashburn Jr., and the daughter of the revered—falsely as it turned out— Thomas Ashburn, Sr.
Not everybody called her that, though.
She focused on Danny. He was staring out the open window, the cold November wind blowing his black hair back, his exhausted blue eyes focused on nothing. In their bulky turnouts, their knees brushed every time the engine bumped over sewer access panels, potholes, manholes, intersections.
Okay, okay, she wanted to say to fate. I know he's there. You don't have to keep reminding me.
The hardheaded bastard was a lot of things, most of which carried terms you couldn't use around your grandmother, but he knew she hated the "Sister" thing, so to him, she was Ashburn.
He'd also called her Anne—once. Late at night about three weeks ago.
Yes, they had been naked at the time. Oh, God . . . had they finally done that?
"I'm gonna beat you at pong," he said without looking at her. "Soon as we get back."
"No chance." She hated that he knew she'd been staring at him. "All talk, Dannyboy."
"Fine." He turned to face her. "I'll let you win, how about that?"
His smile was slow, knowing, evil. And her temper answered the phone on the first ring.
"The hell you will." Anne leaned forward. "I won't play with you if you cheat."
"Even if it benefits you?"
"That's not winning."
"Huh. Well, you'll have to explain to me the ins and outs of it when we're back at the house. While I'm beating you."
Anne shook her head and glared out the open window.
The first tap on her leg she ascribed to a bump in the road.
The second, third, and fourth were obviously—
She looked back at Danny. "Stop it."
"What?"
"Are you twelve?" As he started to smile, she knew exactly where his mind had gone. "Not inches. Age."
"I'm pretty sure I peak more like at sixteen." He lowered his voice. "What do you think?"
Between the sirens and the open windows, no one else could hear them—and Danny never pulled the double entendre if there was a risk of that. But yes, Anne now knew intimately all of his heavily muscled and tattooed anatomy. Granted, it had been only that once.
Then again, unforgettable only had to happen one time.
"I think you're out of your mind," she muttered.
And then they were at the scene. The old 1900s-era warehouse was a shell of its former useful self, sixty-five thousand square feet of broken glass panes, rotting beams, and blown-off roof panels. The outer walls were brick, but based on the age, the floors and any room dividers inside were going to be wood. The blaze was in the northeast corner on the second floor, billowing smoke wafting up into the forty-degree night air before being carried away by a southerly wind.
As Anne's boots hit the ground, she pulled the top half of her turnouts closed. Her ponytail was up high on the back of her head, and she stripped out the band, reorganized the shoulder length, and cranked things tight at her nape. The brown was still streaked with blond from the summer, but she needed to get it trimmed—so all that lightness was on the chopping block.
Of course, if she were a woman "who took care of herself," she'd get it highlighted through the winter months. Or so her mother liked to tell her. But who the hell had time for that?
"Sister, you sweep the place with Amy for addicts," Captain Baker commanded. "Stay away from that corner. Danny and Duff, run those lines!"
As Captain Baker continued to bark orders out, she turned away. She had her assignment. Until she completed it, or there was an insurmountable obstacle or change of order, she was required to execute that directive and no other.
"Be safe in there, Ashburn."
The words were soft and low, meant for her ears alone. And as she glanced over her shoulder, Danny's Irish eyes were not smiling.
A ripple of premonition made her rub the back of her neck. "Yeah, you, too, Maguire."
"Piece'a cake. We'll be back at pong before ten." They walked away from each other at the same time, Danny going around to the stacks of hoses in the back, her linking up with Chavez…
About the Author:
J.R. Ward is the author of more than thirty novels, including those in her #1 New York Times bestselling Black Dagger Brotherhood series. There are more than fifteen million copies of her novels in print worldwide, and they have been published in twenty-six different countries around the world. She lives in the South with her family.