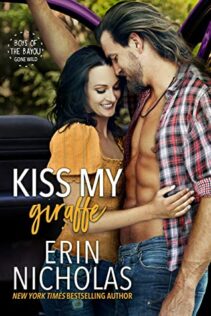 Kiss My Giraffe (Boys of the Bayou Gone Wild, #7)
by
Erin Nicholas

Series:
Boys of the Bayou Gone Wild #7
Published by
Self Published
on May 17, 2022
Genres:
Contemporary
Pages:
360
Format:
eBook
Source:
Author



I received this book for free from Author in exchange for an honest review. This does not affect my opinion of the book or the content of my review.
This post contains affiliate links you can use to purchase the book. If you buy the book using that link, I will receive a small commission from the sale.

Enemies to friends to almost lovers…then back to kind-of enemies…to lovers. For a guy who wanted to keep things simple this is anything but.

Fiona knew Knox would be mad when she moved in next door.And not because she brought a collection of wild animals with her.
And she was right.
So she intended to leave him alone. Mostly.
But he's not ignoring her. He's actively working to send her and her "ridiculous menagerie" (rude) right back out of town.
Still, as hard as she tries, it's impossible to stop thinking about the small town grump's long hair and tattoos and that mouth.
Not the one that's almost always set in a grim line and says things like, "you got a permit for that?"
Nope, the one that kisses her like she's everything he's ever wanted and says very dirty things in her ear. And sweet, protective, supportive things. Sometimes. Accidentally. When she catches him off-guard.
The one that also says he only wants a long-distance fling with her. Nothing serious. And that he never dates women he sees every day. Like his neighbor.
Well, fine. If he doesn't want her—and her unbelievable past and that-can't-be-real future—then she doesn't want him either. He can just kiss her…giraffe. (Yeah, she actually has a couple of those.)
Now she just needs to convince her heart to give him up.
---
This was my first Erin Nicholas novel and I am sorry I didn't get to watch the battles between Knox and Fiona unfold into overwhelming passion.
This is the finale of a romance which has been weaved into the entire series beginning with a contentious beginning where Town Manager and King Rule Follower, Knox, has been fighting against Fiona, a wildlife rescuer who as been working hard with the local petting zoo to turn it into a wildlife sanctuary. Each time she shows up in town with her rescued wild animals is just another chance to tangle with the enemy. Butting heads flared a simmering passion culminating into a passionate kiss in a prior story and the resulting agreement to a steamy, let's hook up whenever you are in Town agreement between them.
In Kiss my Giraffe, Knox is impatiently awaiting Fiona's return to Autre so they can begin the next phase of their relationship which will include naked fun time. When Fiona pulls into town, she tries to tell Knox that everything changed about their agreement but Knox wants less talk and less clothes and is annoyed when Fiona insists that there are things he needs to know before playtime begins. Since I haven't been around from the beginning, I was quite put off by the fact that Knox insisted that he wanted to know nothing more about Fiona except her cup size. I thought he was a jerk and I couldn't understand why Fiona was bothering with him and I was so turned off with this hero. Put a pin in this and we will come back to Knox.
Fiona admits that she would not be returning to Florida and Knox puts the brakes on their relationship going any further and shows her the front door, where he finds out that not only is she staying in town, she is staying next door. There are also several important things that Fiona was planning to discuss with Knox but since he wouldn't listen, he has to find out each thing the hard way and each is a punch to the gut. If he had only taken a moment…again, he was a jerk, so I had no sympathy.
Here's the pin part. We do eventually learn that Knox doesn't want to know anything about Fiona because he likes her and wants their relationship to continue as long as possible. What? Well, Knox has a history of screwing up each and every romance that was important to him. It seems that whenever Knox finds out something interesting, he delves into it as much as possible. Absolutely to the point of obsession. He loves to make lists and reference cards and immerse himself in a subject. His inner nerd needs knowledge. See when his first girlfriend wanted to open a bakery, Knox researched the viability of bakeries, best business practices, best selling items, etc. and his girlfriend wasn't happy when he told her that according to his research, her bakery was doomed to fail as planned and she needed to rethink things (see his notes). Knox does this over and over again with the people he cares about so this time he has determined that if he knows as little as possible about Fiona, he won't ingratiate himself into her life and tell her how to best run it. Suddenly, Knox is my new virtual BFF. (Really, doesn't everyone do that?)
And Fiona appreciates that Knox involves himself in her rescuing wildlife. In a prior story, she left him in charge of some homeless otters and was pleased to find that not only had he kept them, he built them a playroom in his spare bedroom. Adorable. (Note to self–where can I get otters and mini-waterslides?)
There is much more to this story and I don't want to give away everything. As hard as it is to pick up the final book of the series and not be in on the inside jokes, I still enjoyed the story immensely.
---
Favorite Scene:
There was no immediate response. It looked like there was a light up in one of the rooms upstairs though. She went back to the door and pounded a little harder.  Then she tried the knob. It was unlocked. She opened the door and poked her head inside. "Hello? Knox! Saoirse!"
"Yeah! Up here!"
She followed the sound of Knox's voice up the stairs.
There was a light on in the second room on the left, but there was noise coming from the room at the end of the hall. She glanced in the room as she passed and stopped in the doorway in surprise. Oh my God. It was an otter playroom.
There was fencing across the doorway, but the rest of the room was set up for otters to run freely. There were little slides and tunnels and burrows. There was also a feeding and water station along with multiple levels for them to climb on. If she hadn't known better, she wouldn't have known if it was set up for guinea pigs or cats or what animal inhabited the space. But she did know. And her heart felt like it was swelling in her chest.
He'd kept the otters. At least that's what this looked like. If he had, she was officially going to fall in love with him.
She turned and headed for the room at the end of the hall, holding her breath. She half hoped that he kept the otters and half hoped that he hadn't. Being mad at him and getting over him was going to be a lot easier if he had pawned those otters off on someone else and now was fostering a dog. In a very strange bedroom setup.
She stepped into the doorway at the end of the hall to find a very hot, very big man in a wet t-shirt sitting on the edge of a wide, jacuzzi bathtub with one leg in and one leg out. Her daughter knelt inside the tub, fully dressed, giggling, while a juvenile otter climbed up her arm to her shoulder.
Fiona wasn't sure if it was her heart or her ovaries that exploded, but something inside of her completely expanded and then popped open with what felt like rainbow confetti and hot bubbles of joy. The scene before her made her want to laugh and cry and take her clothes off and run all at the same time.
Fortunately, Saoirse was there, which ruled out taking her clothes off, crying or running.
All of those things would've been way too hard to explain.
So, she laughed.
Know and Saoirse both swung to look at her.
"Mom!" Saoirse exclaimed. "Baby otters!"
"I see that," she somehow managed.
Then her gaze collided with Knox's and the feeling of needing to be naked and crying intensified.
Related Posts