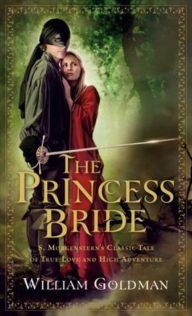 The Princess Bride
by
William Goldman

Published by
Harcourt Inc
on October 8, 2007
Pages:
456
Format:
eBook



This post contains affiliate links you can use to purchase the book. If you buy the book using that link, I will receive a small commission from the sale.
A tale of true love and high adventure, pirates, princesses, giants, miracles, fencing, and a frightening assortment of wild beasts - The Princess Bride is a modern storytelling classic.
As Florin and Guilder teeter on the verge of war, the reluctant Princess Buttercup is devastated by the loss of her true love, kidnapped by a mercenary and his henchmen, rescued by a pirate, forced to marry Prince Humperdinck, and rescued once again by the very crew who absconded with her in the first place. In the course of this dazzling adventure, she'll meet Vizzini - the criminal philosopher who'll do anything for a bag of gold; Fezzik - the gentle giant; Inigo - the Spaniard whose steel thirsts for revenge; and Count Rugen - the evil mastermind behind it all. Foiling all their plans and jumping into their stories is Westley, Princess Buttercup's one true love and a very good friend of a very dangerous pirate.
"Buttercup's Baby" is at the end of this edition.
---
How can something so awesome, be so disappointing?
I picked up a copy of The Princess Bride because I saw a comment recently which pointed out that there was so much more to the story than what makes it on the screen. Then I thought, yeah, don't we say that all the time? I loved 1987 movie The Princess Bride. It's a classic.  Why would I not want more?  Since it's a classic,  I am not even going to discuss the basic plot.   If you don't know it, go enjoy the movie.  Now, you'll ask, how much did we miss by not reading the story? Well, I'm here to tell you…not that much. 🙁
Let's start with the fact that I was very, very confused as the author's introduction in this book includes a 30th anniversary introduction as well as a reprint of the 25th anniversary introduction. In the introduction, author William Goldman talks about how this story is an abridgment of the actual manuscript written down by S. Morgenstern's notes from historical accounts. Well, I never heard that before!  This was a historical account? What? Apparently, once when he was a child and very sick, his father read an abridged version of this story to him, just like the Fred Savage/Peter Faulk characters in the movie, and he was moved to skip to the good parts and share this story with the world. The author also goes into how he has been involved in several litigations with the Morgenstern Museum over this presentation.  Goldman also then goes into a story about how Morgenstern's estate was going to hire Stephen King to abridge the story of Buttercup's Baby and his anger over that.
I was so confused. I never heard any of this before so I looked it up on the internet. It's all B.S.!
This is considered to be part of the greater storytelling of Mr. Goldman. I'm sorry but it was distracting since he keeps interrupting the story to discuss what long winded description he removed, or to discuss why he didn't like what Morganstern had written, etc. etc.  If I didn't already know the story all these constant interruptions  would have kept killing the momentum.   Since these notes were all in italics, I quickly started ignoring them and skipped ahead.
So besides all the nonsense with Morgenstern, where there parts missing from the movie version of the story? Yes, there were. We got more of Buttercup and Westley's time on the farm. We got more history on Fezzik. We got more backstory on Inigo. We got more information on Prince Humperdink. We got more time with Miracle Max and his wife. The Pit of Despair was actually called the Zoo of Death and we get to see Westley breakdown from his constant torture. Did we need any of this to really enjoy the story? Nope! I will tell you that the film version actually did a great job in tightening the scenes and the dialog to liven them up, make the characters more enjoyable and the story more exciting. For example, in the book Westley never knew Inigo was looking for a six-fingered man who killed his father. While waiting for Westley to climb the Cliffs of Insanity, we dash off to read all about Inigo's backstory, and when we cut back, they are ready to fight.   In the movie, while Westley is taking a breather after climbing the cliffs, Inigo tells Westley in just a few lines all about his father and his mission to kill the six- fingered man.  It also gives Westley the head's up when he meets Count Rugen and mentions that someone is looking for him.  Plus in the book, Westley meets Count Rugen when he was still on the farm and Westley would have mentioned this to Inigo much earlier in the story.
The biggest problem I had with the book is Buttercup.   Buttercup is the least interesting character in the movie.    Think about it….I'm right.  Admit it.  In the movie she is bland, but in the book, she is bitchy and an airhead. She is told over and over how beautiful she is. No one says she is smart because she isn't.   No one says she's nice (not even Westley) because she isn't.   Westley does everything on the farm and Buttercup and her family feed him scraps and scrapings from dinner.   She works him from sunup to sundown and even late into the night making up extra chores for him.   She is nasty to Westley until another woman looks at him and suddenly she is desperately in love.  In the movie, after they survive the fire swamp, Buttercup sees Humperdink's men surrounding them and leaves with Humperdink to spare Westley's life. In the book, Westley is on the verge of collapse after six hours of protecting Buttercup in the swamp and after they exit, she coldly goes off with Humperdink because she promised him that she would marry him.
"The truth," said Wesley, 'is that you would rather live with your Prince than die with your love."
"I would rather live than die, I admit it."
"We were talking about love, madam." There was a long pause. Then Buttercup said it: "I can live without love."
And with that she left Westley alone.
Surprisingly, Westley endures his subsequent torture thinking about Buttercup and her beauty even though she coldly left him behind to attend celebration after celebration. I disliked Buttercup very much after reading the book.
Additionally, we get a bonus story which is a first chapter of the adaptation of Buttercup's Baby which is not even worth the reading. There isn't much too it so everything is a spoiler…
View Spoiler »
This starts were The Princess Bride leave off but instead of getting away on the white horses, they are immediately pursued by Humperdink and his men and only survive when the pirates rescue them but then they are dumped on an island when the pirates  are pursued by Humperdink's armada. Westley and Buttercup have an awkward sexual encounter which jumps to little Waverly's birth which almost kills Buttercup.  Fezzik acts as babysitter to little Waverly until a faceless man shows up and abducts her. Fezzik catches up to him by the cliffs. The faceless man throws the baby over the cliff and Fezzik jumps off the cliff to catch the baby and the story ends as Fezzik puts his body between the baby and the jagged rocks and is hoping his death on the rocks will protect Waverly… WTF!!!  There was nothing about this story that was worth adding except to make a publisher realize we did not want the sequel.  « Hide Spoiler
Spare yourself and go watch the movie and enjoy a very talented cast and director bring these characters to life.