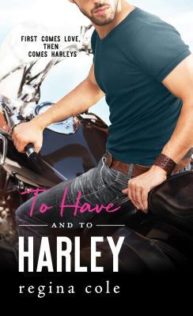 To Have and to Harley (Bikers & Brides, #1)
by
Regina Cole

Series:
Bikers & Brides #1
Published by
Sourcebooks Casablanca
on August 7th 2018
Genres:
Blue Collar
,
Motorcycle Club
Pages:
384
Format:
eBook



I received this book for free from in exchange for an honest review. This does not affect my opinion of the book or the content of my review.
This post contains affiliate links you can use to purchase the book. If you buy the book using that link, I will receive a small commission from the sale.
You may now kiss the biker Bethany Jernigan owes her bestie. Big time. So when wedding planning overburdens the bride-to-be, Bethany steps in to handle the nitty-gritty. But the guy in charge isn't anything like she imagined. He's gruff, tattooed, and 100% male. His staff is even rougher around the edges, and it's not long before she feels as if she's stepped into some kind of crazy alternate reality.

Are those...bikers? Arguing about wedding favors?

Trey Harding never wanted this to get so out of hand. One little lie somehow snowballed into a world of dresses and flowers and food and holy-hell-he's-in-over-his-head. But it's not like he can confess he's not the wedding planner he's pretending to be--especially now that he's falling for the maid of honor! His charade is becoming a farce, and as engines rev and ribbons fly, Trey's running out of time to figure out how to tell the truth without losing his new family, his crew...or the woman of his dreams.

Bikers & Brides Series: To Have and to Harley (Book 1)

What People Are Saying About Regina Cole: "Hits the mark...joyful, feel-good romance."--RT Book Reviews for Sex Becomes Her, 4 1/2 Stars "Cole sizzles...sweet and red-hot."--Publishers Weekly for Sex Becomes Her"Will keep you turning the pages."--Night Owl Reviews for Sex Becomes Her, 4 Stars
---
An enjoyable and quirky romance. I am ready for more bikers and brides.
MC books aren't normally my cup-of-tea, but I enjoyed this quirky romance. Trey Harding, leader of the Iron Shadows MC gang, spent his whole life knowing that he was abandoned in a bathroom as a child. His whole life is based upon knowing no one wanted him and then being tossed from foster home to foster home until he could get out the system, until he found his "family" in the Shadows.
Trey knows exactly who he is until a PI comes to him to let him know that DNA taken when he was arrested a few months ago was used to determine that Trey was actually born Samuel Yelverton and Trey has a family who has been searching for him for decades. That young Trey/Samuel was kidnapped as a child by his babysitter, one who then dumped him to be found in a bathroom when the police got too close.
Now the man who has always been alone and who thought he was thrown away like trash has to come to terms with the fact that he has a loving mother who never gave up hope of finding him and a sister as well, and that they have been living just a town away from him all these years.
It has knocked him off balance, which is why Trey couldn't tell the the sweet woman who welcomed him with open arms that he was the leader of a motorcycle gang. And that is the only excuse for how Trey is suddenly finding himself, and his men, become wedding planners. Panic, and a sudden need to please his…mommy. So his mouth threw out the first thing that popped into his head. Of course, if he hadn't been looking at that wedding magazine, he might have come up with something more believable.
But here he is, looking at the beautiful blue eyes of the maid-of-honor and his sister's best friend, pretending that he knows all about coordinating weddings. Well, he and The Iron Shadows are going to figure this out because there is no way he is disappointing his mo–Mrs. Yelverton nor the woman with such innocent eyes.
He only needs to rangle a bunch of rough and brawling bikers into putting together a wedding.
To Have and to Harley is the start of a fish-out-of-water romantic series. It was funny to see these tough bikers whole-heartedly taking on the project of a wedding and putting their whole hearts into it.
"I can't believe you don't appreciate my artistic genius. Do you know how hard it was to go into the store and get those glitter markers? The pink poster board? You guys have no appreciation for how hard I worked?"
There is also the sweet romance between Trey and Bethany.  As an army brat, Bethany had a hard time making friends.  Until Sarah Yelverton declared them best friends, and Beth was all but adopted by Sarah's parents, Bethany only had her Dad in her life and when he passed, she was lost.  Now Trey and Bethany are both overwhelmed by their feelings and are aware the awkwardness of bringing it out to Trey's family.
There is a little nonsence that you have to overlook to make the story work, such as why Sarah is getting married in the middle of finishing pharmacy school and the added pressure of taking the important state licensing boards.  That's not enough, so let's add in a big wedding?  In only a few short months.  And let's hire someone else to do everything, including picking the wedding dress, because she simply has no time and is under a lot of pressure.  You couldn't wait until things settled down and have a Christmas wedding?    Then she has a melt down about suddenly having a brother and he's taking her mother's attention from her, and how Trey isn't focusing enough attention on the wedding…Take it down, Bridezilla?   Really, if you are not unexpectedly expecting a baby, there really was no need to rush this wedding except to bring about the story plot.
The ending leaves it open for more possible wedding fiascos.  I am definitely going to be on the look out for the next story to see where the series goes.
---
Favorite Scene:
"My mind's made up. The wedding planning is over."
"Aw, come on, Boss! I was just getting good at it! Come on, I brought a freaking vision board!"
Trey stared, then whirled on his heel. Ace was standing there in the open front door, an intense frown on his normally jovial face.
"Seriously."
"What the hell is a vision board?"
Ace grinned, the ducked into the house. Trey followed, Wolf at his heels.
"Look. See, fabric swatches, patterns… Look, I even did a mock-up of the cake."
"I told him that design wouldn't work," Doc interjected. "Look at the way those tiers are stacked. It'll never hold up under all that fondant."
"If you used some supports of some kind under that edge," Wolf pointed, "then it would probably have more structural integrity. Can't you have each layer stacked on cardboard?"
Doc scoffed as Ace nodded. Dan shook his head. "I don't like the colors."
Ace rounded on him. "What do you mean? It's white and pink! Chicks love pink!"
"Yeah, when they're seven. Grow the hell up, man. Grown women don't like pink."
A full scale argument erupted, and all Trey could do was watch as eleven grown-ass, tatted up biker dudes had a yelling match, complete with a few fists flying, over wedding colors.
"See?" Wolf crossed his arms, his grin flashing white through his beard. "They're having fun."
Trey just shook his head as the argument escalated, with Ace finally crying uncle.
"Let's put it to a vote," Dean yelled over the melee. "All those in favor of pink and white, say aye."
"Aye!" Ace's yell was hard to hear, since Rocco's boot was in his face.
"All opposed!"
The nays were so loud that Trey would have worried about the structural integrity of the room if anyone but Wolf had built it.
Trey smiled. Those roughneck assholes cared. And he wasn't going to take that from them at this point.
It was just another month or two. As long as he could balance things, it would be okay. He had to believe that.
Besides, he wasn't sure how long he could have kept away form Bethany. The need to see her again was almost a pain inside his belly.
"All right, boys."
The scuffle stopped at the sound of Trey's voice. He stepped in the middle of the group, settling himself on the couch. "Let's see the rest of your board so we can fix your fool ideas."
Ace grinned, Dean snorted, and the rest of the bikers settled themselves around the room, ready to give opinions whenever asked–and more often, whenever they weren't.
Related Posts