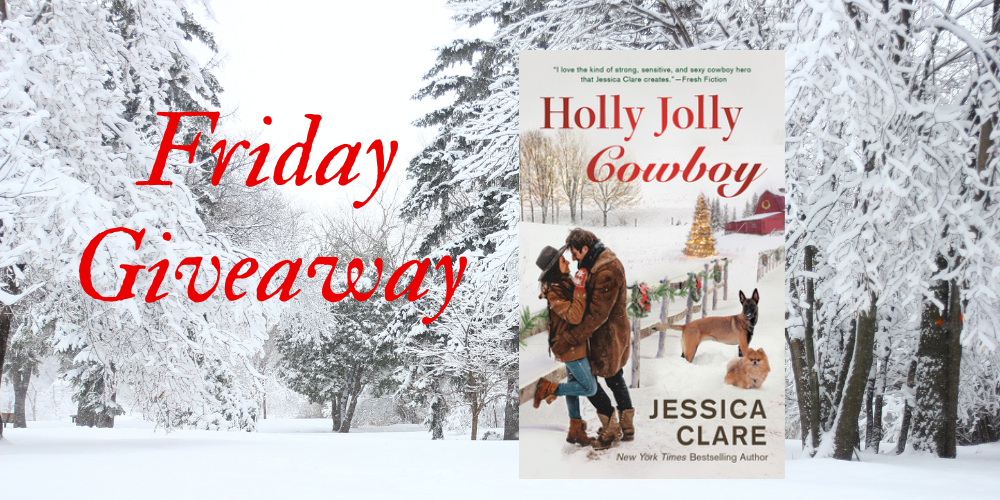 Our winner is…Mary Jo. Congratulations!
TGIF! One last Holiday themed giveaway for this year.
2021 has just been an awful year for me.  Honestly, 2020 with its forced quarantines with no problem around here.   Truly, a book loving introvert being told she can't go anywhere, can't be social and has to stay home all the time.  Not a hardship.
This year has had a few good things such as finally installing the fireplace I have wanted since we bought the house 25 years ago, and it has had some really bad parts, such as my husbands emergency surgery this past summer.   In between all that, both home life and work life seemed to have been a sprint to the finish line every single day.  The only rest was our  beach trip back in October.  Problem is I don't think I have been able to sit more than an hour here and there to read a book since we got home.    Sitting down to write a review has been impossible because it is simply too late by the time everything else is finished for the day. Last week, my husband wanted to know who I was texting a speech to on my phone. I told him I was drafting a review. Of course, he wanted to know why I didn't go to my computer and do it, and the answer was simple, if I try and sit down in my office, too many other things will insist on being taken care of so staying away from my desk is the only way to be productive, and I had to jot down my thoughts right then before they disappeared for the night.   So the upside of that is if I can ever get some quiet time, I have several reviews half started.   I haven't given up blogging for the year but I just wanted you to know why the last few weeks have only included Spotlights and no reviews.
With the increased cases of covid and the variants, we are once again sitting out the large family Christmas gathering. That at least will save several days worth of cookie and dessert making. If I finish up the majority of my present wrapping this weekend, I really am hoping to be able to kick back for the rest of the year.  Fingers-crossed.
Most paranormal fans have heard by now that Kresley Cole is releasing a new Immortals After Dark book come January.   It has been five years since the last IAD was released and the last two, Sweet Ruin and Wicked Abyss, has both drifted off the original story arc.   I know that I was disappointed because Kresley has a way of ramping up the excitement for the next book and we all had favorite characters we wanted to have a HEA. The introduction of a large group of new characters meant a derailing of the stories we wanted such as Munro and Kristoff, as well as characters that weren't outright teased such as Hag and Furie.   Of course, everyone wants, yet doesn't want, Nyx's story.  We don't want it because everyone fears that Nyx will be the final book the series and with so many characters needing to have their stories told, no one wants the end.  Hopefully, this new release means that Kresley's creativity is flowing once again and we will see a return of the IAD community.    Lately all I see are discussions of re-reads of the series going on in the various paranormal Facebook groups. I did squeeze in  The Warlord Wants Forever (not my favorite) over Thanksgiving but I don't know if I can tackle the rest of the series before Munro comes out on January 25th.
Back to our giveaway…Just leave a comment to be entered.  I really do have something planned for the next group of giveaways and maybe I will leave the dishes piling up so I can get that done. 🙂
Giveaway is a paperback copy and is open to U.S. residents.  Giveaway ends Thursday, December 16th.
Local waitress Holly Dawson needs a better paying job to cover her sister's college tuition. Given that it's Christmas and she's broke as a joke, she's feeling pretty bah-humbug. New jobs are hard to come by in a town as small as Painted Barrel, especially as the town dropout.

When Holly's offered a job at the Flat C Ranch to clean and cook for the cowboys that work there, it seems like a dream come true…except for one thing. Her nemesis, the incredibly handsome (and annoyingly arrogant) Adam Calhoun works there. It doesn't matter that he loves dogs more than people, or that he's a war veteran. No Christmas spirit can save that particular grinch.

When the rest of the ranch hands go out of town for the holidays, Holly and Adam will be forced to work closely together. No sweat. Holly can deal with Adam. And if she doesn't kill him first, she just might fall in love.