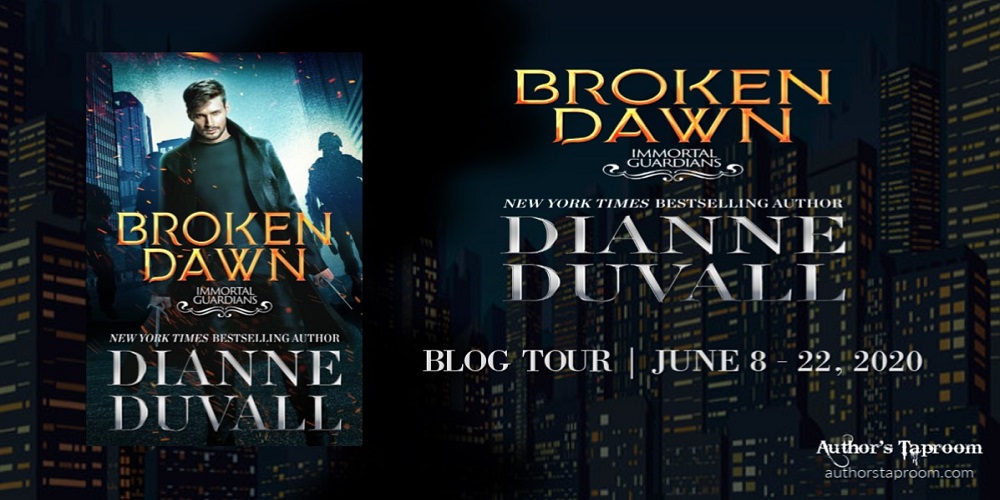 ---
5 Fun Facts About 
Broken Dawn
 and
the Immortal Guardians series
Hello! Thanks so much for joining us and helping us celebrate the release of an exciting new stand-alone novel in my Immortal Guardians series—BROKEN DAWN. If you like paranormal romance that boasts a lot of action, passion, humor, AND powerful immortal males who adore strong women, then I think you'll like Nick and Kayla's story. If you're new to the series, don't worry. You won't be lost at all if you dive in with this one. 
For new readers AND for fans of the Immortal Guardians series, today I thought I would share 5 Fun Facts about Broken Dawn and the Immortal Guardians series: 
#1 – BROKEN DAWN is the first Immortal Guardians book that takes place almost entirely in Texas. The others take place in North Carolina with occasional forays into other states and countries.
#2 – Fans of the IG series have been asking me who Nick is. You haven't actually met Nick "face-to-face" yet. Nick is the Immortal Guardian who replaced Marcus in Houston when Marcus transferred to North Carolina. (I admit I've been curious about him for years, wondering what the immortal who took Marcus's place was like.) He bought Marcus's house years ago and has been smitten with Kayla ever since she moved into the house next door.
#3 – BROKEN DAWN takes place around the same time as THE LASARAN, the first book in my new Aldebarian Alliance sci-fi romance series, BUT the stories are totally separate. You don't have to read one to enjoy the other. 🙂 
#4 – Eliana is Nick's hunting partner. She has only appeared in the Immortal Guardians series once—very briefly in DEATH OF DARKNESS. But that appearance immediately sparked my interest in knowing more about her and about the Immortal Guardians she hunts with. So before I knew it, Nick's story began to unfold in my imagination . . . as did Eliana's, which I'm writing now. 😉  
#5 – The big battle scene in DEATH OF DARKNESS also acted as a catalyst for this story. I couldn't help but wonder what the immortals and Network employees in Texas were like after they provided much-needed backup and just had to meet some of them. 
I hope you'll enjoy Nick and Kayla's story! 
---
ABOUT THE BOOK
Book #10 Immortal Guardians
By Dianne Duvall
June 16, 2020
Delve into an exciting new stand-alone novel in New York Times bestselling author Dianne Duvall's "fast-paced and humorous" (Publishers Weekly), "utterly addictive" (RT Book Reviews) Immortal Guardians series.
Nick Belanger can't stop thinking about the single mother who lives next door. She's smart. She's funny. She's so beautiful he can't stare at her too long for fear his eyes will start to glow. But Kayla thinks he's just an ordinary guy who works in security. Finding out he instead is a powerful immortal warrior who hunts and slays psychotic vampires for a living may not go over well, particularly since she has a daughter she doesn't want to endanger.
Kayla Dorman can keep neither her gaze nor her thoughts from straying to the man next door. Who can blame her really? He is the epitome of tall, dark, and handsome with smart, charming, and honorable thrown in. He's also a few years younger than her and surely would not be interested in a single mom who hasn't dated since her divorce. At least that's what she thinks until an accident nearly takes her life and Nick risks all to save her.
The dynamics of their relationship swiftly change. The friendship they've developed over the years deepens into love as the two spend every minute they can together, laughing and teasing, never suspecting a threat may lurk in the shadows. But that threat soon strikes, making it clear that Nick is the target and his enemy doesn't care if Kayla gets caught in the cross fire. Though Kayla bravely rises to the occasion and is determined to do whatever it takes to help Nick defeat his enemy, Nick is terrified of losing her. Can he identify and eliminate his new nemesis before the man takes everything from him?
The Immortal Guardians Series:
Aldebarian Alliance Series:
ABOUT THE AUTHOR:
Dianne Duvall is the New York Times and USA Today Bestselling Author of the Immortal Guardians series and The Gifted Ones series. Reviewers have called Dianne's books "fast-paced and humorous" (Publishers Weekly), "utterly addictive" (RT Book Reviews), "extraordinary" (Long and Short Reviews), and"wonderfully imaginative" (The Romance Reviews). Her books have twice been nominated for RT Reviewers' Choice Awards and are routinely deemed Top Picks by RT Book Reviews, The Romance Reviews,and/or Night Owl Reviews.
Dianne loves all things creative. When she isn't writing, Dianne is active in the independent film industry and has even appeared on-screen, crawling out of a moonlit grave and wielding a machete like some of the vampires she creates in her books.
For the latest news on upcoming releases, contests, and more, please visit DianneDuvall.com. You can also find Dianne online . . .
Blog | Facebook | Twitter | YouTube | Pinterest | Goodreads | Book Bub  | Instagram
TOUR-WIDE GIVEAWAY:
— (1) $50.00 Amazon Gift Card
— (2) $25.00 Amazon Gift Card