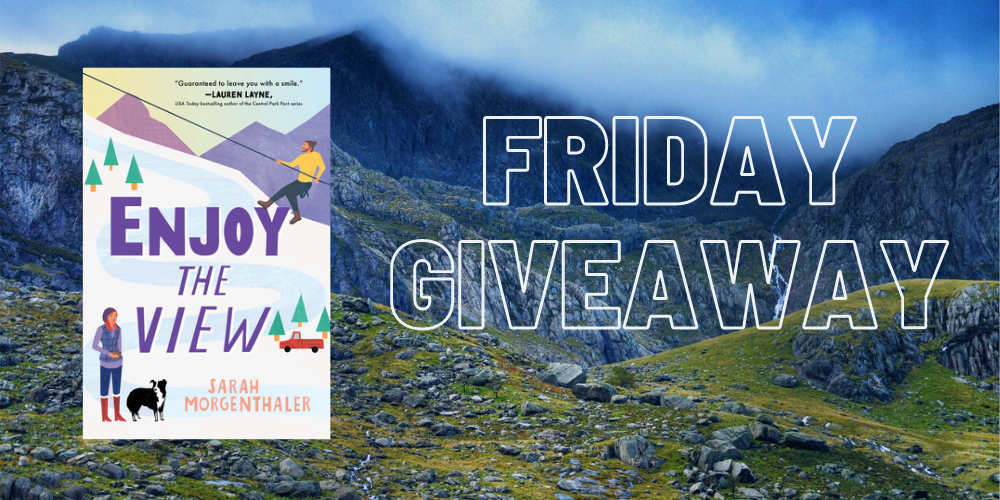 Our winner is…Joanne B. Congratulations.
Why are short weeks longer than normal weeks? Why? WHY?
Can someone tell me why the four days following one day off is twice as long as a normal work week? I think it involves physics. If someone has a thesis, I would like to see it.   What should have been four quick days to another weekend turned out to be as painful as trying to climb a mountain. This week has been so crazy and  there has been no time for reading at all!   You know I don't do well without my reading time.
In honor of this week's long, uphill climb (ha,ha), I have a copy of Enjoy the View by Sara Morgenthaler.    I really enjoyed the romance between these great main characters and the backdrop of which, personally, satisfied any interest I might have ever conceived about climbing a mountain. It was full of vivid imagery of the mountains and technicalities and dangers of this type of mountain climbing.   As someone who doesn't even like to hike, I felt like I was there with them on their climb and I can happily say…
Just leave a comment to be entered in this week's giveaway. The giveaway is for a U.S. Kindle version of the novel. Giveaway ends Thursday, June 10th.
TGIF, everyone, and happy reading!
Former Hollywood darling River Lane's acting career is tanking fast. Determined to start fresh behind the camera, she agrees to film a documentary about the picturesque small town of Moose Springs, Alaska. The assignment should have been easy, but the quirky locals want nothing to do with River. Well, too bad: River's going to make this film and prove herself, no matter what it takes.

Or what (literal) mountain she has to climb.

Easton Lockett may be a gentle giant, but he knows a thing or two about survival. If he can keep everyone in line, he should be able to get River and her crew up and down Mount Veil in one piece. Turns out that's a big if. The wildlife's wilder than usual, the camera crew's determined to wander off a cliff, and the gorgeous actress is fearless. Falling for River only makes Easton's job tougher, but there's only so long he can hold out against her brilliant smile. When bad weather strikes, putting everyone at risk, it'll take all of Easton's skill to get them back home safely…and convince River she should stay in his arms for good.