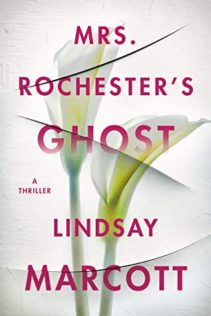 Mrs. Rochester's Ghost
by
Lindsay Marcott

Published by
Thomas & Mercer
on August 1, 2021
Pages:
398
Format:
eBook



I received this book for free from in exchange for an honest review. This does not affect my opinion of the book or the content of my review.
This post contains affiliate links you can use to purchase the book. If you buy the book using that link, I will receive a small commission from the sale.
In a modern and twisty retelling of Jane Eyre, a young woman must question everything she thinks she knows about love, loyalty, and murder.
Jane has lost everything: job, mother, relationship, even her home. A friend calls to offer an unusual deal—a cottage above the crashing surf of Big Sur on the estate of his employer, Evan Rochester. In return, Jane will tutor his teenage daughter. She accepts.
But nothing is quite as it seems at the Rochester estate. Though he's been accused of murdering his glamorous and troubled wife, Evan Rochester insists she drowned herself. Jane is skeptical, but she still finds herself falling for the brilliant and secretive entrepreneur and growing close to his daughter.
And yet her deepening feelings for Evan can't disguise dark suspicions aroused when a ghostly presence repeatedly appears in the night's mist and fog. Jane embarks on an intense search for answers and uncovers evidence that soon puts Evan's innocence into question. She's determined to discover what really happened that fateful night, but what will the truth cost her?
---
A great retelling of Jane Eyre with a modern spin and a thrilling mystery.  It missed on a few marks but kept me reading to find out what truly happened.
There is no way to discuss this story without going back and forth on the classic novel by Charlotte Brontë so I will be jumping back and forth.   In this retelling,  Jane (I don't think we ever get a last name) was invited to the estate of Thorn Bluff in California by her old friend Otis Fairfax, who is the current chef at the estate.    Young Sophie was sent to live with her father when her mother died suddenly.  Sophie is doing poorly in school and needs a tutor.  Jane has been a writer on a TV show which was just cancelled and is currently out of work and out of money but she is at least fluent in French so she flies from NYC to CA.  When she arrives, Jane gets drawn into the secrets of Thorn Bluff and especially the mysterious death of Beatrice Rochester, former supermodel.   Her husband, the always busy and usually brooding Evan Rochester, swears that she walked into the sea and disappeared before he could reach her, but not everyone is convinced that Rochester didn't drag her out there and drown her first.
Everyone and I mean everyone lies to Jane in this story; her friend, Rochester, the people she meets in town, and Beatrice's brother, who wants Jane to feed him information from inside the estate.   You have to feel awful for Jane when the closest thing she has to a trustworthy friend is a 13-year-old who keeps acting out.
The plotline of what happened to Beatrice the night she dies was the best part of the story.  We start off that night.  Rochester is waiting to take Beatrice out to dinner for their fourth anniversary when he sees her down below on the beach walking into the post-storm waves.  He runs down to the beach but by the time he gets there she is nowhere to be found.   The story then starts about a year later with Jane's invite to the property.   We also flash to chapters of Beatrice where we see through her eyes as live those final hours that fateful night and we see clearly that Beatrice was Crazy, I mean capital C – Crazy.  Beatrice was bipolar and she stopped taking her meds so the voices kept getting louder and louder in her head.   The voices telling her that her husband was going to kill her to get her out of the way for his new wife.  As I mentioned, Beatrice had lost all reason by this point, but…we also see moments where Rochester is looking at her like he absolutely hates her so she might be crazy but she's not entirely stupid.   So was the opening scene what really happened or what Rochester is simply trying to convince everyone that is what happened?   Hmmm.  We also know that Rochester lies very easily and very convincingly to Jane's face.
Let's jump back to Jane Eyre and remember the Mr. Rochester wasn't really a hero in that novel.  He was selfish and manipulative.   Yes, he was screwed over by this father and brother who set him up to marry a woman who turned out to be crazy and once they were married, he couldn't divorce her.   You kind of felt bad for him, even though he did his best to be a self-centered pig after that.  When Rochester meets Jane, he falls hard for the kindness and innocence as well as the strength in Jane, but then he spends the rest of the story planning and plotting to get Jane to fall in love with him so he can marry her even though he is already married.  He basically would have destroyed everything that was good in Jane, everything he admired, just because he wanted her and wouldn't be denied.   Mr. Rochester is an asshole but he truly loved Jane, so we can kind of forgive him a little bit because he suffers in the end and realizes she had been right to leave him.
Here, the more we learn about Evan Rochester, the more we know that he isn't really a great guy either.  Not only does he have some darkness but his moral compass is quite broken and he will do what he wants to as long as he gets what he wants in the end.   Add that to how he looks at his crazy wife and you start to wonder–did he really have anything to do with her death?
Beatrice's brother is trying to stir up trouble for Rochester but is he so certain that his crazy sister didn't commit suicide or does he simply want his sister's inheritance, especially  if he can get Rochester convicted of murder and bring a wrongful death suit and grab all of Rochester's money as well.  We know that he is a two-bit lawyer and that he and Beatrice have grifting their way through life and he once tells her that she better use her looks to land herself a rich husband soon because there is too much crazy coming out for her to hide it much longer.   Is he a grieving brother or did he have anything to do with her death?
I really had to know what happened to Beatrice Rochester!
The one aspect that fails in this story is the fact that Mr. Rochester (in Jane Eyre) did everything for the love (obsession?) of Jane.   Here, even when Evan and Jane were sleeping together, I really wasn't getting any romantic attachment from him.   We are told about the nightly long walks with the dogs and their discussions but that was too off the page.  I didn't feel any real connection from either Evan or Jane.   Evan wants to keep their sleeping together a secret, even from the other people in the house, but I couldn't figure out what he would gain by sleeping with Jane.   She didn't have any money or connections.  Evan was very focused on business and getting his new company off the ground.  His whole fortune was tied up in this venture and if he failed, he could lose everything.    At one point after they began sleeping together, Evan wants Jane to go home.  Jane accuses him of sleeping with one of his business associates and wants to know if he is trying to get rid of Jane so he get sleep with the other woman.  He gets angry and insulted that she would even accuse him.  Later when he finally confesses to  her all his secrets, he admits that yes, they were sleeping together and yeah, he got rid of Jane because he intended to sleep with the other woman.   Not only did I feel no real connection between Evan and Jane, apparently neither did Evan since he had Jane in his bed but had no problem pushing Jane out the door and jumping into bed with someone else.
The author did a nice job modernizing the story and giving her own twist to the characters and the plot but the developing of what happened to Beatrice on that fateful night and unknotting all of the lies  being told to Jane is what we truly stayed to find out.   Any romance, gothic or otherwise, fell flat.  The only love which developed was between Jane  and the motherless Sophie.