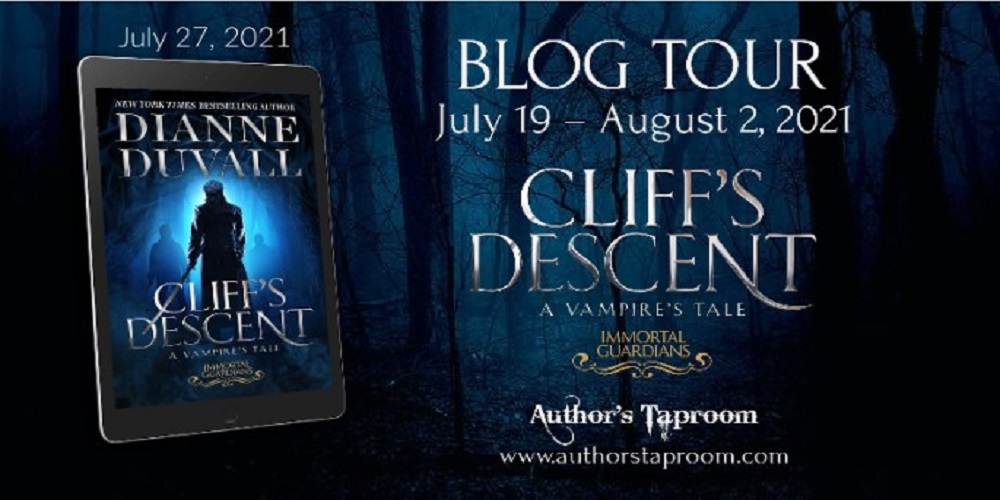 ---
Favorite Quotes from
Cliff's Descent
Hello! Thank you for joining us. I'm excited to be here today, celebrating the release of CLIFF'S DECENT, the latest book in my Immortal Guardians series. If you enjoy paranormal romance that features strong heroes who adore strong women, fun secondary characters, action, passion, and romance, then I think you'll like Cliff and Emma's story.
To give you an idea of what you'll find within the pages of CLIFF'S DESCENT, I thought I would share five of my favorite quotes from it: 
#1
"Cliff? What is it?"
A huge smile dawned. "The voices."
"What about them?"
"They're gone."
Confusion rose. "I thought hunting quieted the voices."
He shook his head. "Hunting just lowers the volume, which really helps. But you…" He stroked her face, the love and happiness that shone in his eyes piercing her heart. "You eradicated them, Emma. They're completely quiet now."
And she'd thought she couldn't love him more.
"Wow," she teased. "I must really be good in bed."
He barked out a laugh. "You are. You definitely are."
#2
He had waited too long. He was terrifyingly close to losing himself entirely. There were still fractured pieces of him in there, remnants of the Cliff he saw in the photos Emma had snapped, but the twisted monster rising within him seemed to devour more of them every day.
He never wanted Emma to see that monster.
He would die first.
#3
Bastien passed him the duffel. "Just don't do anything I wouldn't do."
Cliff looped the strap over his shoulder. "Is there anything you wouldn't do?"
"Hmm. Good point. Have fun then."
#4
"Whatever is going on up there"—Emma tapped his forehead—"will only ever hurt me if it drives you to harm yourself." Arching a brow, she gave him a stern look. "And if that ever happens, I'm telling you right now that I'm going to paddle your ass and give those voices a stern talking to."
Relieved that she wasn't angry, Cliff drew her into a tight hug and buried his face in her hair. "Damn, I love you."
"I love you, too." Snuggling into him, she released a contented sigh. "But I'm dead serious about paddling your ass."
Cliff laughed.
#5
When Emma opened the front door and stepped out onto her porch, the look of baffled astonishment on her face made him grin. "Hi, beautiful," he called, buck naked in the moonlight.
Mouth hanging open, she shook her head. "What… is happening? Are the voices telling you to streak now?" she asked incredulously.
Cliff burst out laughing.
_______________________________
I hope you'll enjoy Cliff and Emma's story!
---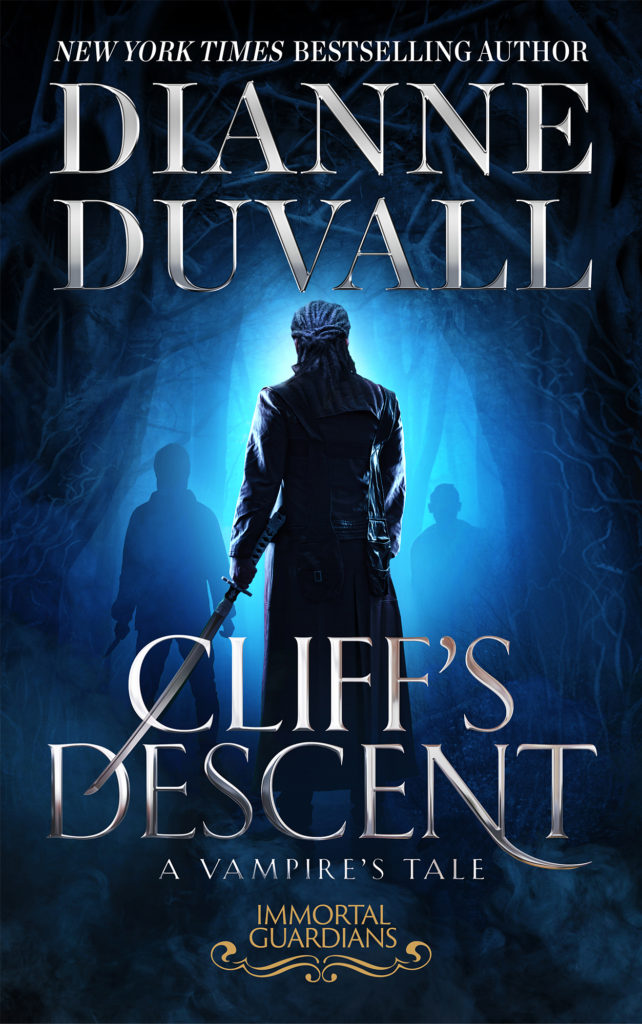 ABOUT THE BOOK
Cliff's Descent: A Vampire's Tale
Immortal Guardians #11
By Dianne Duvall
Releasing date: July 27, 2021
For the first time, New York Times bestselling author Dianne Duvall brings readers a novel–set in the "fast-paced" (Publishers Weekly) and "totally addictive" (RT Book Reviews) world of the Immortal Guardians–that revolves around a vampire… one who has become a friend and trusted ally of the powerful warriors.
Every mortal who works at network headquarters knows that vampires reside below them. They were the first to surrender to the powerful Immortal Guardians who hunt them. And they did so, hoping they can be saved, that the doctors and scientists the Immortal Guardians employ can halt the progressive brain damage that robs all vampires of their sanity. Though curious, Emma never thought she would meet any of the vampires who remain under heavy guard several stories beneath her office. Then mercenaries strike, bombarding the building with heavy artillery. The vampires are freed to join the fray… and Cliff saves her life.
From that moment on, she can't stop thinking about him regardless of the restrictions placed on interactions with vampires. When Emma discovers a way to speak to Cliff at network headquarters, she becomes even more fascinated by him. He's smart, charming, and honorable to his core despite the darkness that lies ahead. And he seems to crave her company as much as she does his. Aware of the eyes that watch them, they keep their encounters innocent, limiting them to those of mere acquaintances. Nevertheless, their attraction grows and she soon falls in love with him even as the madness begins to claim him.
Cliff realizes his future is dark. As one vampire friend after another succumbs to insanity, hope that network doctors will be able to find a cure in time to keep him from meeting the same fate begins to dwindle, leaving him little to look forward to… until he meets Emma. Just speaking to her brings him a happiness and contentment he hasn't experienced since before his transformation. And when they finally find a way to be alone together, everything changes. Emma burrows her way right into his heart and quiets the voices. She sparks dreams of a future with her that strengthen his determination to beat back the madness. But as time passes, the voices grow louder and insanity begins to chip away at him until he fears it will eradicate every part of him she fell in love with.
Will the two of them find a way to defy the odds and find their happily-ever-after? Or will Cliff's descent consume him?
goodreads https://www.goodreads.com/book/show/58188708-cliff-s-descent
AVAILABLE FOR ORDER
?????
Kindle — http://bit.ly/CliffsDescent_Kindle
Kobo — http://bit.ly/CliffsDescent_Kobo
Nook — http://bit.ly/CliffsDescent_Nook
Apple — http://bit.ly/CliffsDescent_Apple
AmazonUK — http://bit.ly/CliffsDescent_AmazonUK
AmazonAU — http://bit.ly/CliffsDescent_AmazonAU
AmazonCA — http://bit.ly/CliffsDescent_AmazonCA
AmazonDE — http://bit.ly/CliffsDescent_AmazonDE
AmazonFR — http://bit.ly/CliffsDescent_AmazonFR
?????????
Amazon/Audible — https://amzn.to/3zGf9fZ
?????????
— available on release day —
BOOK TRAILER:
Link: https://www.youtube.com/watch?v=oQrtGrkvK-s
The Immortal Guardians Series:
Darkness Dawns (Immortal Guardians, #1) — http://amzn.to/2uevzhd
Night Reigns (Immortal Guardians, #2) — http://amzn.to/2t0Co5K
Phantom Shadows (Immortal Guardians, #3) —  http://amzn.to/2v8LABy
In Still Darkness (Immortal Guardians, #3.5) — http://amzn.to/2t9V26z
Darkness Rises (Immortal Guardians, #4) — http://amzn.to/2u4AW1V
Night Unbound (Immortal Guardians, #5) — http://amzn.to/2ueeJiB
Phantom Embrace (Immortal Guardians, #5.5) http://amzn.to/2u4BlkX
Shadows Strike (Immortal Guardians, #6) — http://amzn.to/2sLOSd9
Blade of Darkness (Immortal Guardians Book 7) —  http://amzn.to/2t9OTXZ
Awaken the Darkness (Immortal Guardians Book 8) — https://amzn.to/2NdiGOw
Death of Darkness (Immortal Guardians Book 9) — https://amzn.to/32URd8L
Broken Dawn (Immortal Guardians Book 10) — https://amzn.to/2ZWKKe0
Aldebarian Alliance Series:
The Lasaran (Aldebarian Alliance #1) — https://amzn.to/3aRq1Kx
The Segonian (Aldebarian Alliance #1) — https://amzn.to/3pFJyq7

TOUR-WIDE GIVEAWAY:
To celebrate the release of Cliff's Descent Dianne Duvall will be giving away a $50 Amazon Gift Card to one (1) lucky reader and a $25 Amazon Gift Card to two (2) more readers! To enter, out the Rafflecopter form found in this post. Follow along with the Blog Tour for more chances to win daily. https://authorstaproom.com/cliffs-descent-a-vampires-tale-by-dianne-duvall/ Good luck!
---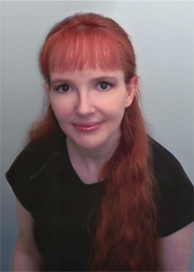 ABOUT THE AUTHOR
Dianne Duvall is the New York Times and USA Today Bestselling Author of the Immortal Guardians paranormal romance series, the Aldebarian Alliance sci‐fi romance series, and The Gifted Ones medieval and time‐travel romance series.  The Lasaran, the first book in the Aldebarian Alliance Series, was a #1 Audible Mover & Shaker. The Segonian, the second book in the Aldebarian Alliance Series, was a Barnes&Noble Top Indie Favorite. Audible chose Awaken the Darkness as one of the Top 5 Best Paranormal Romance Audiobooks of 2018. Reviewers have called Dianne's books "fast-paced and humorous" (Publishers Weekly), "utterly addictive" (RT Book Reviews),   "extraordinary" (Long and Short Reviews), and "wonderfully  imaginative" (The Romance Reviews). Dianne's books have twice been  nominated for RT Reviewers' Choice Awards. And her audiobooks have been awarded the AudioFile Earphones Award for Excellence.
Dianne's books have all appeared on the New York Times, USA Today, Amazon, Barnes & Noble, Apple Books, and/or Kobo Bestseller lists.  The first book in Dianne's The Gifted Ones series, A Sorceress of His Own, is a prequel of sorts to Darkness Dawns. A USA Today bestseller, A Sorceress of His Own is a medieval romance with paranormal elements that was awarded the AudioFile Earphones Award for Excellence and was an Audie Finalist. The second book in the series, Rendezvous With Yesterday, is a time travel romance that won the GraveTells Readers' Choice Award for Best Historical Romance.
In addition to writing romance, Dianne has completed a one-act play  (comedy) and teamed up with an award-winning screenwriter to write a  spec script for a new situation comedy. Several of her poems have also  been published in anthologies.
When she isn't writing, Dianne is very active in the independent film  industry and has even appeared on-screen, crawling out of a moonlit  grave and wielding a machete like some of the psychotic vampires she creates in  her books.
For the latest news on upcoming releases, contests, and more, please visit DianneDuvall.com or sign up for her Newsletter. You can also find Dianne online . . .
Blog — dianneduvall.blogspot.com
Facebook — facebook.com/DianneDuvallAuthor
Twitter — twitter.com/DianneDuvall
YouTube — youtube.com/channel/UCVcJ9xnm_i2ZKV7jM8dqAgA?feature=mhee
Pinterest — pinterest.com/dianneduvall
Goodreads — goodreads.com/Dianne_Duvall
Book Bub — https://www.bookbub.com/authors/dianne-duvall
Instagram — https://www.instagram.com/dianne.duvall/