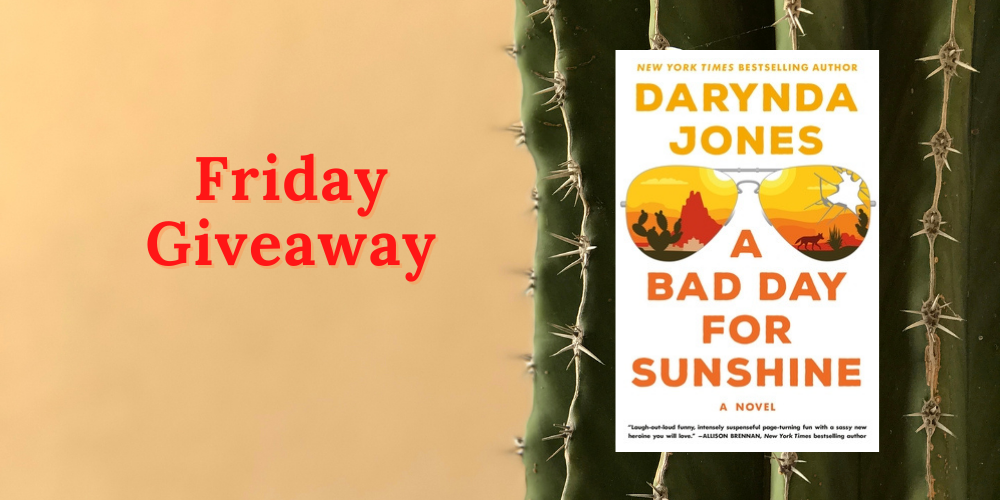 Our winner is….Linda. Congratulations.
Happy Friday!
For those hoping I would have an Archangel's Light for this week's giveaway.  Sorry.  🙁  I did put in a request for one but I won't see one until October at the earliest.
For those who love the humor of Darynda Jones…actually you probably would have already read this book–but for those who never read the Charley Davidson series because Urban Fantasy isn't your thing, the new Sunshine Vicram series is perfect since is it part contemporary, part crime drama and all hilarious.   Sunshine has returned to her small town in New Mexico when she is surprisingly elected as Sheriff–surprisingly because she never ran for election.  Sunshine is now Sheriff with her BFF since childhood, Quincy as her Chief Deputy.  She is living with her teenage daughter over her parents garage and they have the best mother/daughter relationship.  And of course, there is the sexual tension brewing between Sunshine and the man she has had a crush on since she was a young girl, Levi Ravendar.  This series has a fabulous cast of characters and with the release of the second book in the series, you can definitely jump in and  get a feel for Sunshine's little town.
Next weekend is Labor Day weekend, so there won't be any Friday Giveaway next week.  I have all plans of leaving work, snuggling into my favorite chair and reading as many books as I possibly can.   🙂   Doesn't that sound wonderful?  Have a great weekend and holiday weekend and I will see you all again in September.
This week's giveaway is for a U.S. Kindle copy.  Giveaway will ends on Thursday, September 9th.
Sheriff Sunshine Vicram finds her cup o' joe more than half full when the small village of Del Sol, New Mexico, becomes the center of national attention for a kidnapper on the loose.

Del Sol, New Mexico is known for three things: its fry-an-egg-on-the-cement summers, strong cups of coffee – and, now, a nationwide manhunt? Del Sol native Sunshine Vicram has returned to town as the elected sheriff – thanks to her adorably meddlesome parents who nominated her–and she expects her biggest crime wave to involve an elderly flasher named Doug. But a teenage girl is missing, a kidnapper is on the loose, and all of this is reminding Sunshine why she left Del Sol in the first place. Add to that the trouble at her daughter's new school, plus and a kidnapped prized rooster named Puff Daddy, and, well, the forecast looks anything but sunny.

But even clouds have their silver linings. This one's got Levi, Sunshine's sexy, almost-old-flame, and a fiery-hot US Marshall. With temperatures rising everywhere she turns, Del Sol's normally cool-minded sheriff is finding herself knee-deep in drama and danger. Can Sunshine face the call of duty – and find the kidnapper who's terrorizing her beloved hometown – without falling head over high heels in love . . . or worse?