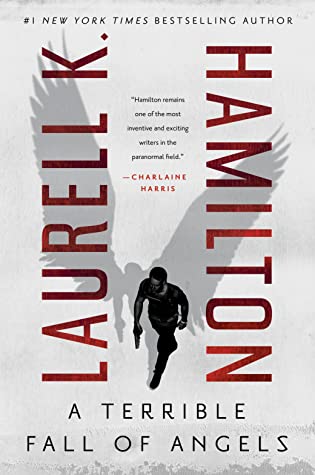 For the first time in 20 years #1 New York Times bestselling author Laurell K. Hamilton launches a brand-new series with A TERRIBLE FALL OF ANGELS (Berkley Hardcover; August 17, 2021).
With more than 20 million books sold, Hamilton is one of the most successful paranormal fiction authors writing today. Known for the signature blend of chilling mystery, pulse-pounding action, and sizzling sensuality that has distinguished her Anita Blake, Vampire Hunter and Merry Gentry, Fey Detective series, Hamilton is recognized as one of the first authors to usher in a new era of popular speculative fiction that combines elements from multiple genres. Now she offers a fresh take on angel mythology by creating a world where angels, demons, and other supernatural creatures walk among humans.
A TERRIBLE FALL OF ANGELS introduces Detective Zaniel 'Havoc' Havelock, angel expert and member of the Metaphysical Coordination Unit, which investigates supernatural-related crimes. Zaniel is one of the team's best assets because he has a direct connection to Heaven. Zaniel was an angel speaker, a human with the rare ability to see and receive messages from Celestial beings. He remains the only human ever to complete his training at the secretive College of Angels and then walk away from the calling.
When Zaniel is called to the murder scene of a college student, all signs point to a murderer from the angelic realm, but a cryptic message from an angel warns Zaniel that the killer is something else entirely. Something that not even the all-knowing angels have a name for. Now it's up to Zaniel and his team to uncover what the murderer is—and how to stop it—before it can kill again. When Zaniel's past begins catching up with him and old wounds reopen, he realizes that Heaven and the College don't let go of their messengers easily.
Amazon US: A Terrible Fall of Angels (A Zaniel Havelock Novel Book 1)
Barnes & Nobles: A Terrible Falls of Angels (A Zaniel Havelock Novel Book 1)
---
The angel glowed before me, all white and gold-yellow light; even its eyes were full of yellow fire, but there was no heat. Angels don't give off heat, no matter how fiery they look; if you ever see a glowing angel and feel heat come off it, it's not an angel, exactly. One of the first things you need to understand if you work angel detail is that fallen angels are still angels, and demons, well, that's another problem altogether, but the rule is, if it gives off heat, run; if you can't run, pray.
The angel's wings were barely hinted at; "he," or "she," was mostly just light with a humanoid figure in the middle of it, and a shimmering hint of wings, and flowing robes, but mostly just that full-bodied halo, the aurora.
The voice sounded male, but honestly angels this shining are sexless, they just are. "We are pleased that we do not have to manifest fully for you, Detective Zaniel Havelock."
It wasn't the opening I'd expected; if angels seek you out personally then it's with an extremely specific message like in the Bible: You are pregnant with the Son of God, or Flee now, enemies are coming. The personal conversational style was how they spoke to Angel Speakers, Angelus Dictum, which means "the angel said" to make it clear that the person sharing the message from the angel is not an angel but only their mouthpiece. Angels did not speak like this to people on the outside, but once I'd been inside and I fell back into the same rhythm, an old habit come back to haunt me. "You can lose the humanoid stuff altogether if you want. I do appreciate you trying not to drive me insane by manifesting in your pure energy form, but it's okay, I don't need the baby steps."
"Very well," it said, and the human pretense went away. I was left staring at light, or flame, or something in between the two. It filled nearly all of that half of the room, but it gave off neither heat nor formed shadows. Again, if something says it's an angel, and glows at you, but it causes shadows around it, it's not the good kind of angel, or maybe it's not an angel at all.
The light turned its "head," and I could read the body language of that glow; most people wouldn't have been able to. "You asked for me to drop the physical away, not for my comfort, but because you wished to see if I cast a shadow."
I shrugged and fought not to let my shoulders tighten. You couldn't wrestle an angel in this form; it wasn't "real" enough, but the body tenses, preparing for fight or flight, even though neither will help you. You can't hit pure spirit, and you sure as Heaven can't run from it, because spirit-level angels can just appear anywhere, in multiple places, at multiple times, and it's all real, all them, because when they're this pure, time doesn't mean to them what it means to most of us. They can simultaneously be in several places at once, at the same time for us humans, but different points of time for the angel itself. Time is way more flexible than the human mind can comprehend. It was a good thing that the pure spirit didn't commit crimes, because we would be beyond fucked trying to prove it, solve it, or catch them. When this guy was finished glowing at me, he'd go back to God, maybe even be absorbed back into that ultimate light. Witness protection had nothing on the pure spirit angelic. They could literally be reabsorbed and made pure and new again when they made their next earthly appearance.
"I know you are one who has walked through the flame and survived, but I did not understand what it might mean."
I remembered standing in the middle of flames that did not burn, and cast no shadow, and surrounded me on every side. If my faith had not been pure enough, I would have been consumed by holy fire. I blinked the memory away and faced the much fainter light of the angel before me. "And what does it mean?" I asked.
"That you do not think as others do or see as other flesh sees. You are the only Angelus Dictum to ever finish your training and then turn your back on it."
"I am not an Angel Speaker, I'm a cop."
"You are a police officer, but that does not mean you are not also an Angel Speaker; otherwise how could I be here?"
I couldn't argue with the angel and I very much wanted to, so I let it go. The conversation was getting too weird, and off topic. I was here to solve a crime, not dissect my past.
From A TERRIBLE FALL OF ANGELS published by arrangement with Berkley, an imprint of Penguin Random House LLC. Copyright © 2021 by Laurell K. Hamilton.
---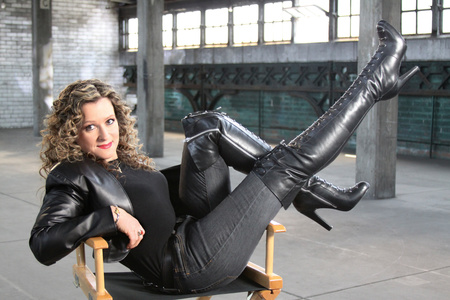 Laurell K. Hamilton is the author of the #1 New York Times bestselling Anita Blake, Vampire Hunter series and the Merry Gentry, Fey Detective series. With more than 40 novels published and 20 million books sold, Laurell continues to create groundbreaking fiction inspired by her lifelong love of monster movies, ghost stories, mythology, folklore, and things that go bump in the night. She lives in St. Louis with her family. In her free time, Laurell trains Filipino martial arts with a specialization in blade work. Learn more online at laurellkhamilton.com.