---
Seconds, Halloween Costumes, and the Immortal Guardians.
Hello! Thank you for joining us. I'm very happy to be here today, celebrating the release of AN IMMORTAL GUARDIANS COMPANION. The first book in the series, DARKNESS DAWNS, released ten years ago, so I thought this would be a perfect time to provide fans of the series with a one-stop shop for fun Immortal Guardians extras like over a dozen deleted scenes, lots of character interviews (many conducted by Sheldon), bonus scenes, short stories, and more.  If you aren't familiar with the Immortal Guardians series, it revolves around powerful immortal warriors who spend their nights hunting and slaying psychotic vampires. Those immortals are, more often than not, aided by humans they refer to as Seconds. And together, the mortals and immortals form a constantly growing family that—despite an occasionally dark existence—loves to laugh and tease. Since Halloween is just around the corner, I thought I would share some of the Halloween costumes certain Seconds (some with a mischievous bent) would select for Immortal Guardians if the latter went trick or treating. 😉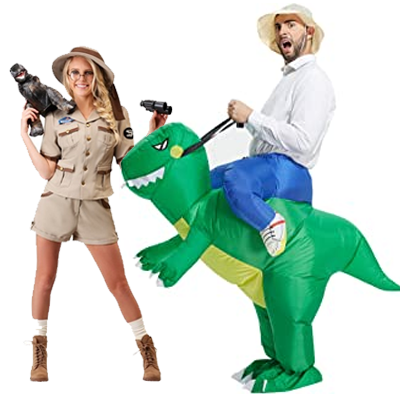 Ami (Marcus's wife and Second) bought this dino-rider costume for Marcus and got a smaller one for Adira. [https://amzn.to/2Yi5iPN] Then she chose a paleontologist costume for herself. [https://bit.ly/3BceS4Q]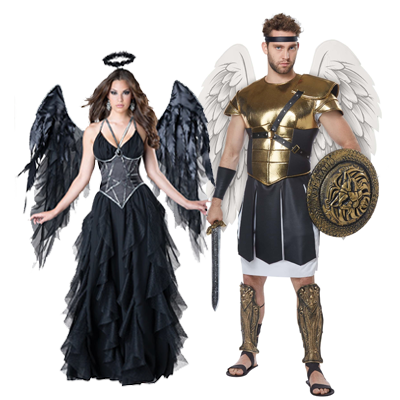 Tracy (Lisette's Second) chose these for Zach and Lisette [https://amzn.to/2YhmRzv], though Zach won't need the fake wings. [https://amzn.to/3l7bMJO] His are much more impressive. 😉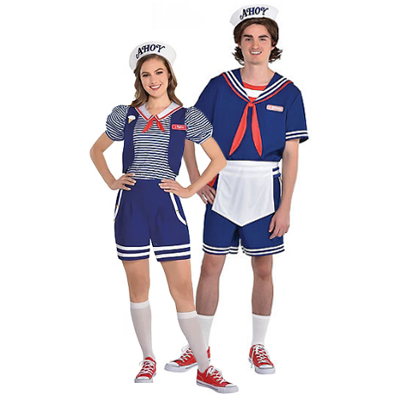 Since Étienne used to worry Krysta would think him too old for her when they first met and fell in love, Cam (Étienne's Second) chose these costumes [https://amzn.to/3it2Bl6] to make Étienne feel younger… then shared photos of Étienne [https://amzn.to/3iwwvVH] wearing it with the entire Immortal Guardians family. 😀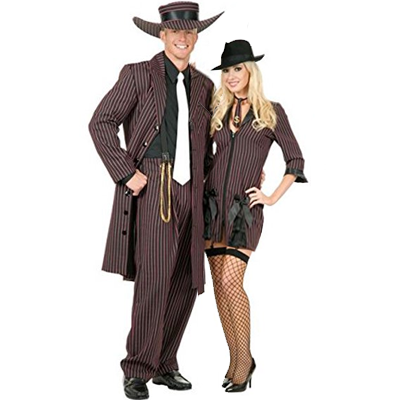 Since Seth doesn't have a Second, Lisette chose these costumes for him and Leah. Seth immediately declined the hat because it inspired too many guffaws. But he OK'd both zoot suits once he saw Leah in hers. Now he's ready for a long night of dancing… and thunderstorms. [https://bit.ly/3D8jqd5]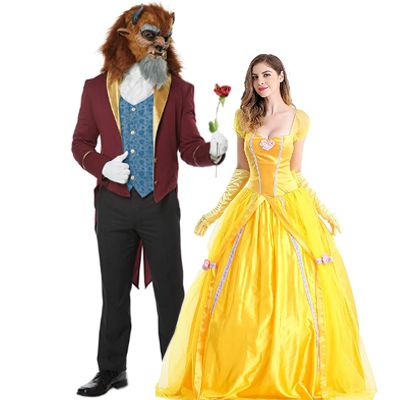 These costumes were delivered anonymously to Bastien and Melanie. [https://amzn.to/3Aa2n8B] Melanie was furious at first. But Bastien—ever the black sheep and totally undaunted by being likened to a monster—merely smiled and said he's happy to be her beast. [https://amzn.to/3a2BxVk]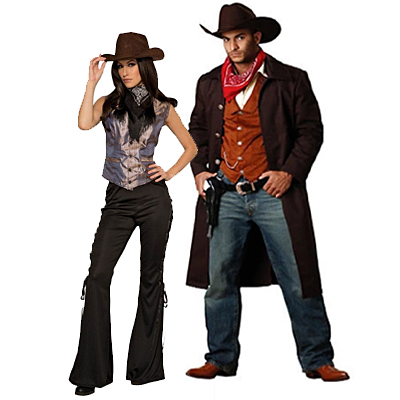 Ed (Ethan's Second) wanted to get Ethan a Simpsons' Duffman costume, but—after laughing long and hard at the image of Ethan in such a getup—Heather [https://bit.ly/3Fh48EQ] said she'd rather see what Ethan looked like as a cowboy since he was born near end of the Wild West days. Ed has since chosen these costumes for them. [https://bit.ly/3mFN9DJ]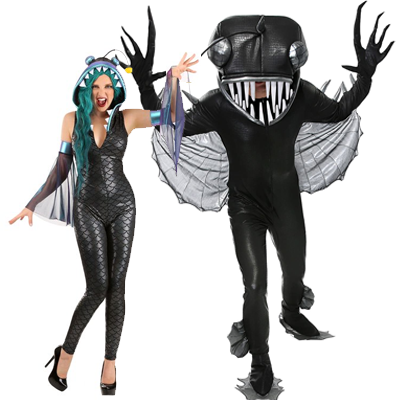 No one was willing to admit who bought this costume for Roland. [https://amzn.to/3Bcgz2e] I suspect his rather abrasive, antagonistic, antisocial behavior inspired it. Little Michael loved it, however, so Sarah decided to go with it and demanded one of her own. 🙂 [https://amzn.to/3Bal653]   
---
We're excited to share with you the next new release from author Dianne Duvall! An Immortal Guardians Companion is a fun addition to the best-selling Immortal Guardians series featuring deleted scenes, character interviews, short stories, and more! This book releases on October 12th, 2021 in ebook and paperback formats everywhere! Find out more and grab your own copy below. Happy reading!
ABOUT THE BOOK
An Immortal Guardians Companion By Dianne Duvall Release date: October 12, 2021 Hello, all! Your favorite character, Sheldon, here. If you're an Immortal Guardians fan, I think you're really going to enjoy this companion. Dianne has packed it with ninety pages of deleted scenes that feature many of the characters you've come to know and love plus a bonus scene from Cliff's Descent that you won't want to miss. You'll also find every character interview Dianne has ever written inside these pages. (Those of you who've encountered a few in the past know the ones I conduct are the best.) If you've never read one or you missed a few, then pick up a copy, sit back, and laugh while I interview Immortal Guardians and the loves of their lives for the network. Even Chris Reordon and Todd down at network headquarters get in on the action. I also interview Dianne and ply her with questions I thought you'd like to ask her. Throw in a couple of short stories, what inspired the Immortal Guardians series, and a brief Who Does What Now? list, and you're bound to enjoy it. See you on the inside! Your friend, Sheldon Immortal Guardian Richart's immensely competent Second And the most beloved character in the Immortal Guardians series (at least in his mind)
ORDER NOW
????? Kindle | Kobo | Nook | Apple
????????? Available on Release Day
The Immortal Guardians Series: Darkness Dawns (Immortal Guardians, #1) Night Reigns (Immortal Guardians, #2 Phantom Shadows (Immortal Guardians, #3) In Still Darkness (Immortal Guardians, #3.5) Darkness Rises (Immortal Guardians, #4) Night Unbound (Immortal Guardians, #5) Phantom Embrace (Immortal Guardians, #5.5) Shadows Strike (Immortal Guardians, #6) Blade of Darkness (Immortal Guardians Book 7) Awaken the Darkness (Immortal Guardians Book 8) Death of Darkness (Immortal Guardians Book 9) Broken Dawn (Immortal Guardians Book 10) Cliff's Descent (Immortal Guardians Book 11)
Aldebarian Alliance Series: The Lasaran (Aldebarian Alliance #1) The Segonian (Aldebarian Alliance #2)
Tour-Wide Giveaway:
To celebrate the release of An Immortal Guardians Companion, Dianne Duvall will be giving away a $50 Amazon Gift Card and a $25 Amazon Gift Card to one lucky reader each! To enter, fill out the Rafflecopter form found in this post. Follow along with the Blog Tour for more chances to win daily. Good luck!
a Rafflecopter giveaway
ABOUT THE AUTHOR:
Dianne Duvall is the New York Times and USA Today Bestselling Author of the Immortal Guardians paranormal romance series, the Aldebarian Alliance sci‐fi romance series, and The Gifted Ones medieval and time‐travel romance series. The Lasaran, the first book in the Aldebarian Alliance Series, was a #1 Audible Mover & Shaker. The Segonian, the second book in the Aldebarian Alliance Series, was a Barnes&Noble Top Indie Favorite. Audible chose Awaken the Darkness as one of the Top 5 Best Paranormal Romance Audiobooks of 2018. Reviewers have called Dianne's books "fast-paced and humorous" (Publishers Weekly), "utterly addictive" (RT Book Reviews), "extraordinary" (Long and Short Reviews), and "wonderfully imaginative" (The Romance Reviews). Dianne's books have twice been nominated for RT Reviewers' Choice Awards. And her audiobooks have been awarded the AudioFile Earphones Award for Excellence. Dianne's books have all appeared on the New York Times, USA Today, Amazon, Barnes & Noble, Apple Books, and/or Kobo Bestseller lists. The first book in Dianne's The Gifted Ones series, A Sorceress of His Own, is a prequel of sorts to Darkness Dawns. A USA Today bestseller, A Sorceress of His Own is a medieval romance with paranormal elements that was awarded the AudioFile Earphones Award for Excellence and was an Audie Finalist. The second book in the series, Rendezvous With Yesterday, is a time travel romance that won the GraveTells Readers' Choice Award for Best Historical Romance. In addition to writing romance, Dianne has completed a one-act play (comedy) and teamed up with an award-winning screenwriter to write a spec script for a new situation comedy. Several of her poems have also been published in anthologies. When she isn't writing, Dianne is very active in the independent film industry and has even appeared on-screen, crawling out of a moonlit grave and wielding a machete like some of the psychotic vampires she creates in her books. For the latest news on upcoming releases, contests, and more, please sign up to receive Dianne's Newsletter or visit DianneDuvall.com. You can also find Dianne online . . . Blog | Facebook | Twitter | YouTube | Pinterest | Goodreads | Book Bub  | Instagram