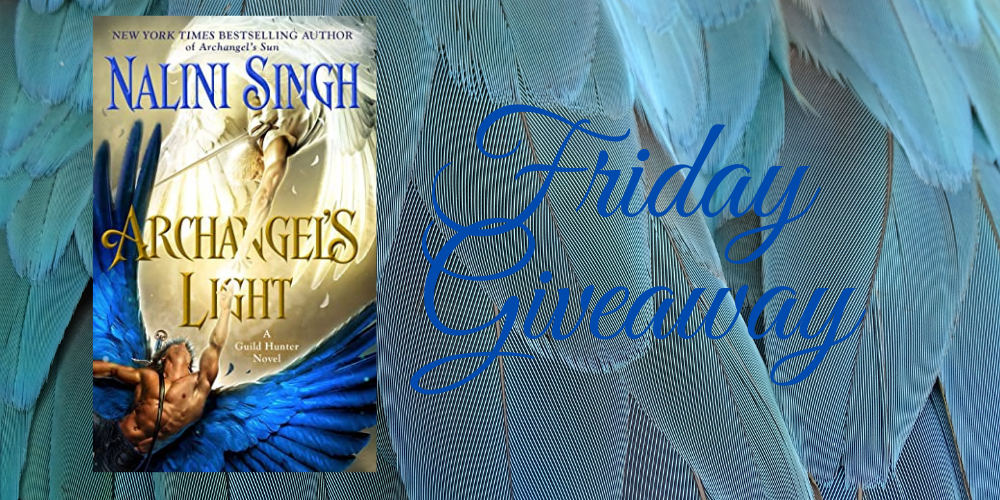 Our winner is… Sheila. Congratulations!
Happy Friday!
I was going to start with a few holiday books but I figured everyone is drumming their fingers waiting for a copy of Archangel's Light. So if you haven't jumped on it already, this week's giveaway is a copy of Archangel's Light. You can click on the link for my review which I will sum up here: MUST READ!
Usually, I just ask for a simple comment to be entered or ask a silly question, but I am going to make you work for it this time. My  Audible account is maxed out on allowable credits and now that I have maxed out, every month I receive a new credit but then I lose a credit if I haven't purchased a new audiobook. This is no bueno! But the problem is I need a new series to binge so I can start using up the bulk of these credits. Since I get review audiobooks from Tantor Audio that ticks off my list on a lot of my current series.   An older series that I always wanted to try was Marjorie Lui's Dirk & Steel series.   The first book Tiger Eye is currently on sale on Kindle (FYI) and as of last year it is finally available in audiobooks.   I did pick up Book 1 in both eBook and audiobook versions, and if I like the story and the narrator, I will definitely pick up more of the audiobooks.
If you want in on this week's giveaway, I want suggestions for a new audiobook series.   As you probably know I already covered all the Ilona Andrews, Patricia Briggs, Darynda Jones, Nalini Singh, Molly Harper, Rebecca Zanetti, Kresley Cole, Kerrelyn Sparks, Sherilyn Kenyon, Kevin Hearne, J.D. Robb and Dianne Duvall.  Please, I need a new suggestion! I prefer my audiobooks to be paranormal or urban fantasy, but I certainly will listen to a good contemporary romance, and…maybe romance isn't necessary for a good fantasy series.  It can even be a trilogy.
To be entered in this week's giveaway, I want a suggestion for a good series to start so I can use my Audible credits.
Giveaway ends Thursday, November 18th, and I promise to pick recent winners and get books out to you before Thanksgiving! U.S. residents only for giveaway (way too expensive to ship internationally), but I will take any series suggestions.
Nalini Singh returns to the world of the Guild Hunters for the most highly anticipated novel of the beloved series—a love story so epic it's been half a millennia in the making…

Illium and Aodhan. Aodhan and Illium. For centuries they've been inseparable: the best of friends, closer than brothers, companions of the heart. But that was before—before darkness befell Aodhan and shattered him, body, mind, and soul. Now, at long last, Aodhan is healing, but his new-found strength and independence may come at a devastating cost—his relationship with Illium.

As they serve side by side in China, a territory yet marked by the evil of its former archangel, the secret it holds nightmarish beyond imagining, things come to an explosive decision point. Illium and Aodhan must either walk away from the relationship that has defined them—or step forward into a future that promises a bond infinitely precious in the life of an immortal…but that demands a terrifying vulnerability from two badly bruised hearts.