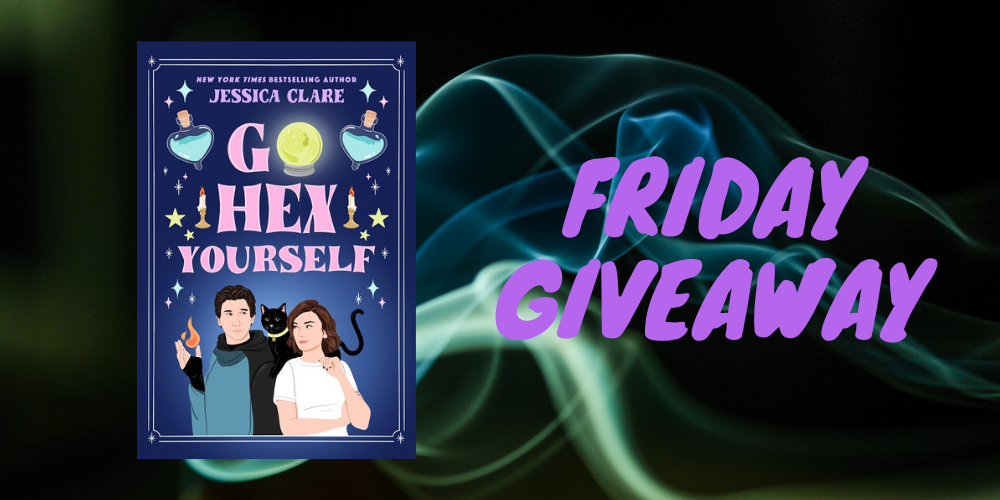 Our Winner is…Mary Jo. Congratulations.
How did it get to be Friday already?
Hey, you fixed up your office last weekend.  How nice does it look?   Must be cleaned up and all your shelves organized?  
I spent all last weekend trying do get my daughter's iphone fixed.  Let's just say some tech "geniuses"…not so much.    We did take a break from tech hell to go to a small craft fair, spend too much money but got some really nice Mother's Day gifts, so there is that.
But, I am sitting in the only cleared spot in the whole room, except the dog bed in the corner, which is currently occupied.  I will attempt to make a dent this weekend or else…
Cinderella (me) is gonna be pretty busy so let's just get to the good stuff.   This giveaway is for a paperback copy of Go Hex Yourself by Jessica Clare.
Just leave a comment to be entered.  Open to U.S. residents. Giveaway ends Thursday, April 14th.
One of Amazon's Best Romances of April!

It's one hex of an attraction in this romantic comedy from New York Times bestselling author Jessica Clare.

When Reggie Johnson answers a job ad in the paper, she's astonished to find that she's not applying to work at her favorite card game, Spellcraft: The Magicking. Instead, she's applying to be an actual familiar for an actual witch. As in, real magic.

The new job has a few perks – great room and board, excellent pay, and she's apprenticing to a powerful witch. Sure, the witch is a bit eccentric. And sure, there was that issue with the black cat Reggie would prefer to forget about. The biggest problem, however, is warlock Ben Magnus, her employer's nephew and the most arrogant, insufferable, maddening man to ever cast a spell.

Reggie absolutely hates him. He's handsome, but he's also bossy and irritating and orders her around. Ben's butt might look great in a crystal ball vision, but that's as far as it goes. But when someone with a vendetta targets the household, she finds herself working with Ben to break a deadly curse. Apparently, when they're not fighting like cats and dogs, things get downright…bewitching.