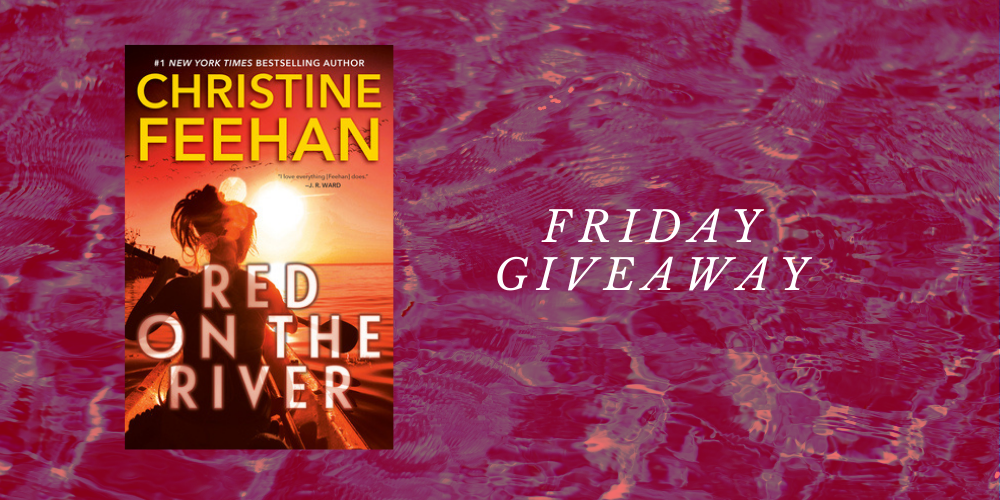 Our winner is Texasbooklover. Congratulations.
Friday! Friday! Friday!
Hey, Everyone! TGIF!
Busy weeks are turning into busy months.  Tonight I am heading out to meet my best book buddy, Christine.   There will be books, booze and snacks.
I finished Soul Taken and I can't wait to talk about it with you. I just love the Mercy Thompson series.
For this week's giveaway, we are sticking with Feehans with a hard cover copy of Red on the River which is the latest Christine Feehan thriller.
Just leave a comment to be entered. This giveaway is open to US residents. Giveaway ends Thursday, June 23rd.
Vienna Mortenson isn't your typical gambler. She prefers to stay under the radar, using her poker winnings to support her family and her community, including the local search and rescue team, which she heads up. Out in the backcountry there's no time for hesitation when lives are on the line. Vienna prides herself on being tough and decisive. She's not the sort to make a fool of herself over a guy, especially one who left her high and dry without a backward glance.

Zale Vizzini's job constantly puts him in harm's way. Working undercover and disappearing for months at a time isn't exactly a recipe for a stable relationship. Despite the challenges and the risks, Zale wants something real with Vienna. He just needed time to figure out how to be in her life without putting her in danger. Now, he's determined to win her back, and he's ready to lay all his cards on the table.

As their friends' wedding approaches, Zale takes advantage of the festivities to make a play for Vienna's heart. But there are more deadly forces waiting to strike in the rugged terrain of Nevada and the western Sierras. Soon both of their lives are threatened, and the odds are stacked against them….