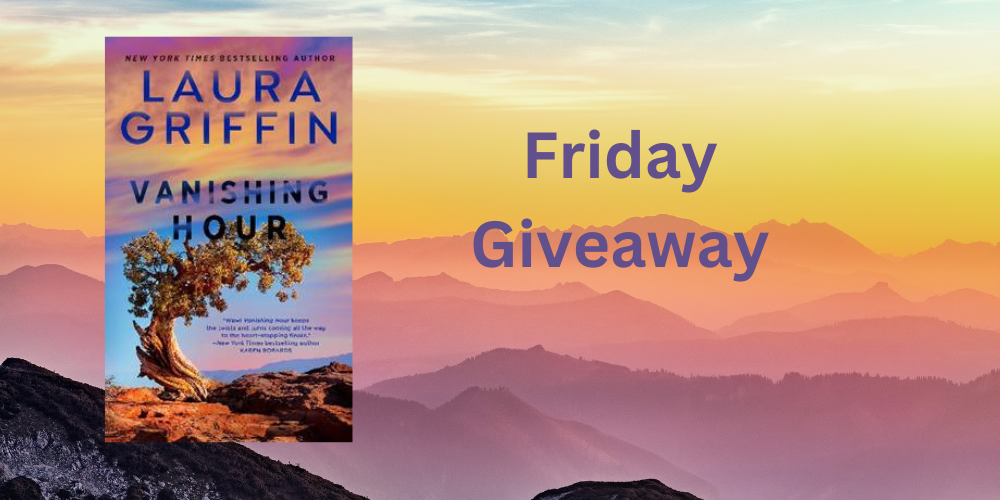 Our winner is…Elizabeth. Congratulations
Friday snuck up on me!
I have to run.  We have a copy of Vanishing Hour by Laura Griffin.  We'll go into this next week, I hope, but it kept me guessing.  We'll talk later.
Just leave a comment to be entered.
Giveaway is for a paperback copy and open to U.S. residents only.  Giveaway ends November 3rd.
When a cold case in Texas leads to a sinister string of disappearances, a newcomer to the small town helps a detective piece together the clues in this new romantic thriller from New York Times bestselling author Laura Griffin.

Corporate lawyer Ava Burch has had enough of the big city and the daily grind. She grew up with her father, who raised search-and-rescue dogs, in rural Texas and has moved to the small town of Cuervo to spend time in the dry, rugged wilderness near Big Bend National Park. When she and her dog, Huck, discover an abandoned campsite on a volunteer search-and-rescue mission, she's perplexed, but she carefully photographs it all the same.

All Grant Wycoff can see when he looks at Ava is a city slicker–with her designer jeans and shiny car–who has no business on a serious team made of seasoned outdoorsmen and retired cops. But when she tells him of her findings on the trail, he sees there's more to her than meets the eye.

Ava's discovery reminds Grant of the unsolved case of a young woman who went missing two years ago. As they look into the campsite further, another woman disappears under odd circumstances. With time running out, Ava and Grant must work against the brutal heat from both the Texas sun and their own electric chemistry to solve the case.