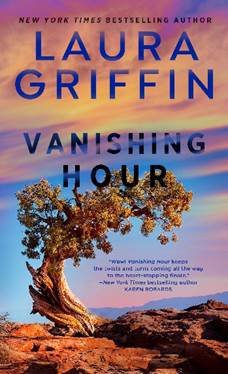 About the Book
When a cold case in Texas leads to a sinister string of disappearances, a newcomer to the small town helps the deputy sheriff piece together the clues in this new romantic thriller from New York Times bestselling author Laura Griffin.
Corporate lawyer Ava Burch has had enough of the big city and the daily grind. She grew up with her father, who raised search-and-rescue dogs, in rural Texas and has moved to the small town of Cuervo to spend time in the dry, rugged wilderness near Big Bend National Park. When she and her dog, Huck, discover an abandoned campsite on a volunteer search-and-rescue mission, she's perplexed, but she carefully photographs it all the same.
All Deputy Sheriff Grant Wycoff can see when he looks at Ava is a city slicker—with her designer jeans and expensive car—who has no business on a serious team made up of seasoned outdoorsmen and retired cops. But when she tells him of her discovery on the trail, he sees there's more to her than meets the eye.
Ava's discovery reminds Grant of the unsolved case of a young woman who went missing two years ago. As they look into the campsite further, another woman disappears under odd circumstances. With time running out, Ava and Grant must work against the brutal heat from both the Texas sun and their own electric chemistry to solve the case.
Praise for Laura Griffin and her novels
"An emotional, exciting page-turner. Griffin deftly balances the mystery and the love story."—The Washington Post
"I love smart, sophisticated, fast-moving romantic thrillers, and Laura Griffin writes them brilliantly. Last Seen Alone is a terrific example of her signature style: intriguing characters; sharp dialogue; and a tight, well-researched plot."—New York Times bestselling author Jayne Ann Krentz
"Top-notch romantic suspense! Fast pace, tight plotting, terrific mystery, sharp dialogue, fabulous characters."—New York Times bestselling author Allison Brennan
"A gripping, white-knuckle read. You won't be able to put it down."—New York Times bestselling author Brenda Novak
---
VANISHING HOUR by Laura Griffin
Berkley | On Sale October 25, 2022
Excerpt
Missing children are an emergency. Always. Their little bodies are less able to regulate temperature, so they're especially vulnerable to exposure. And in a place as vast and rugged as Silver Canyon State Park, additional hazards abounded: rattlesnakes, coyotes, hundred-foot cliffs. Even the anemic little creek that Ava had been following was terrifying. A child Noah's size could drown in a bathtub.
Ava glanced up at the relentless sun that sucked moisture out of everything beneath it. She looked ahead at Huck, who trotted back and forth in front of her in his zigzag pattern. He was working the wind, as he'd been trained, tirelessly sniffing the air with his powerful nose, which could pick up anything with human scent on it, from a candy wrapper to a dropped article of clothing.
So far, nothing.
Ava checked her watch. Two long hours since she'd left the trailhead. Sweat stung her eyes, and  she wiped her forehead with the back of her arm. She paused beside a boulder and dropped her pack on the dusty ground to retrieve one of her water bottles. Huck needed some, too, but right now he was intent on his work.
She took a lukewarm sip and scanned the scrub brush lining the canyon wall. Young children had a tendency to wander aimlessly until they found a place to curl up for a nap. Some would
even hide from search teams, afraid of getting in trouble for being lost. So Ava had been incessantly scanning pockets of brush.
Huck halted in front of her, his nose lifted in the air. Ava froze and watched. But then his head dropped down and he resumed his zigzags. Ava tucked the water bottle away and pushed off the
boulder to continue her trek.
She watched Huck, amazed by his energy. Even in this heat, he loved working, and when he had his vest on, he didn't have an off switch. As he bounded around in front of her, she thought of the
other teams, especially the canine one. She was surprised they hadn't found something close to camp.
Of course, the parents had been there, which might have been a problem. Frantic parents threw off a lot of scent, which could have overpowered Noah's smell and possibly confused the dog.
Also, the temperature rising in the canyon could have wafted the scent up, well above the dog's nose. Yet another challenge here was that young children didn't throw off as much scent as adults. And still bodies-ones that were either asleep or unconscious-threw off less scent, too.
So there were all kinds of factors in play, especially in a park this size.
Ava checked her watch again and sped up her pace, unable to shake the feeling of dread that had been settling in her stomach as the hours ticked by. Scanning the canyon wall, her gaze caught
on something beige and triangular.
A tent? No.
A tarp. She climbed onto a boulder for a closer look. About halfway up the slope of the canyon was a sand-colored canvas tarp that had been stretched taut to create a patch of shade. It looked
like a primitive fort-just the sort of thing that would attract a kid's attention, and her pulse quickened as she climbed closer. Nearing the tarp, she spied a small yellow tent tucked in the shade beneath it.
She glanced around for Huck, but he was sniffing along at the base of a rockslide.
Grabbing hold of a juniper tree, Ava levered herself onto the ledge. She ducked under the tarp and paused a moment for her eyes to adjust. The little tent was unzipped. Hope ballooned in her
chest as she pulled back the flap and poked her head inside.
Her hope disappeared as she scanned the interior. No sleeping child curled up in the dimness. The air was utterly still, and everything was coated with a thin layer of dust, as though no one had been there in weeks, maybe months. A pile of gear in the corner included a cookstove, a hiking boot, and a blue bedroll with a carabiner clipped to it. Attached to the carabiner was a black key fob.
A chill snaked down her spine. Who would leave their car key out here? The fob seemed odd. Ditto for the hiking boot. Where was the other one? And where was its owner? On impulse, Ava took out her phone and snapped a couple of pictures. As part of her SAR training, she'd learned to document crime scenes. She couldn't pinpoint why, exactly, but that was what this felt like. She ducked out and snapped a shot of the exterior. A faint bark pulled her attention back to the mission. She couldn't afford to get sidetracked, even though this place felt creepy. She put her phone away as she skimmed the surrounding area for the missing boot, or any sign of the boot's owner. She glanced up the canyon, looking for evidence of a fire pit or any other camping equipment.
A soft whimper had her turning around.
Huck sat beside a rock pile, his ears pricked forward and his gaze fixed on hers. Ava's heart skittered. This was his sit alert letting her know he'd found something.
"Show me," she commanded, and he sprang into action, bounding across the creek bed. She climbed down the rocks and jogged after him, frantically searching the clumps of trees. Huck darted around a giant prickly pear cactus and behind a line of mesquite trees. Amid the fluttering green leaves, she caught a flash of red.
"Please, please, please," she murmured.
Huck disappeared beneath the brush and barked. Ava spied a small white sneaker and a pudgy leg.  Huck danced in a circle, drunk on success and eager for his reward.
"Good boy, Huck! Good boy! Good boy!"  She filled her voice with praise, even though her heart had lodged in her throat. The little body wasn't moving. Oh God.
---
About the Author
Laura Griffin is the New York Times and USA Today bestselling author of more than twenty-five books and novellas. She is a two-time RITA Award winner, as well as the recipient of the Daphne du Maurier Award.