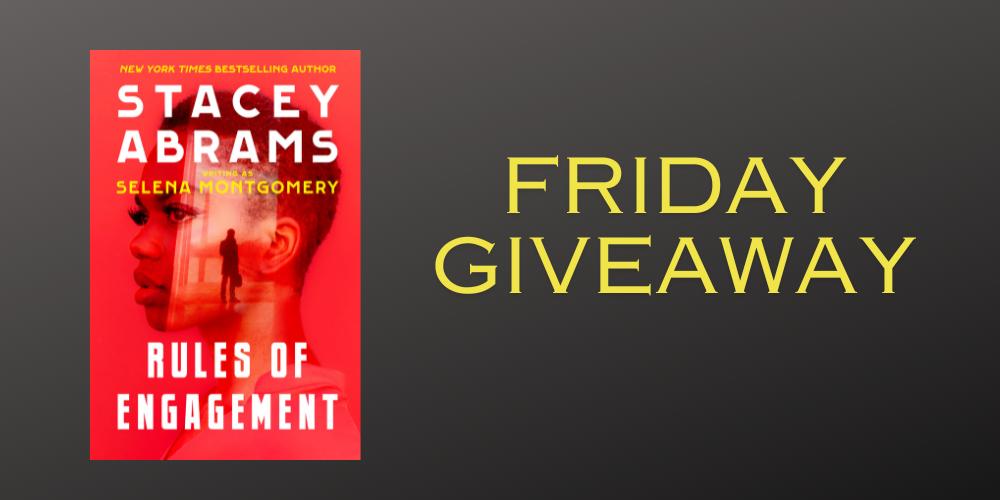 Our winner is…bn100. Congratulations
Happy Friday!
Lucky you. I found an international thriller hiding on my shelves so we are going undercover for this week's giveaway.
We are officially counting down to Turkey day and the Christmas crazies. I received an email on Wednesday about a surprise Christmas-themed book giveaway and loaded a few on my Kindle. Sometimes I try and kick up my holiday mood with a Christmas romance. I tried a Christmas in July this year with mixed results.
Do you save your holiday-themed books for reading right before the holiday or do you read them when you pick them up? It's almost like the question "Is Die Hard with Bruce Willis a Christmas movie?"
Just leave a comment to be entered in this week's giveaway. Giveaway is for a hardcover novel and open to U.S. residents only.
Giveaway ends Thursday, November 9th.
Love is a game of chance in this romantic suspense novel by New York Times bestselling author and American politician and activist Stacey Abrams, writing under her pen name, Selena Montgomery.

Dr. Raleigh Foster, an operative for a top-secret intelligence organization, knows that her undercover work has its risks. So she doesn't hesitate when asked to infiltrate Scimitar, the terrorist group that has stolen lethal environmental technology. But when she's assigned a partner–brooding, sexy Adam Grayson–to pose as her lover, Raleigh discovers that the most dangerous risk of all…is falling in love.

Adam blames himself for the botched mission that got his best friend killed by Scimitar, and he believes that Raleigh may have contributed to the man's death. But the closer he works with his alluring partner, the more his suspicions turn to trust–and intense desire. Now, as he and Raleigh untangle a twisted web of secrets and lies, the tension mounts between them…until their masquerade as a couple proves too tempting to resist.