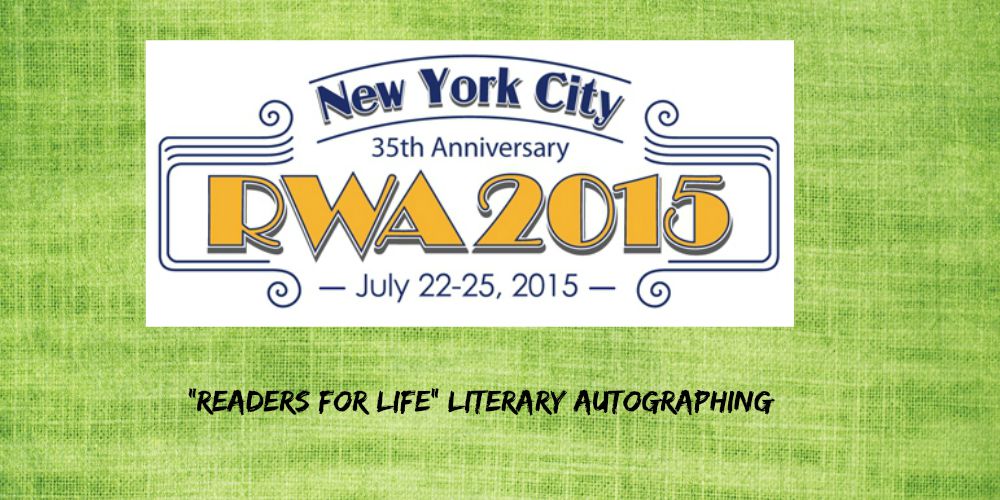 Wednesday, July 22nd, was a beautiful summer day in New York. The sultry heatwave of the prior weekend was broken by a storm on Tuesday.  Although temps were in the mid-80s, it wasn't a bad day for strolling around Manhattan. The Romantic Writers Association book signing was scheduled to begin at 5:30 down in Times Square and I wanted to get there plenty early for waiting on line. I was watching the traffic maps all morning and traffic was running smoothly all day. I left with plenty of time to spare and was in NYC by 4:00. But I did forget one very important fact since the Marriott was located in the Theater District, Wednesdays are matinee days and the garage I was planning to park in was already full. So were the next four lots. I finally was passing a lot that looked like it had a few spots and the desperation must have been showing on my face since they agreed to take my car.  I turned over my keys and at this point, I wasn't even concerned if he worked there or not. I just needed to get out of the car. 🙂
By 4:30 I was in the hotel anxiously waiting for the signing to begin. The last time the RWA was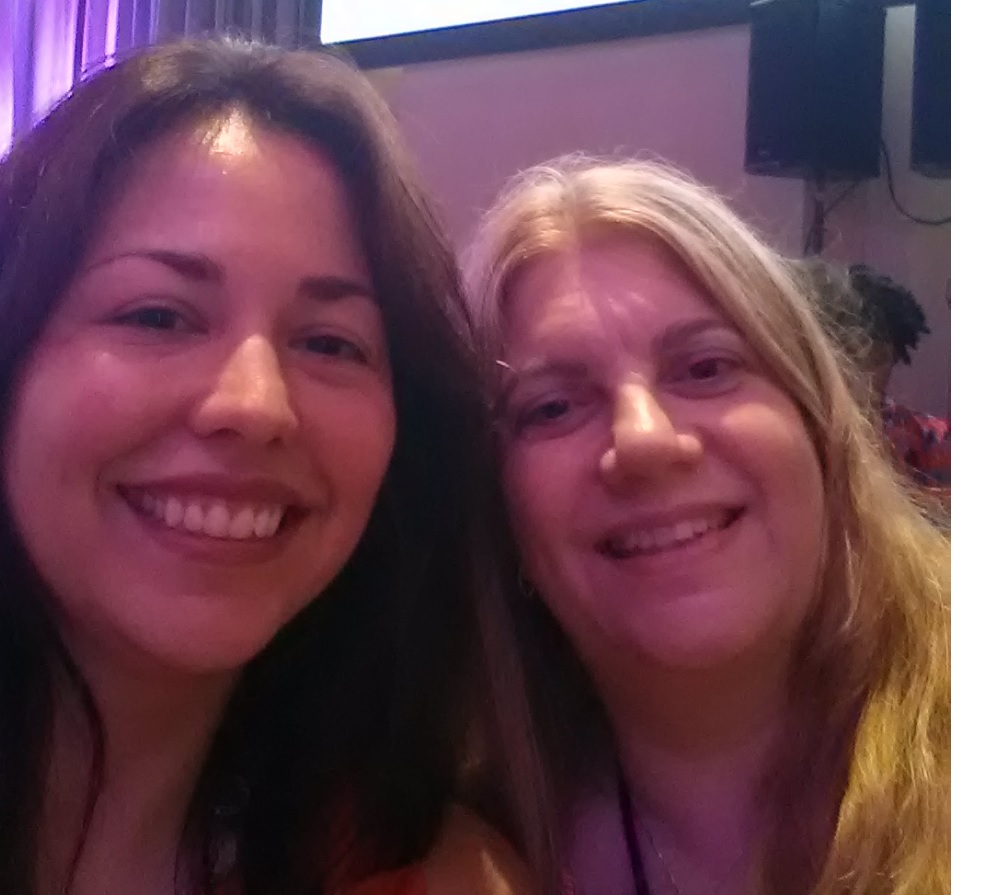 in NYC was back in 2011, and we had to wait on line outside the building in the heat. This time, they had chairs set up in one of the other ballrooms and were keeping us in groups. My friend Christine arrived by 5:00 and we excitedly waited for the 5:30 start, chatting with our fellow book lovers to pass the time.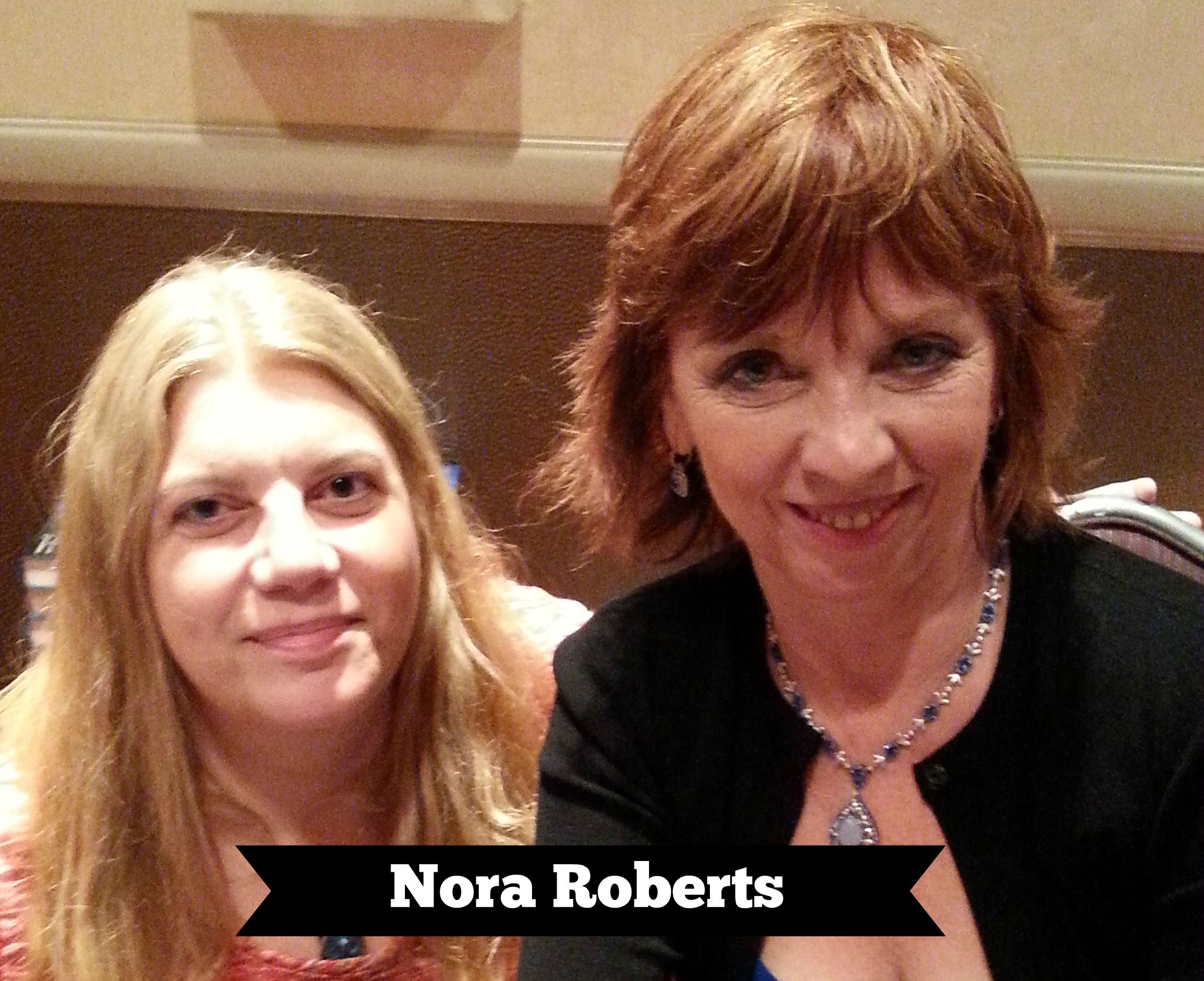 We were lucky and our group was moving into the ballroom by 5:32 and we knew that we had to start with Nora Roberts since even at 5:32, she already had a line growing. It took about a half hour to reach the front of the line. Sadly, Nora had her hand in a wrap so we were limited to one book each. I mentioned to her that I wanted to be Eve Dallas, and her response was simply, "Who doesn't."
Sitting right next to Nora was Maya Banks, so she was out next stop. She also had a bit of a line growing, but it didn't take too long to make it to the front of the line and have a quick chat.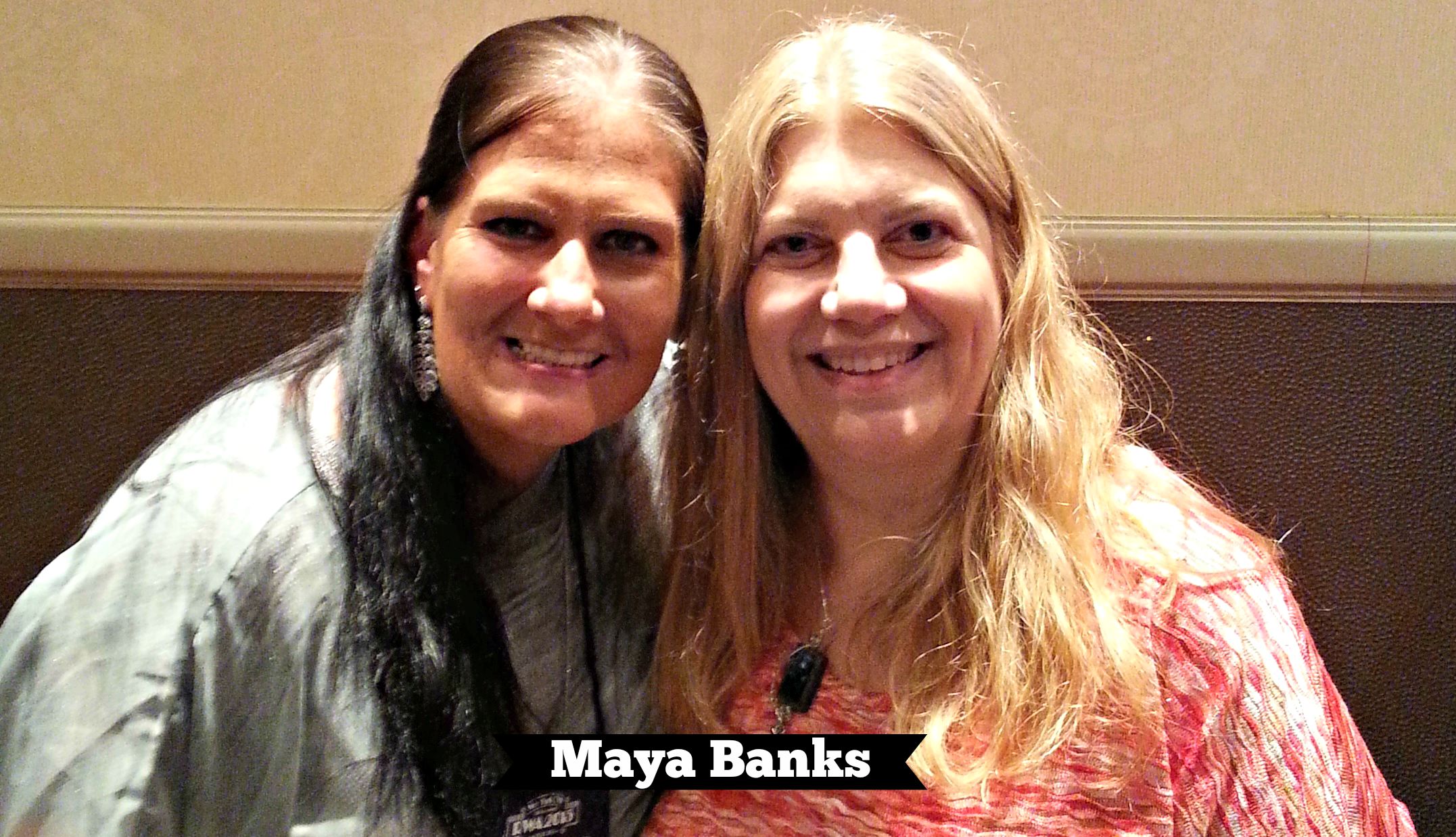 Christine and I then raced over to the other side of the ballroom to get on line to meet Nalini Singh. I brought with me my copy of Heart of Obsidian because that is my favorite book in the Psy-Changeling series and I knew she wouldn't have copies of that with her. The authors usually have their most recent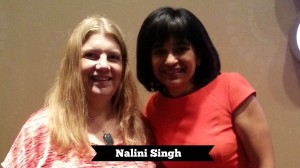 publications there for signing. Best moment of the night was when I slipped Nalini my new business card which I had made up for the signing (Ooo, so fancy!) and I was explaining that I had given away a signed copy from the RWA on my blog and that she was the author that the winner had chosen. She looked at my card and said, "I know you." My inner fangirl starting squealing and doing back flips around the room. That moment made all the time I spend writing reviews and upkeeping the blog worthwhile. 🙂 While she signed my books, we talked (quietly) about her upcoming book and about Naasir, her latest hero from the Guild Hunter series, who is not your standard romantic hero but who made a very interesting story.
The first three authors took us an hour of waiting on line, but after that we were able to stalk a lot faster. We moved on to Kerrelyn Sparks, who was at a table near Nalini Singh.  I didn't get a picture with her and I was kicking myself the next day when I realized. We talked about what was next for her and she gave me no hint except that she would have something different coming out but she did say that she would be revisiting the Love At Stake series "once the kids had time to grow up." Personally, I think that's a wonderful idea. The kids of the vamps and their human wives, who were conceived by the scientific miracle performed by Roman, all had different and unusual abilities from their vampire fathers and all seemed to have different ones manifesting even from each other. While the children of the shifters will all have the standard shifter abilities, the children conceived by the vamps will all be a bit of a question mark and leaves Kerrelyn to make up new and interesting possibilities. I am looking forward to that.
Everyone else was seated alphabetically and I zoomed over to Rebecca Zanetti, who I saw sitting at her table when I first walked into the ballroom.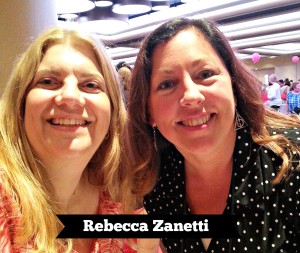 I had been following RWA Tweets that morning and there were several messages about Rebecca talking her sister into driving around with Rebecca locked in her truck so she could get the correct perspective for a story. She said her husband wouldn't do it, but her sister would. I said I believe her sister probably waited her whole life to be able to do something like toss Rebecca in her car trunk, since that is what siblings do.  I asked if she wanted a tour of Manhattan from my trunk. She declined, but was gracious enough to sign some books for us.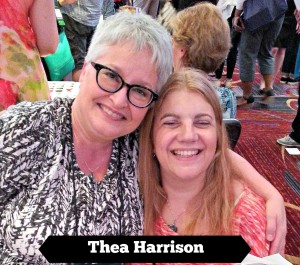 Christine and I then ran over to find Thea Harrison since we are both big fans of her Elder Races series. This is where the hugs started. I passed Thea my card and introduced myself. She also indicated she knew who I was and gave me a big hug. Yay! We talked about her stories and her heroes and talked about her upcoming release this Fall of a new set of Drago, Pia and Liam novellas as well as the next Elder Races novel starring Graydon.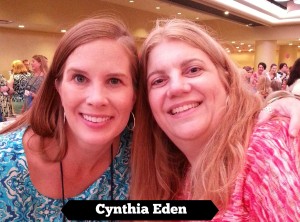 We were then off to find Cynthia Eden. There were more hugs and picture taking.  I then threatened to take away Cynthia's case of Red Bull. I know from her Tweets and Facebook posts that she drinks more Red Bull than I drink coffee and I let her know that even I can't keep up with all the books she publishes each year. She offered to send me a set of her newest series including an ARC of Book 3.  That was so nice of her.  I am looking forward to catching up.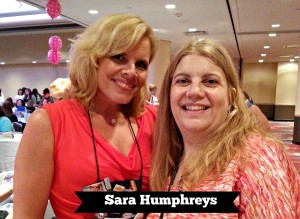 We swung by to talk to Sara Humphreys.  Sara had a cover model with her and I did thank her for bringing my new husband to the book signing.  I tried to get him into my bag, but alas, he was too big.
At this point, Christine ran away from me to speak to a few of her favorites, such as Jeaniene Frost and Emma Chase. I stopped by to speak to Jaci Burton.  I haven't had a chance to read any of her stories yet, but I did have a copy of her upcoming release which I am looking forward to reading.  She was a bit surprised that I showed up with her book which isn't out yet, but I quickly passed her my card and explained why.
I then found Kristin Callihan and I babbled about how much I love her Game On series.    She did tell me that she didn't have any copies to sign since she made the mistake of sending them directly to her house  and they didn't arrive in time.  She said there would be a virtual signing soon and I will be checking out her website for more info.
From there, I ran over to talk with Angie Fox.  I have been dying to read her M.A.S.H. series, but she didn't have any copies of that for signing.   I did pick up a copy of Book 1 of her Southern Ghost Hunter Mysteries.  That looks like fun.
I also sought out Megan Frampton, who is not only a published author but the former head of Heroes and Heartbreakers and it was so nice to meet her and talk to her face to face after several years of working with her only through e-mails.  I picked up a signed copy of her newest novel, Put Up Your Duke.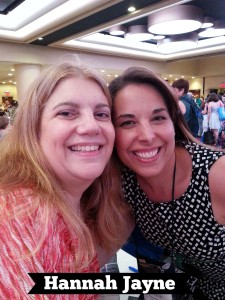 My next stop was to talk with Hannah Jayne.  There were more hugs and Christine was back, so there were more pictures. I told Hannah how much I missed Sophie since the last book of her Underworld Detection Agency was published last August. I took a copy of her new Young Adult/Thriller series which sounds great. She signed it "I'll bring Sophie back first chance I get." I hope that does happen.  The upcoming anthology, On the Hunt, features a story with Sophie's roommate and BFF, Nina.
More running and this time I tried to get over to Erika Kelly since I just enjoyed her novel, I Want You to Want Me. I was disappointed to find her gone already, but it was not surprising since it was already after 7:30 and once I really looked around, I could see many of the authors already packing up and leaving. There were still more authors I wanted to talk to but since we already spoke to the ones on the top of my list, we headed towards to giant line to pay for all our signed books since this was a fund raising event.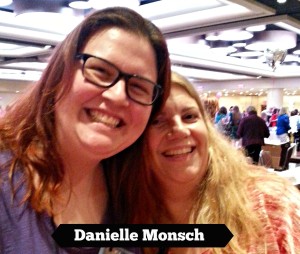 The biggest surprise of the night was still to come. I have been cyber-stalking Danielle Monsch for quite some time. I enjoy her books and have been waiting impatiently for more in her Entwined Realms series. There might have been some threats to lock her in my basement and keep her, like in Stephen King's Misery. Maybe even more than once. I knew she was not signing there that night but she was still going to be attending the RWA and  I had hoped we could meet her since Christine and I are both huge fans. Imagine my surprise when someone walked up and ask "Are you Lucy?" She was stalking me!!! She saw the pictures I was posting on Twitter and tracked me down on the check out line. Not only did she say hello, but she stayed to chat with us the entire time we stood on line. We got the chance to talk with her about her series and characters and about writing and publishing and how we are going to jump on her next book which should come out before the end of the year and how she better keep writing since we will be done with that in a day and we will want more.  She even said she was thinking of me when she wrote  a small teaser Fallon/Reign scene. *happy dance*  I was so happy that I even put my duct tape away.  It was definitely the highlight of the night.
After checking out, I also got a chance to meet Jennifer Proffitt, who is the new head of Heroes and Heartbreakers. Again, it was so nice to have a face to face meeting with someone I have been working with for so long and have only had contact with through emails.
Christine and I made our way back to my car, which surprisingly was actually still parked at the lot where I left it, and headed our way out of the city trying not to play Frogger with the jay-walking pedestrians.  Gotta love driving in NYC.  It wasn't a bad drive home.  We had a nice dinner, picked up Christine's car and finally headed home to bed.
The next day I did apologize to Christine for acting a bit like a drunk girl at a frat party.  I kept tossing her my phone and shouting "Take my picture," then monopolizing the conversations with the authors. It was my intention to let her go first to all the authors we both wanted to talk to because I knew I would start gushing. It didn't always happen and I still felt a bit bad when I thought about it the next day.   She said it was not a problem and that it was an interesting experience.
It definitely is something any booklover should experience and if you get a chance to attend a signing like the RWA or the RT, make sure to make the trip.  The RWA will be back in NYC in 2019, and I have already marked my calendar.  🙂