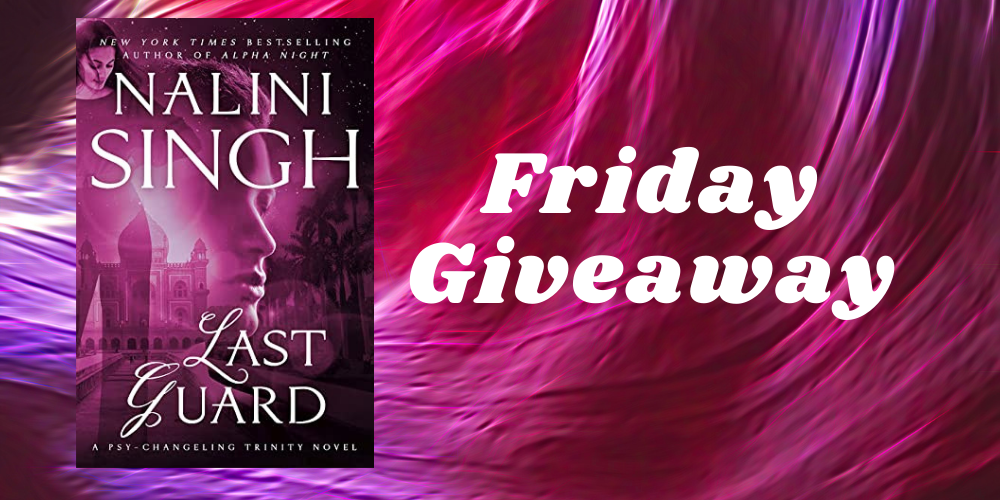 Our winner is…Jen M. Congratulations.
Happy Friday!
It is a three day 4th of July holiday weekend and I hope you all have the same plans as I do…reading! I plan to sloth as much as possible and read. It has been brutally hot around here lately. For those down South, that means winter weather for you. So depending on whether we actually cool down as promised will determine where I will be spending my entire weekend. I hope you all get a chance to unplug and relax as well.
This week's giveaway is an actual hardcover copy of the new Nalini Singh Psy-Changeling novel, Last Guard. This was a great addition to the series, especially because…BEARS! Love those bears.
As always, just leave a comment to be entered in this week's giveaway. Open to U.S. residents only. Giveaway ends Thursday, July 8th.
New York Times bestselling author Nalini Singh returns to a world devastated by change in her award-winning Psy-Changeling Trinity series, where two people defined by their aloneness hold the fate of the Psy in their hands…

Termed merciless by some, and a robotic sociopath by others, Payal Rao is the perfect Psy: cardinal telekinetic, CEO of a major conglomerate, beautiful—and emotionless.

For Canto Mercant, family and loyalty are everything. A cardinal telepath deemed "imperfect" by his race due to a spinal injury, Canto cares for the opinions of very few—and ruthlessly protects those he claims as his own. Head of intel of the influential Mercant family, he prefers to remain a shadow in the Net, unknown and unseen. But Canto is also an Anchor, part of a secretive designation whose task it is to stabilize the PsyNet. Now that critical psychic network is dying, threatening to collapse and kill the entire Psy race with it.

To save those he loves, Canto needs the help of a woman bound to him by a dark past neither has been able to forget. A woman who is the most powerful Anchor of them all: Payal Rao. Neither is ready for the violent inferno about to ignite in the PsyNet…or the passionate madness that threatens to destroy them both.