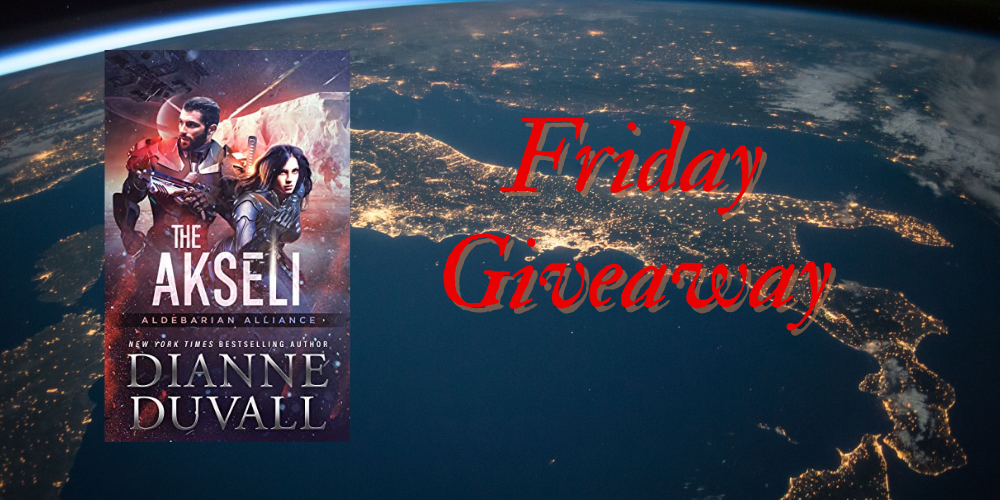 Our winner is…Sheila. Congratulations.
Space Adventure Friday!
Hi, all. I am off doing my college tours but I couldn't pass up making The Akseli our Friday Giveaway this week.
Dianne Duvall did a bunch of fun Guest Posts around the internet.  You can check them out here:    The Akseli Tour
I think my favorite is the Dream Casting over at Nerdy Novel Reviews. I did several of these when I worked with HeroesandHeartbreakers.com (including an Immortal Guardian Fantasy Casting) and I have to say people are brutal.   Fans can be rabid about their choices for that fantasy movie cast and they are very vocal when they think you got it wrong.  After several vicious "attacks," I refused to do any more. I would bash those fans but admittedly, I have done that quite a number of times myself and while I won't post a comment, the "Are you kidding?  Yuck!" come spilling out often.
Just leave a comment to be entered in this week's giveaway. This is for a U.S. Kindle copy.
Giveaway ends Thursday, October 20, 2022.
Simone has hunted and slain psychotic vampires night after night for hundreds of years and desperately needs a change. When the leader of the Immortal Guardians offers her an opportunity to guard ten mortal women who are venturing to another planet, she dives right in and finds traveling into space and meeting amazing alien races just as exciting as she'd hoped… until an enemy attacks. Simone saves everyone she can before she's thrust into an escape pod and the ship explodes. Alone, fearing some—if not all—of her friends have been killed, she vows to seek vengeance.

Despite his fierce reputation and propensity for violating the law, Janwar has formed a friendship with strait-laced Prince Taelon of Lasara. When the prince's ship is destroyed, Janwar joins the massive Aldebarian Alliance-wide search and rescue mission and soon locates the Gathendien ship that launched the attack. An odd thing happens, however, as he and his crew stealthily approach it. The lifeforms inside begin to perish, two or three at a time in quick succession. Much to his surprise, someone else has reached the ship first: one of the very Earth women he hoped to rescue.

Fascinatingly fierce, Simone bands together with Janwar and his crew to search for her missing friends and wreak havoc upon those who wish to harm them. She also widens eyes, drops jaws, and sparks laughter and mischief as she banishes the warriors' world-weariness and makes each day seem like a new adventure. The friendship that grows between Janwar and Simone swiftly deepens into love. But the enemy warriors they face are tenacious and boast more weapons in their arsenal than the alliance knows. Can Janwar, Simone, and such a small crew vanquish them?